Your Local Weather is one weather forecasting application that's undeniably amazing. From its ease of use to its effectiveness at forecasting the weather, everything about the app is so apt! If you have been following this series from Part 1, you will understand what I mean, of course. If, however, you missed others parts of the series, I strongly recommend you to read them here — Part 1 and Part 2.
Nevertheless, for the purpose of highlight, Part 1 introduced the topic and laid the necessary foundation for understanding the bigger picture. It made emphasis on the fact that weather forecasting has been an agelong practice among human race, and virtually everyone alive has at some point tried his hands at forecasting the weather, though unwittingly. Again, some of the important features of the app was robustly explained with appropriate graphics to aid ease of usage.
Part 2 detailed about my experience with the app, including how I came to know about it. As explained in that Part 2, my discovery of the app was by accident. I didn't set out of my own volition to find the app. It was through my brother's in-law's recommendation that I got to know the app, and it's been very worthwhile using it. This fact was emphasized in that Part 2. Also worthy of mention is how to use the app to find the weather conditions of anywhere in the world. Maybe you want to travel to New York city, and you want to know what the weather is like there so that you prepare accordingly. This app is all you need to get all the information you seek. And how to go about this was well demonstrated in the Part 2 with procedural graphics.


pixabay.com
That said, my review today shall revolve around three areas, namely:
The Share feature of the app & how it's turning me to a soothsayer,

The importance of weather forecasting with respect to my experience of Your Local Weather app, and

Tolerating the app's brightness at nights.
The share feature of the app & how it's turning me to a soothsayer
The function of this feature can easily be figured out by considering the sound of its name "share", which literary means "to communicate", "to give out".
This feature enables you to transfer weather information (i.e data) to another person through any of these channels: WhatsApp, Telegram, E-mail, or SMS. If you are experienced with using this app, there is no place around the world that you cannot bring up its weather information. You can be in Lagos and tell someone in New York what his weather is like, and even what it will likely be in advance of upto 5 days with a high degree of accuracy. All you need do is to open the world map in the app and tap on New York. Thereafter, click on the update icon to bring up weather conditions within New York, which you can then forward to the person via Share Feature button.
This is one feature of this app that has made one of my friends to see me as a weather soothsayer lately. Sounds unbelievable, right? Well, as unbelievable as it might sound, the truth remains that what I'm saying is real.
It all started one early morning I was on call with my friend, Starbele. In the middle of our conversation, she sighed sadly and wondered what the weather would be like in the afternoon, whether it was going to rain. The message was a personal inward expression and wasn't directed to me in anyway.


pixabay.com
However, I picked interest and offered to help her with highly accurate weather information she could rely on. She didn't take me serious initially and was almost laughing it off. But I called her attention to the fact that I was serious about my offer. Realizing the sound of seriousness in my voice, she agreed since it wasn't going to cost her any penny, anyways. I told her to check her WhatsApp for my message after about 3 minutes and ended the call.
Her location was Owerri city. So, I opened the app and used the process I discussed in Part 2 to fetch Owerri city weather information in advance of upto the next day and pushed it to her WhatsApp number via Share button feature.
Summarily, I told her that cloud was clear and that it was most likely not going to rain. So she was free to go to anywhere she wanted to go to. And about the next day? I told her it was going to drizzle almost throughout; nothing gonna be serious but she should still take an umbrella with her if she must go out. She asked if I was serious to which I answered in the affirmative.
After about two days, she called to thank me, confessing that everything happened the way I said it. And ever since then, more especially during rainy season, she has been calling at the start of every new week to get information about weather outlook for the week. Though the app weather information does fail sometimes, but overall (at least most of the times) it works. Having said that, now let's look at the step by step procedure to use the app's Share button feature to send weather information to someone else.
Procedure
This procedure is about how to share the weather information of the location of someone with the person. Like me, let's assume the name of the person is Starbele, and she has an active WhatsApp number and resides in Owerri city. So you want to fetch the weather information of Owerri city and share it with her, perhaps, to enable her plan her day accordingly. Below is the step by step procedure on how to do that:
Open the app and use the procedure discussed here to fetch Owerri city weather information. Assuming you have done that and the data contained in the below screenshot is according to the fetched information.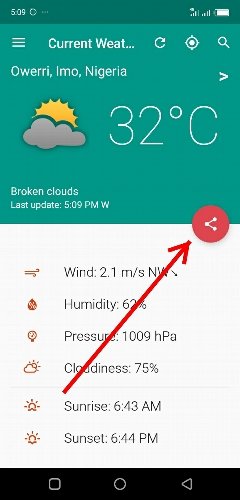 Click the Share button as shown by the arrow in the above image.

The image below displays all the other possible ways you can choose to share the weather information. Click on the WhatsApp app as indicated by the arrow in the image shown below.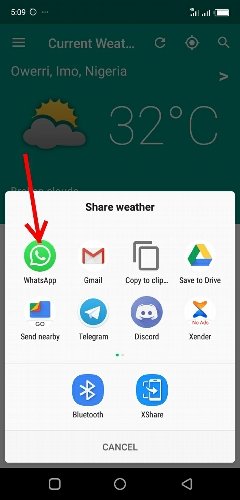 Scroll through to locate Starbele with whom you are interested to share the information. Click to choose her as indicated by the arrow in the image below.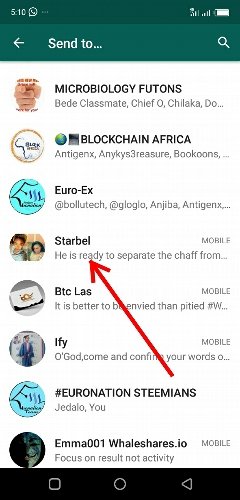 Click on the WhatsApp's Send message button to pass the information as shown below.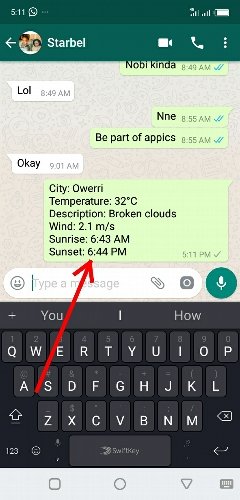 Importance of weather forecasting
Weather forecasting is an integral part of existence, and for this reason, man cannot exist safely without being able to predict the weather in some ways. Even before the invention of various high precision weather forecasting instruments, man has relied on the unaided observation of weather to get an idea of what the weather would be like in the next minute. All this is in order for man to make an informed decision about his everyday activities.
Given this fact, some of the reasons underlying the importance of weather forecasting with respect to my experience of Your Local Weather app are explained thus:
Dress code: are you gonna put on winter coat, sweater, T-shirt, pants, etc? Usually, how people dress is influenced by the prevailing weather conditions. Your Local Weather app has become a great companion to me with respect to my weekly choice of dresses. In this regard, before I take the clothes I'd wear in the coming week to laundry every Saturday, I'd first of all take a look at the 5-day weather forecast of Your Local Weather app.

Outdoor activities: Your Local Weather has been of immense help to me in the area of planning my outdoor events. In this regard, I try to find out if the near future weather conditions would impact negatively on my outdoor event(s).

Farming activities: outside blogging and offline business, I am also a farmer. I currently have a big cassava farm, and it was a farmer friend of mine that influenced me into embracing commercial agriculture. I am planning to expand my agricultural interest to include cucumber planting by next month. So far, I have found Your Local Weather very helpful in planning when to carry out weather-dependent activities like fertilizing and anti-bug spraying amkng others.
There are several other areas where weather forecasting is equally important. However, with respect to my experience of Your Local Weather app, the above stated facts constitute the major areas I have found Your Local app to be very useful.
Tolerating the app's brightness at nights
Your Local Weather has two themes: light and dark themes. By default, the app is set to light theme as shown below: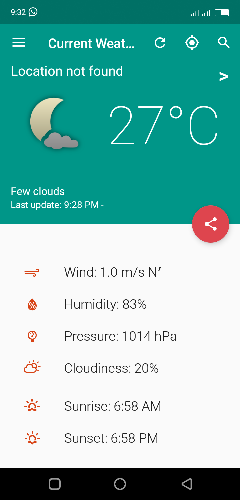 Having used the app for sometime now, I discovered that it's not always easy to behold the app at night while it's on light mode. The brightness of the screen is so florescent that it could negatively affect important optical nerves. Little wonder there is dark theme alternative for those who, for one reason or another, cannot behold the app at night.
I found this feature very helpful, and that explains why I am bringing it to attention in this review. To set the app to dark theme, follow this format to do so:
Menu/Settings/General settings/Themes
Once you do your clicks using the above format, you will arrive at theme stage where you are to select light or dark theme as shown in the below image by the left. Click dark theme and viola! You're done. Now the screen would now appear as shown in the below image by the right.
![Screenshot_20190301-2156451.png](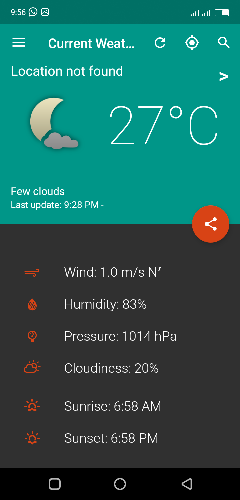 )
![15514748479281.jpg](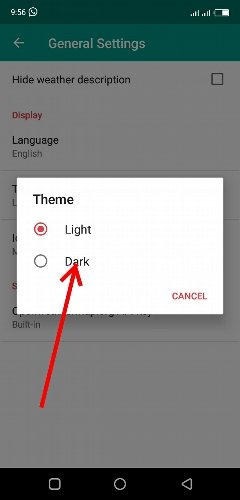 )
Summary
In this article, I have been able to review Your Local Weather with respect to how to share weather information with a third party as well as the three major areas I found the app to be very helpful. Added to this is how to configure the themes to sooth one's tolerance.
I encourage you to try the app.
Thanks again for reading.
Links
Github repository: https://github.com/thuryn/your-local-weather
Available for download on Aptoide, F-Droid, and Playstore
All images images used in this post were taken with my android phone, otherwise are properly sourced.
Series backlinks
My Github Profile