Welcome to my blog once again. In the Part 1 of this article I introduced you to Your Local Weather app which makes use of cell network, Wi-Fi and GPS to not only track down one's location but also capture with a high degree of accuracy the weather conditions of the place. I also emphasized that you don't need to be a meteorological guru nor need a supercomputer to try your hand at forecasting the weather.
Of truth is the fact that if you have ever looked up at the clouds and wondered if it would rain or not, if your judgement of the cloud outlook has ever influenced you to take an umbrella with you while going out, then you have actually tried forecasting before though unwittingly! Technologically unaided weather observation is the most basic form of forecasting that we all engage in on daily basis but without realizing so. This was well buttressed in the Part 1.
Without wasting much of your time, my talking points in this Part 2 will revolve around two areas, namely:
How I got to know the app and my judgment of the app so far, and

How to use the app and determine the weather conditions of a place you intend to visit.
Without much ado, let's hit ground running.


pixabay.com
How I got to know Your Local Weather android application and my judgment of the app so far
I didn't just budge on the app and started using it. It was out of the need to help a cousin of mine to gather as much information as possible about the weather conditions of the Chennai city of India, that I stumbled upon the app. That was actually around July, August last year.
Then, my cousin and his mom had just been issued medical Visas to India. Earlier on, he had suffered dislocation to one of his Ball-and-socket joints, and so was scheduled for a corrective surgical procedure at Global Hospitals and Health City, Perrubakkam, Chennai, India. And his mom was to look after him after the procedure. They were on a tight budget having struggled to raise money for the surgery, and so needed to travel with only essential things.
One of the things that came to mind was winter coat. As first timers, they didn't know what weather conditions would be in Chennai. They wondered if it was necessary to travel with winter coats to shed themselves against acute cold. They rang to inquire from me since I had been to India in the past. I told them that India is actually a big country with relatively huge landmass, and that the part of India I had been to wasn't Chennai. So, there is every likelihood that the weather conditions of their destination and that of where I had been to before, are not the same.
While we were conversing over the phone, my wife overheard us. After I had ended the call, she called my attention to tell me about an android application that her brother has been using to find out weather conditions of virgin destinations before traveling there. While all this was going on, it didn't occur to me to Google about Chennai weather. So eventually, it was my wife's brother who recommended Your Local Weather app to us.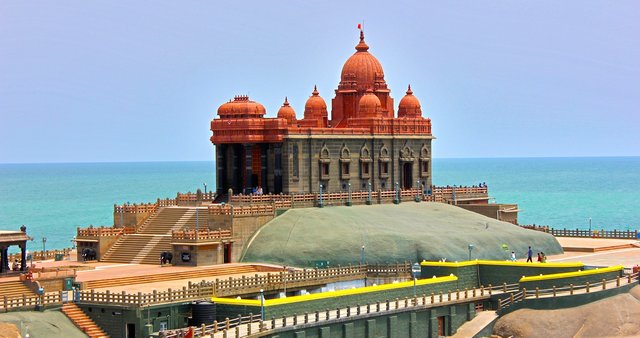 pixabay.com
So after I had used the app to get weather outlook of Chennai city, I called my cousin and advised him not to buy any winter coat as that would be a waste of money. Because I found Chennai weather to be warm and humid, which is often associated with tropical regions like Nigeria. This is to say that Chennai has a very similar weather with Nigeria around that period. My cousin would call later from India to admit the authenticity of my forecasts and thanked me for not allowing them waste money on winter coats.
That's the story of how I got to know about the app, and I have been using it ever since. My mastery of the app has led me to highlight some of its important features as well as demonstrated how to read its stats in the Part 1. Let me point out something before I am misconstrued. The fact that I demonstrated how to read the app should not discourage you from trying it out on the reason that it could be difficult to read. No, actually. The app UI is very user friendly, and even a layman can look at it and decode its data meanings.
Even as true as that's, however, using the app isn't totally without a hitch. I noticed that it's quite confusing to use some features of the app. For instance, the process of updating both the weather and location features is not very clear. This is particularly the difficulty I encountered when I started using the app early last year. It actually took sometime before I found out how to set the app to update its weather and location on autopilot. This explains why I took time to demonstrate how to update these two important features in the Part 1 also. So I don't envisage you would encounter any difficulty regarding this.
How to use the app and determine the weather conditions of a place you intend to visit
Sometimes, you will like to know the weather of a location you haven't been to before. Most at times, among other considerations, the reason for this is to enable you make adequate preparations before actually traveling to the place.
Supposing you want to travel to a place called Archives in Paris, Frace; below is the step by step procedure you will use to find out about its weather conditions.
Procedure & Illustrative images
1.) Open the app and click on the search icon on the tool bar.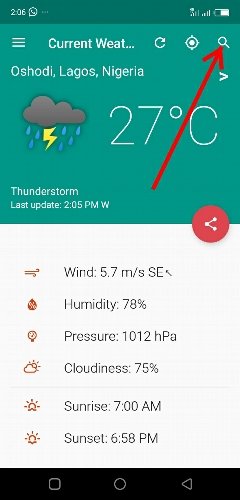 2.) On the page that opens, look towards the base of the page, and you will see a plus sign (+). Click on the plus sign (+) to display world map.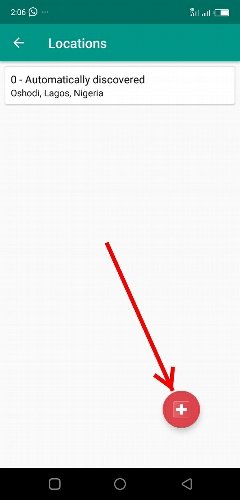 3.) Zoom the map appropriately and tap on the position of your desired location on the map and wait for it to load. Since your desired location is Archieves in Paris, France, just tap on it in the map and click on the add button to add it to the list of your choice locations.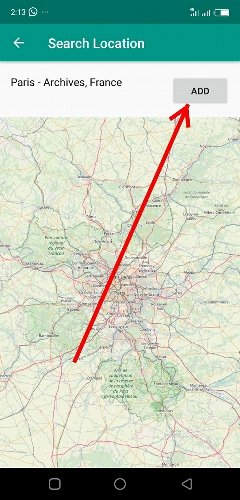 4.) Click on the back page button to return to main (home) page.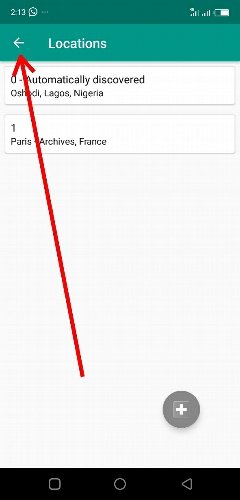 5.) Click on the swap icon to display your chosen location which is Archieves, Paris, France.
![15511876422711.jpg](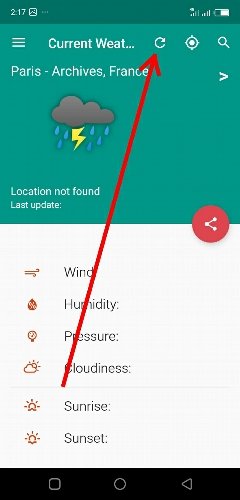 )
![15511876141361.jpg](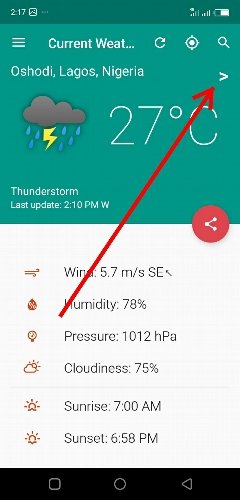 )
6.) Finally, click on the update icon as shown by the image on the righthand side above to load the weather conditions of your selected location. The loaded weather parameters are displayed below.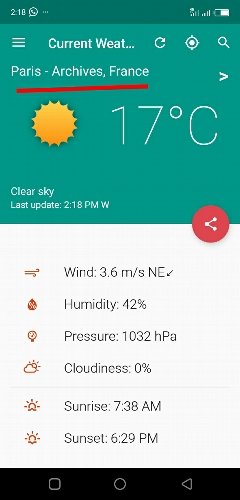 As displayed in the screen above is the weather condition of Archieves, Paris, France. Follow the same method and you will be able to get weather conditions of any place in the world.
Thanks for reading.
Links
Github repository: https://github.com/thuryn/your-local-weather
Available for download on Aptoide, F-Droid and Playstore.
All images images used in this post were taken with my android phone, otherwise are properly sourced.
My Github Profile