Welcome. In the Part 1 of this series, I introduced the topic of the series and also gave historical account of how I came into contact with NetGuard firewall. Additionally, I demonstrated one of the three ways I use the NetGuard app, which is to carry out battery optimization for all my apps. And I must confess that it has been truly amazing.
I rarely use laptop to carry out any online activities. I found it to be very cumbersome, and the power situation in my locality doesn't help matters, either. If I am to depend solely on my laptop for all my online activities, I'd hardly accomplish anything. So my phone is my most dependent gadget for internet operations. I am so addicted to using my phone instead of laptop.
This explains why I am so happy since I got to know how to use NetGuard to optimize my phone for battery usage. Presently, it takes 48hrs to use up my phone battery once fully charged. And this is despite my almost 24hrs presence on the internet on constant basis. Before this time, the highest duration my phone battery could last was just 6hrs, and I'd plug it to power source or drop the idea of using it. It was a very difficult moment for me then, but thank goodness! I now have NetGuard!
Having said that, in this Part 2, I will be demonstrating other awesome ways I use NetGuard. And this will include how to use the app to control which group of apps are allowed to access the internet at any given time, and also how to use the app to block unwanted ads. But before I will proceed any further, let me explain the three most important features of NetGuard that make it the most appealing firewall out there. These features include the facts that:
It is a no-root firewall
It operates via Virtual Private Network (VPN)
It does not kill battery power; it's free and does not contain ads!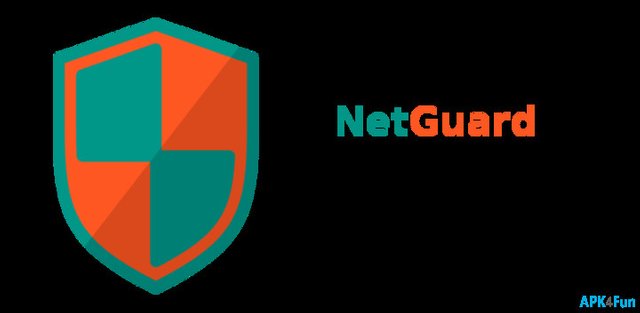 source
Explained individually, we have:
It is a no-root firewall
This means that your device doesn't have to be "rooted" to be able to use NetGuard. To root a phone is to enable yourself to have superuser access. On this premise, you would have administrative/superuser access to operating system files that are usually restricted from ordinary users under normal circumstances.
This means that you now have more power and control to determine how the phone works and can even tinker with the phone to work beyond its standard behavior. While this can be advantageous, it also comes with a greater potential to harm the device's proper operation. Nothing can be more risky than having root access to phone's operating system. Older firewalls would require root access to function properly, but NetGuard doesn't need such high risk access to work.
It operates via Virtual Private Network (VPN)
To bypass the need for root access, NetGuard is built to work via the Android VPN service. It is also worth noting that NetGuard cannot operate side by side with other VPN based applications because Android doesn't tolerate chaining of VPN services. For this reason, any VPN app on your phone must be uninstalled before NetGuard can work maximally. The fact that NetGuard doesn't require "rooted" devices to work, doesn't, in any way, mean it cannot support rooted devices as well. In fact, it doesn't only support rooted devices, it even offers more features than most root firewalls.
In NetGuard, VPN is not used to connect to the internet in an encrypted fashion in order to avoid being tracked by others. Instead, VPN is used to redirect the data locally on the phone. This ensures that connections to the outside world is effectively blocked for specified apps so that these specified apps won't have access to your data plan. This is an intelligent way of data management without resorting to rooting the phone.
It does not kill battery power; it's free and does not contain ads!
NetGuard depends on only a very tiny amount of CPC power to function effectively. This means that its operations do not drain battery power to a significant extent, and so the fear of battery getting killed because of NetGuard deployment, does not apply. The app doesn't need any processing power to allow or disallow communication once the parameters have been set/configured.
Finally, NetGuard is free (though there are also some Pro-features that require in-app purchase to use) and does not display annoying pop-up ads.
The above is just a tip of the iceberg why you must have a hold of this great application. Now, let's go through how I use NetGuard app to effectively manage my data plan and prolong its duration.
Controlling individual applications access to mobile data
One of the things I like about NetGuard is the simplicity of its UI. It is built in a way that anyone would look at it and instantly have a good understanding of the entire concept. The Wi-Fi and mobile data icons are arranged next to the individual applications. This makes it very easy for one to tap them to either enable or disable internet connectivity on both connections (i.e Wi-Fi or mobile data).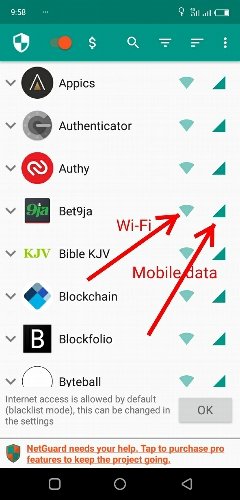 In the above image with arrows showing Wi-Fi and mobile data icons beside individual applications; enabling/disabling internet connections on the chosen applications, is as easy as taping either or both icons. Even as easy and handy as this is, it is not the ideal way to control access to your mobile internet. The easiest and most effective way to do this is to block all mobile traffic by default, and then select to activate the ones you want individually.
Below is the complete procedure I used to do mine, and which you can also use to do yours:
1 Click on the app to open and launch it. Click on the main menu — this is the three horizontal dots at the top right corner as shown by the arrow in the image below (left). This displays drop down menu captured by the image shown below (right). Select Settings/Defaults (white/black list).
![15519067827211.jpg](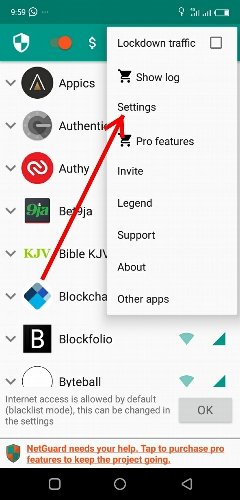 )
![15519067529831.jpg](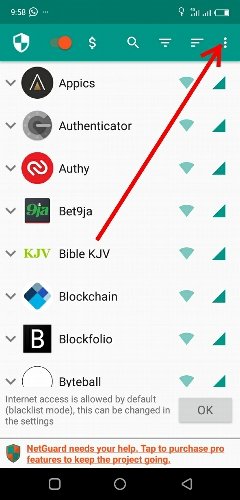 )
2 In the image below, Click to enable Block mobile and Apply when scree on slider bars.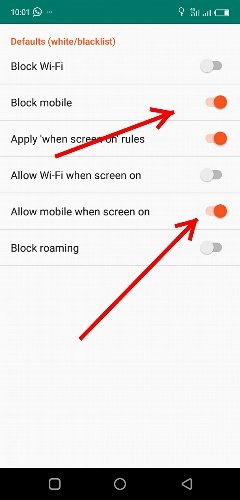 3 Return to the Settings page and click to select Advanced options as shown in the image below (left). In the page that opens, enable Manage system apps. See image below (right).
![15519068437281.jpg](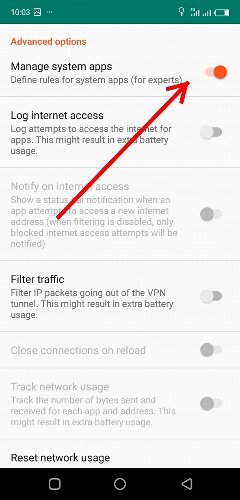 )
![15519068269551.jpg](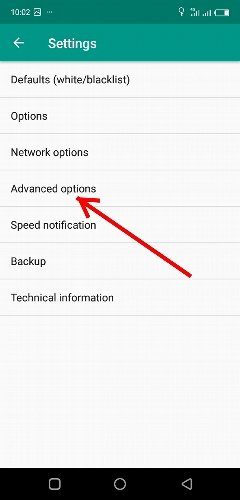 )
4 All the mobile apps are now blocked by default. Return to the main screen and you will see that mobile data icons have been ruled through, indicating they all are blocked.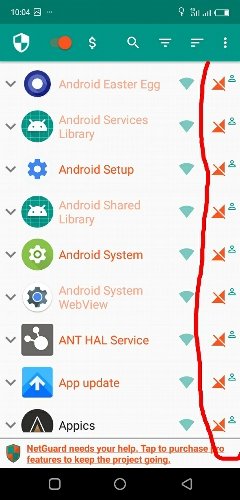 5 Double check to ensure that all the applications are blocked and none is using your mobile data. Pay attention to particularly Google (Play) services and Android Operating system and make sure they are effectively blocked.
6 You can now scroll through to tap and activate apps of your choice to access the internet.
Just try this and see how amazing this is. You will realise there is more hidden apps or systemic programs that gulp your data than meet the eyes.
Steps to blocking annoying ads
Blocking annoying unsolicited ads is another way I use NetGuard. Like when I graphically demonstrated how effective this app is at prolonging battery life, one good thing with using NetGuard to block ads is you will know if it's, indeed, working or not after set up. There is a link to find that out, and that makes NetGuard everyone's favorite.
To enable NetGuard to effectively block annoying ads, make sure you download the app from Github.com. This is important because ad blocking will not function if the app is downloaded from Play Store. Play store was the first place I downloaded the app from and unsuccessfully tried to set it to block ads. After the failed experience, I dug deeper before I discovered why it failed. So, take note.
After downloading and launching the app, then carefully follow the below quoted steps:
Enable the setting 'Filter traffic' in the Advanced options (three dot menu > Settings > Advanced options > Filter traffic; default is disabled except always enabled in Android 5.0 and earlier)
Enable the setting 'Block domain names' in the Advanced options (three dot menu > Settings > Advanced options > Block domain names; default is enabled)
Import or download a hosts file using the NetGuard backup settings (three dot menu > Settings > Backup > Download hosts file)
Disable browser compression (in Chrome: three dot menu > Settings > Data Saver > Off)
Wait at least 10 minutes to let the Android DNS cache time out
VIOLA! That's all. If you have followed these steps faithfully as described, there is no stopping you from enjoying ads blocking service. It's a great app, actually.
Summary
NetGuard is an amazing app in many ways. It's free and can be used with rooted and non-rooted devices alike. It's simple and very easy to understand and handle. In this review, I have carefully touched the most important features that make it a great app, based on my experience of it. It is the only mobile firewall that supports no-root devices, and this makes it an absolute necessity for everyone unless you want to expose your phone to rooting risk. I guess you wouldn't want that. So why not try NetGuard firewall and see for yourself how amazing the app is.
Thanks for reading.
Links
Github repository: https://github.com/M66B/NetGuard
Available for download on Github and Playstore.
All images images used in this post were taken with my android phone, otherwise are properly sourced
Resources
Series backlinks
My Github Profile