The world we live in today has developed to the extent that most people today cannot do without mobile phones. The importance of mobile phones in our everyday life cannot be overemphasized. Their advantages make them fundamental accessories if not necessities without which life will, in fact, be useless.
They act as our nexus to the world, and thus make the world a small village. Thanks to such features as calling, texting, video calls, chats, and event full social media, you will remain in touch with anyone as long as you wish and irrespective of the person's location.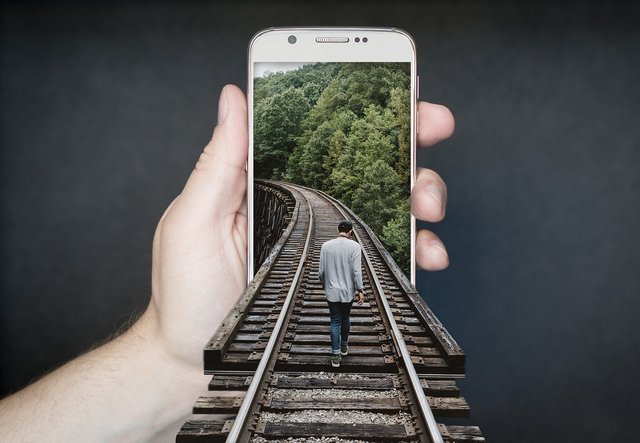 pixabay.com
They act as a source of entertainment to us as it's impossible to get bored when you're with a mobile phone. You will find pleasure in playing such games like the well known Nokia Snake game and other crossword puzzle games, including uncountable online and offline game applications.
Thanks to mobile phone's GPS, it's not only that you can find your way home when you get lost in an unfamiliar environment, authorities can equally locate you in a situation where you don't know how to use the device's GPS. Again you can equally call a special number for rescue.
In fact, however you look at it, their benefits are inexhaustible. A mobile phone can act as alarm and reminder to help manage a to-do list; a touch, a recording device, data storage, calculator, calendar, camera and many other utility features. All forms of data like credentials, photos, videos and even documents can be sent and received within a few seconds across the globe via a mobile phone and thus avoiding doing so via time-consuming post offices.
These life enhancing benefits that mobile phones confer on users affect us, as human beings, in two ways;
Firstly, it is almost impossible for people to go about without their mobile phones. Can you imagine a top marketer or CEO of a company going about without his mobile phone(s)? Though it's not impossible to witness such an occurrence in the part of the world where I live in which anything can happen, but it's very rare at least. Those who dare would either be sacked without first being issued a query, or risk losing sales opportunities and vital business connections.

Secondly, the fact that we are likely to be found wherever our phones are exposes us to the risk of kidnapping.
It is against the background of the relationship between mobile phones and human security that I will be reviewing FakeTraveller android app in this article.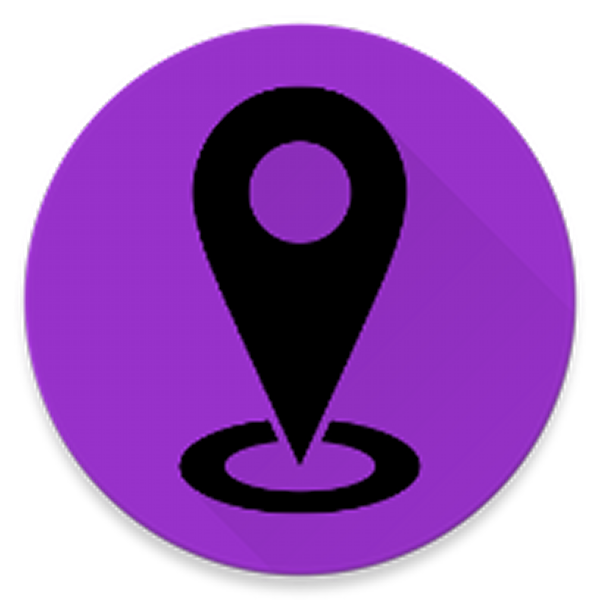 source
What's FakeTraveller?
FakeTraveller is an android based open source application that enables phone owners/users to fake their phone location, and therefore their own location, assuming our position that people would always likely to have their phones with them wherever they are, is true. This makes it difficult for anyone with intention to harm or kidnap you to achieve his aims, and thus ensuring and improving your safety and security.
My first contact with FakeTraveller app was early last year. And it was actually out of the need to prevent my wife (then fiancée) from knowing my where about. As lovebirds, we had a mutual agreement to activate Google's Map's location sharing features on our phones so that we would always know the location of each other at any point in Time. This was intended to encourage and promote fidelity, because, to say the truth, my wife believes I am seeing another woman.
And you know what? She's right. I have a girlfriend who I have known even before I got married to my wife. I couldn't marry her because of incompatibility in genotypes, being SAs.
However, as time went on I got tired of being monitored with eagle eyes by my wife. Something has to be done. My research and inquiries led to my discovery of the FakeTraveller app and it's been worth it ever since. I can be somewhere else and programme it according to the longitude and latitude coordinates of my house or office, and my wife would have peace of mind while I am elsewhere catching fun 😝😝.
So basically, you use FakeTraveller app to fake your location for the purpose of privacy. The app provides you with a map to select where you want your phone to be seen as its location.
That said, in this review, my talking point will cover the following:
(I) How to activate FakeTraveller app on your device.
(ii) How to deactivate it, and
(iii) Why it's not good to keep it on always.
How to activate FakeTraveller app on mobile phones
There is a requirement that must be met before you can successfully mock location on mobile phones. First and foremost, you have to manually enable developer option which, by default, is not enabled on any device.
Follow the below quoted procedure and images to enable developer option on your Android:
Go to Setting of your phone. Then scroll down to the bottom & find the about option.Tap on that option to open a menu. Now in the about phone section, scroll down and find Build Number option. You have to click seven times on Build Number option to enables developer options in your setting app. [sourced from here]
Immediately you finished tapping 7 times on the Build number option, small pop-up message will be displayed showing "You are now a Developer". Once you see this pop up, "Developer options" tab will automatically be created on your phone as shown below: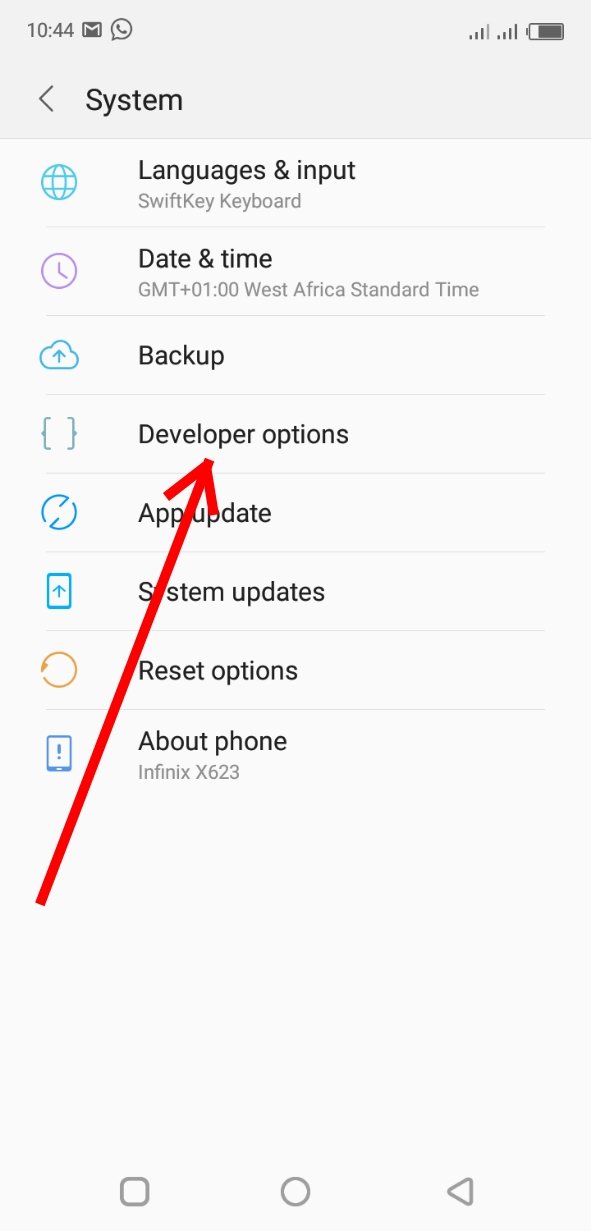 [Follow this to see it: settings/system]
Having enabled developer options on your phone, you have to go a little further to make your phone compatible with FakeTraveller app. All you need do is to enable FakeTraveller as the mock location app in the developer options. Follow this step to do it: select FakeTraveller app in "Settings/System/Developer options/Select mock location app" option.
Once this is achieved, you can now activate FakeTraveller app to mock your device's location. To do this, take a closer look at the map and choose where you want to be located. Now long press the place you had chosen. Alternative method is to simply type in the latitude and longitude coordinates of your desired location in the positions meant for them at the far top side of the app if you know them. Ensure you tap the Apply button once you are done setting the coordinates or long pressing your choice location on the map.
In the below image by the left, I chose Isolo Road in the map and its coordinates automatically filled in. So that's the location that my wife will see in her device even though I may be far away Victoria Island in reality.
![Screenshot_20190219-095443.png](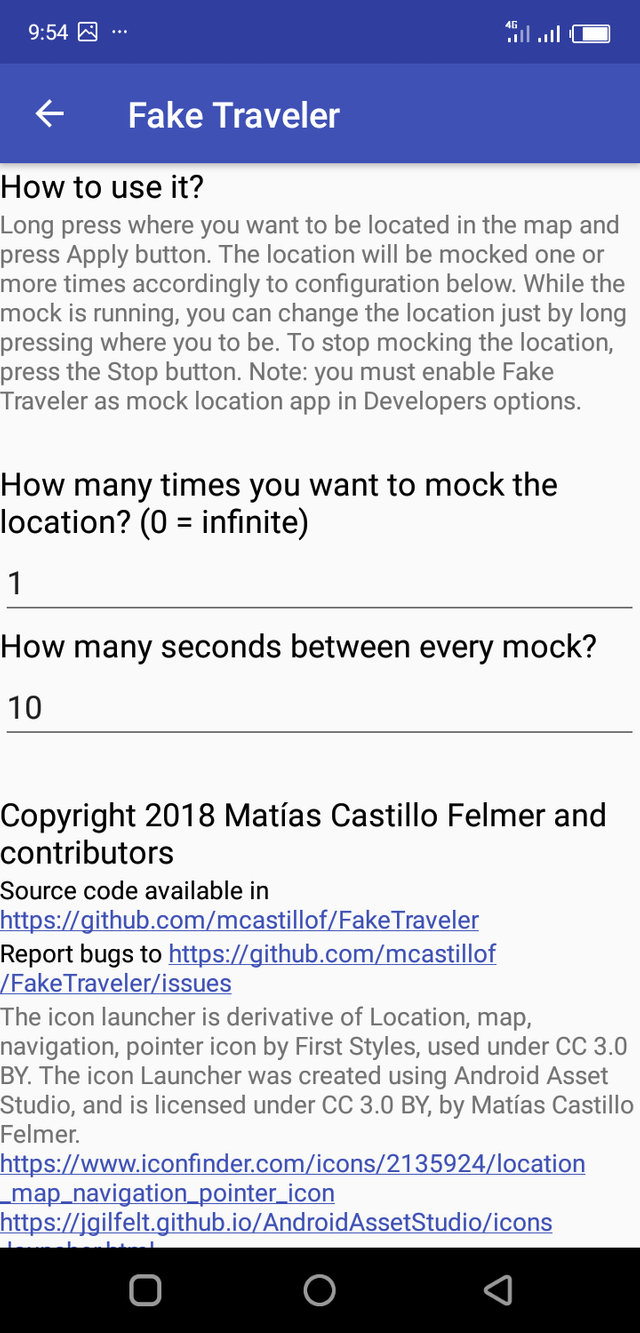 )
![Screenshot_20190219-095429.png](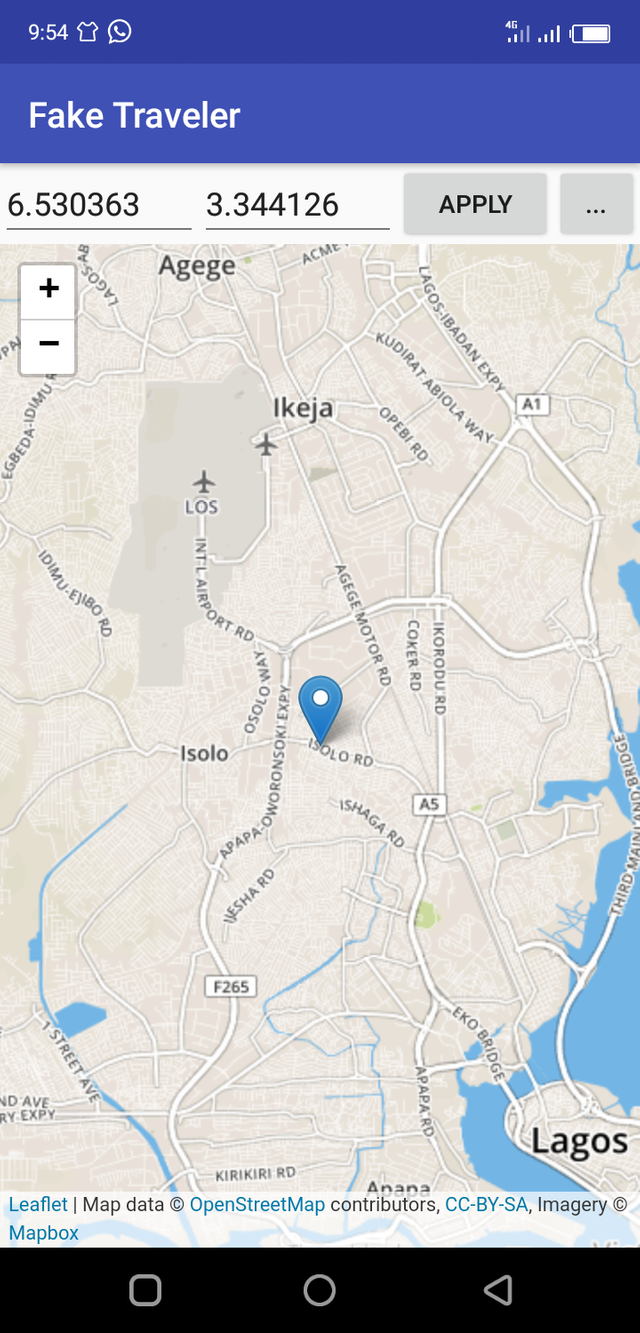 )
You will be shown two settings to mock the location over a period of time once you click the "..." button as shown in the above image by the right. Let me briefly explain the settings:
How many times you want to mock the location? (0 = infinite)
Zero is infinite while other numbers are finite. So you can choose to fake your location 5 times, 9 times, etc as you wish or you can keep hiding away without stopping by setting it to zero (0).
Time interval in seconds between every mock?
If you are going to mock your location infinitely, then you have to set this field to zero (0) so that your device will keep faking your location without having to stop. Otherwise, you have to set it according to your preferences. Let say you prefer your device to fake your location every 5 hours, then you have to first convert it to seconds (5 x 60 x 60), and then input the values (in seconds) in the space meant for it.
I will have to stop here. In the Part 2, I will review how to deactivate FakeTraveller and why it's not good to always live it on, among other sundry topics.
Conclusion
It's said that beside everything that has advantages, are also disadvantages. This is true with mobile phones. Irrespective of their amazing advantages, they also have disadvantages. Among these disadvantages is the risk of being tracked down by men of the underworld via GPS, followed by possibility of being kidnapped.
Thanks to applications like FakeTraveller app with which one can now fake his location and avoid being tracked down.
Step by step procedures to activate FakeTraveller app have been thoroughly reviewed in this article according to my personal experiences with the app. Although there have been reports of negative issues which made the app to malfunction sometimes, personally I haven't encountered any problem since I started using the app. You can test the app and see for yourself.
Thanks for taking the patient to read this review.
---
Links
---
Github repository: https://github.com/mcastillof/FakeTraveler
Available for download on F-Droid
---
Resources
---
How to track a cell phone's location without being detected
How to turn off mock locations on Android phones
All images used in this post were taken with my android phone, otherwise are properly sourced.
---
My Github Profile
---