There are a lot of times and many reasons why you might be stuck while trying very hard to recall an exchange rate between two different currencies you have interest in. Such reasons could be that your small business is, for the first time, expanding into a new international market, you're in a foreign country on a business mission, you're receiving consignments from another country or any other reason.
By definition, according to Wikipedia:
...an exchange rate is the rate at which one currency will be exchanged for another. It is also regarded as the value of one country's currency in relation to another currency. For example, an interbank exchange rate of 114 Japanese yen to the United States dollar means that ¥114 will be exchanged for each US$1 or that US$1 will be exchanged for each ¥114. In this case it is said that the price of a dollar in relation to yen is ¥114, or equivalently that the price of a yen in relation to dollars is $1/114.
Currency exchange is necessary for success and amicable settlement of financial obligations in international business activities. Again, it gives us idea about the real worth of our budget when we plan to visit a foreign country.
With the foregoing intro in mind, may I introduce you to an app that I have been using for about two years without realizing is actually an open source application. The name of the app is currency and is amazing and very seamless to use.
I started using currency app when I was making preparations to travel to Prague, Czech Republic for a conference. That was about two years ago. Then, I wanted to find out what the exchange rate was between US dollars and Czech koruna to enable me prepare my budget. That was how I came across the app and had recommended it to a few friends ever since.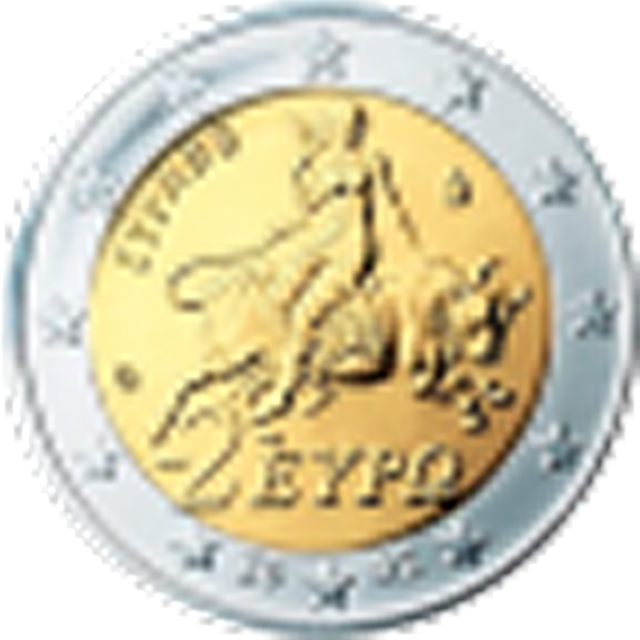 source
In this article, I am going to review currency app completely, including its UI and all its button functionalities. I will also highlight one shortcoming that I believe, if addressed, is going to make a whole lot of difference and probably place currency app as the top choice of the user public.
---
What's Currency
---
Currency is an open source android application created by Bill Farmer for knowing the exchange rates of the supported 32 currencies at any point in time. The first version (V.1.06) of this app was released in 2016. Since then, several other versions have been released before the current one (V.1.25).
I have been using this app for about two years now. The UI is very simple, and there is no ambiguity in its design and facial layout, making it one of, if not, the easiest app I have ever used. So, I don't think it is going to be a kind of rocketscience for anyone to actually master how to use it. A day of playing with its different buttons is enough to master the app.
---
Features of currency app
---
Some of the features that make currency app my favourite currency conversion app include the following:
Its currency rates are not fabrications from unofficial quarters; they emanate from the European Central Bank.

It supports 32 international currencies

Its currency rates are updated daily. So there shouldn't be doubts over the accuracy of its figures since the rates are regularly updated on daily basis.

Its last rate update is retained for use offline. This means that the rate values of the last update are what's factored in when you use the app offline. But once you come online, the rate values update automatically to assume the prevailing official values.

It's available in multiple languages. There are Ukrainian, German, Italian and French translations. This allows people from different language backgrounds access to the app.
---
Usage
---
As I said before, one thing I like about currency app is its simplicity. I doubt if anyone will find it difficult or complex to use. But at any rate, however, I will provide some important information on how the app operate and how one can actually use it.
One of the amazing features of currency app is its ability to support multiple currencies at a go. By this, I mean you can actually find out the worth of one currency in about 31 other currencies. For this example, we will find out the worth of one British pounds sterling in four other currencies namely USD, AUD, CAD and EUR.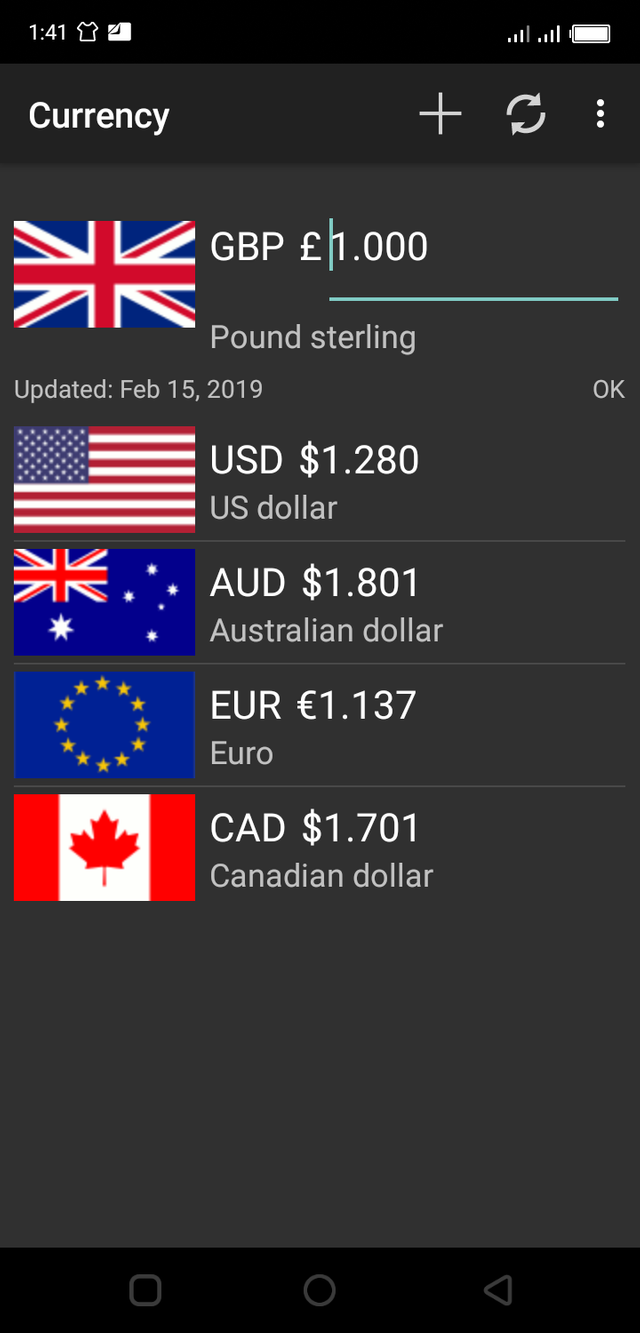 In the above image, British Pounds Sterling is the head currency and so is depicted by British flag which sits atop of others. In the currency value field beside the British flag, just type in numeric 1(which is actually £1) and the corresponding values of £1 in other currencies will be displayed automatically beside their national flags. So we have USD$1.280, AUD$1.801, CAD$1.701 and EUR€1.137 respectively.
To change the head currency, simple touch any currency among the listed currencies that you want to make the head currency. Okay. I can make Canadian Dollar the head currency by simply touching Canadian flag. So we have below: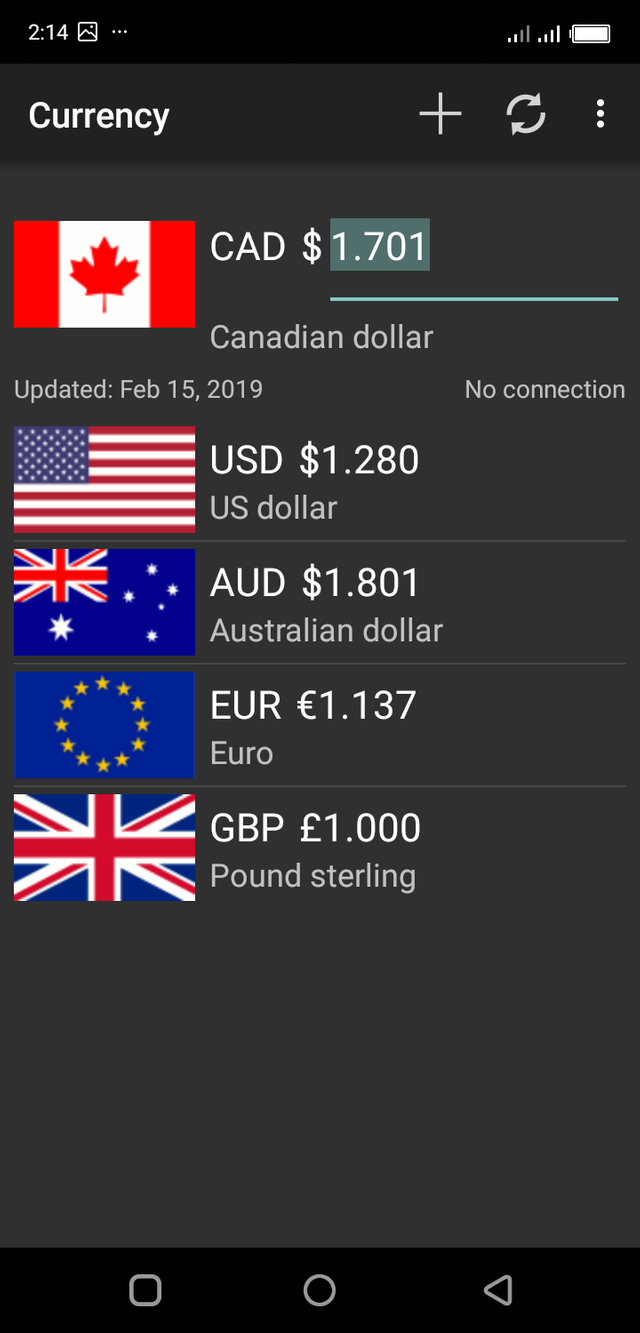 Same is true for all the other listed currencies. Okay. Good.
---
Adding unlisted currencies
---
I mentioned that currency app supports 32 different currencies. So where are the others and how can we add them to the equation?
To view other currencies, click on the cross icon (+) on the toolbar located at the top of the app, and a scrollable list of currencies will pop up as shown below: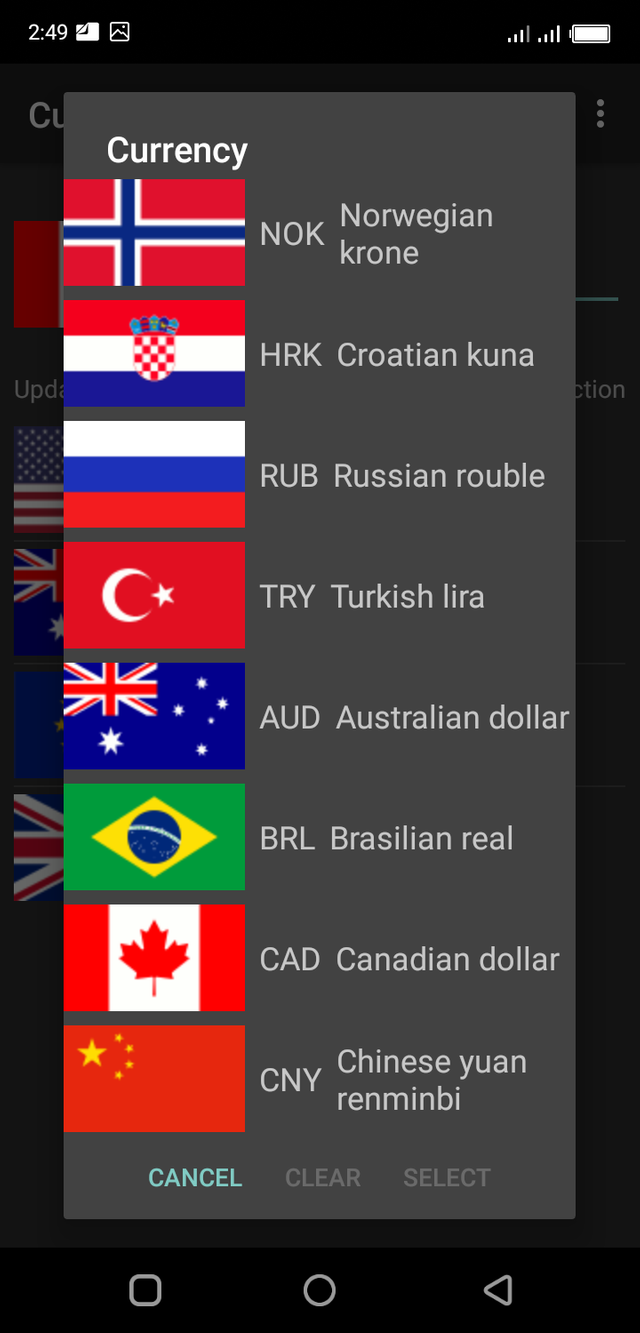 You can add an entry to the list of currencies you have interest in by just touching it once. To add more than one currency at once, long touch an entry to select it. Once one currency is selected, add or remove other currencies from the selection by simply touching them. After this, click on the select button to add the selected currencies to the list of currencies you have interest to find out their values.
---
What I will like to see improved in the currency app
---
The fact that currency app supports only 32 international currencies is one thing I don't like about the app. This is a limitation on its own. It can be made better. I think there is a need to add extra currencies. In my opinion, it should be made to support more than 150 international currencies. In the world we live in today, new states are being created from time to time.
The total number of countries we have in the 60's is not the same as the total number of countries we have today. And as new states are emerging, so are new currencies. Hence, 32 currencies are a far cry from these realities. Many people would like to see the app supports their nations' currencies. A good example is myself, I will like to see the app support Naira which is my national currency, and which it doesn't support currently.
Not only fiat, I think adding top cryptocurrencies like Bitcoin, Ether, Steem, EOS, etc to the list of currencies it supports will place it at par with current development. The world is changing. The usual ways of doing things are being disrupted by development in blockchain technology and Cryptocurrency. Anyone who's ignorant of this reality may suffer relegation in the future.
---
Conclusion
---
Currency app is, no doubt, a great app. It is simple to operate and get used to. With this app, anyone who is traveling to any of the countries which its currency is supported by the app will not experience difficulty in preparing budget and having accurate estimate for the trip. I used the term "accurate estimate" because the app's exchange rates are based on the data from European Central Bank.
They app will tell you how much your money is worth in the country you are visiting. That's amazing. Ain't it?
In this review, I have been able to provide guidance through the basics of using the app. How to make a particular currency the head currency is well covered, including adding other currencies of interest. So I don't expect you will encounter any difficulty in using the app. You can play with the app to discover its other amazing attributes.
Thanks for reading.
---
Links
---
Github.com repository: https://github.com/billthefarmer/currency
The app is currently available on F-Droid and here
---
Resources
---
All images used in this post were taken with my android phone, otherwise are properly sourced.
---
My Github Profile
---