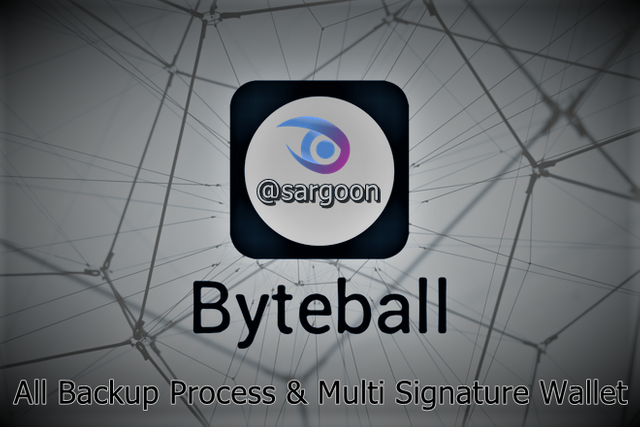 Repository
https://github.com/byteball/byteball
What Will I Learn?
You will learn how to backup your Byteball Wallet with Crypto Backup Wallet Seed.
You will learn how to create a Multi Signature wallet with Byteball Wallet Application.
You will learn how to create a full backup document on Byteball Wallet.
You will learn how to restore your Byteball wallet from full backup document.
You will learn how to use Byteball Wallet for Windows 10.
You will learn about compress and non-compress encrypted full backup documents.
You will learn how to secure your Byteball wallet.
Requirements
Byteball Wallet Application.
+2 devices (phone, tablet or computer) to create a Multi Signature wallet.
A notepad for Backup Wallet Seed keywords.
A little space for full backup document.
OS Requirements for Running Byteball Wallet
Mobile OS Requirements for Running Byteball Wallet
iOS 9.0 or later.
Android 4.4 or later.
Difficulty
Timeline
00:00 Intro
00:31 Backup Wallet Seed
02:53 Recovery From Backup Seed
03:15 Full Backup (Differences between Compress Backup and normal backup)
06:00 Restore From Full Backup
07:20 Paired Devices (Pairing a Mobile Phone with Invite the Other Device Option)
08:50 Multi Signature Wallet (Single Address Wallet, Total Number of Co-Signers, Required Number of Signatures)
11:35 Final Status of Work
Description
We talked about how to create a Multi Signature wallet, how to make full backup and restore from full backup a Byteball wallet and We also talked about how we can use Backup Wallet Seed method. We talked about what the compressed file is and how it will be created. We finally learned how to create Encrypted Full Backup file for Byteball Wallet recovery and we also learned how to backup our Byteball Wallet with 12-backup-wallet-seed-keywords and Restore from Full Backup methods. This Video Tutorial contribution was created for Byteball Video Tutorial Task Request. You can reach the Byteball task request by clicking here..
Backup Wallet Seed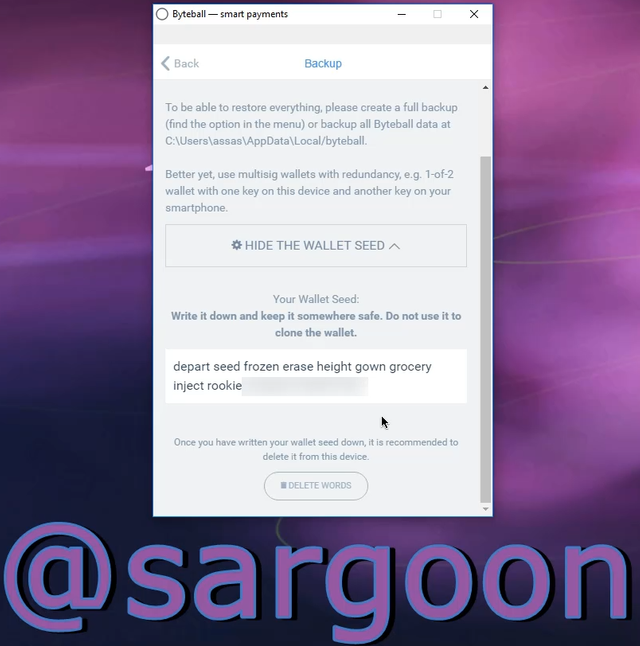 In the first step, we have received 12 different seed keywords. These different keywords were created for you. These 12 keyword seeds are very important for us to recover our byteball wallet in case of danger. You should save your wallet seed in a encrypted notepad for security.
The backup seed allows us to restore any of our any public assests inside of the DAG (Directed Acyclic Graph).
And lastly we have deleted the keyword seeds. In this way we have completely safe our wallet and hackers will not be able to access our wallet.
Recovery From Seed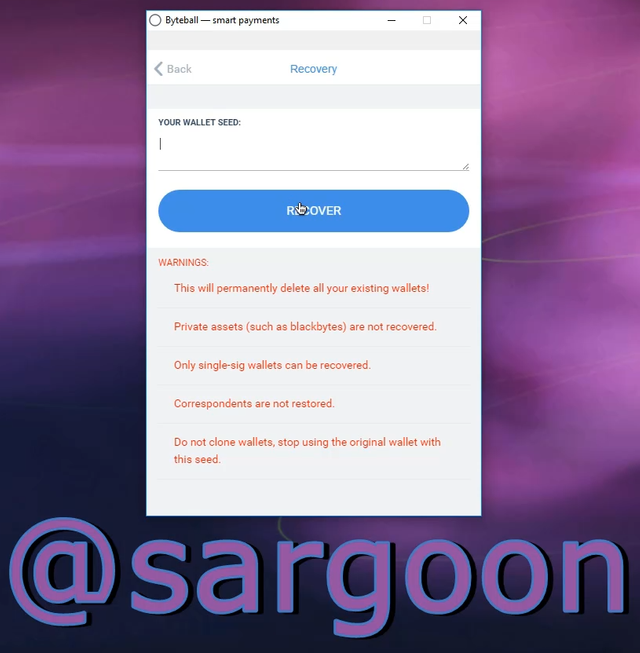 When we enter our wallet keyword seeds, that recover will force to restart the wallet. It will also give us back all of our public assets after restart.
Full Backup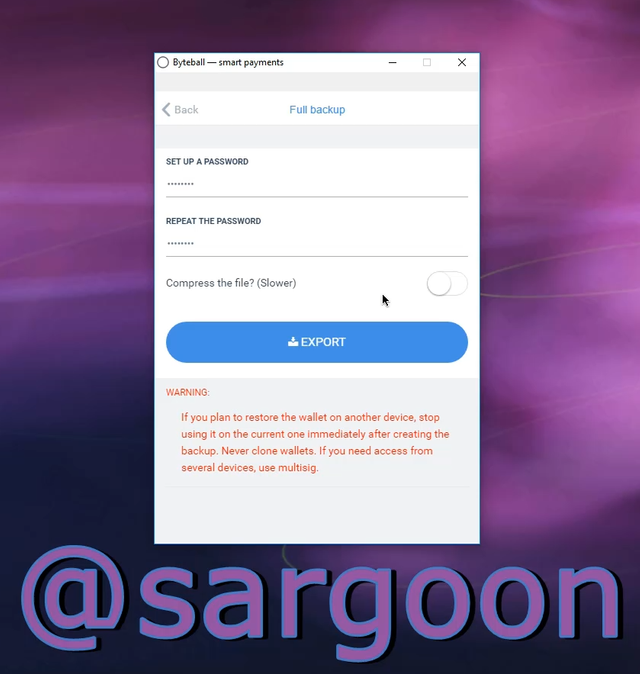 In here, the Byteball wallet will create a full backup document based on the current timestamp.
The full backup will delete our account data so we need to stop using the existing wallet on the current device immediately after creating the backup. And Reminder: Never clone wallets, If you need access your Byteball wallet from several devices you can use multi-signature wallet instead of clone!
And also the compress option will allows the size of the full backup file smaller. I used normal full backup because I have 0 bytes.
Reminder: with the normal backup you will have a larger full backup file.
Restore From Full Backup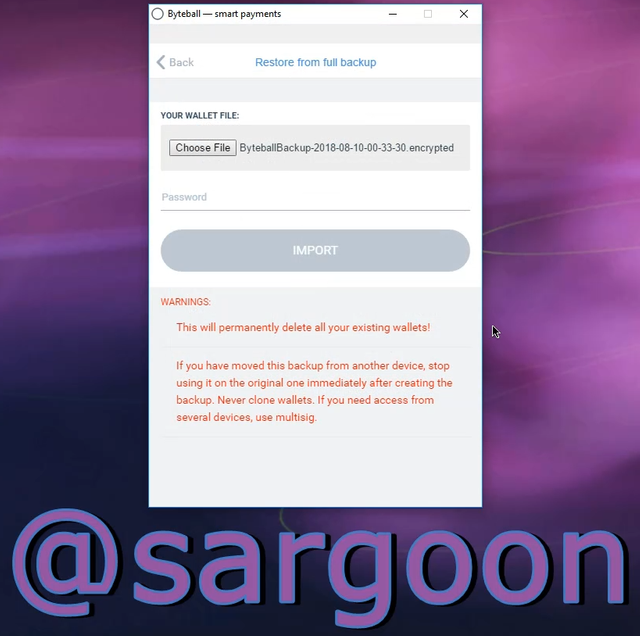 In this section, we need a full backup encrypted document because we will restore the wallet from full backup file. We used the choose file button for upload a full backup encrypted file into the our wallet.
When we click on the Import and that recover will force to restart the wallet.
Reminder: You can never clone your wallets through these backup methods. If you want to access your wallet through a few devices, you should create a multi-signature wallet.
Paired Devices (Adding Mobile Phone)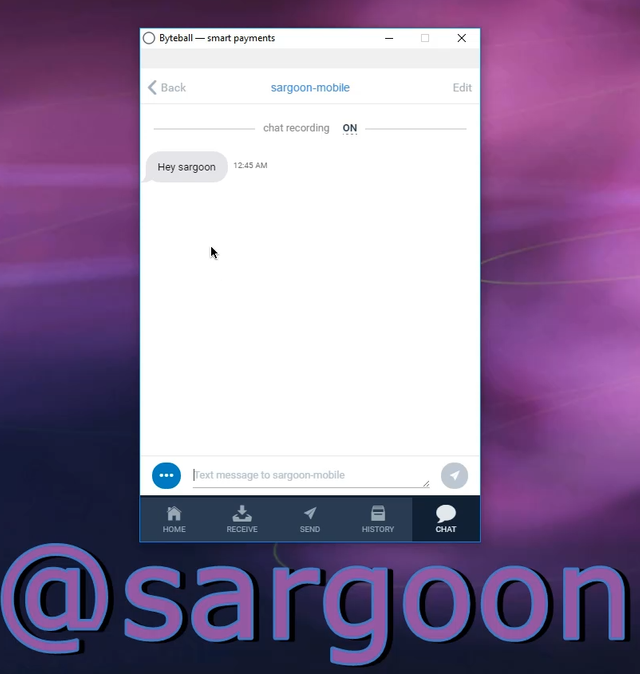 In this step,we have clicked on the "Add a new device" and then we selected Invite the other device section. You have to download Byteball Wallet into your device and after that you should scan the QR Code with your camera for pairing.
Multi Signature Wallet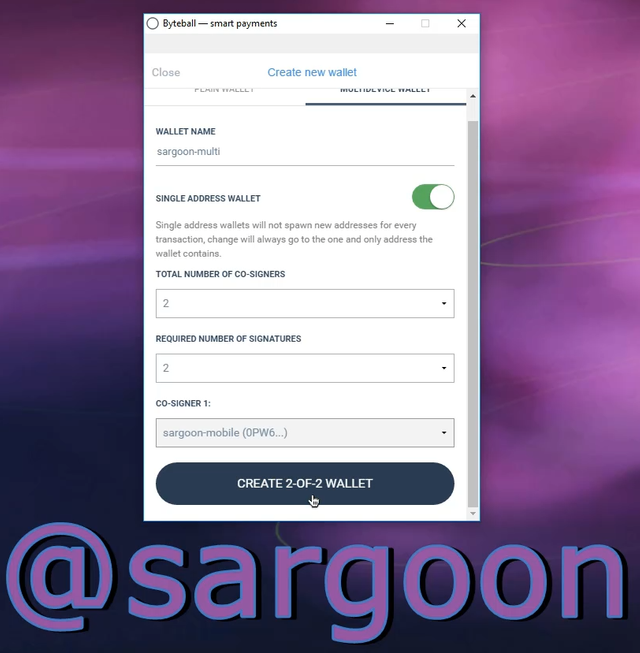 We have selected multidevice wallet and after that we gave a name for our multi-sig device. After that we selected single address because we will have single address attached to all of our paired devices, we will make transactions with different devices. The single address wallets will not spawn new address for every transections and only single address the wallet contains so we selected the single address wallet option to avoid confusion.
And then we selected the total number of co-signers as 2. This is all about our count of devices that we want to invite to our wallet. I have invited one different device to my wallet (my mobile phone) so I have selected the total number of co-signers as 2.
After that, we have selected Required Number of Signatures, this option is entirely related to the number of devices and co-signers.
And the button says Create 2-OF-2 Wallet these numbers are directly related to the number of signatures and the total number of co-signers. This means, I have twp devices paired to the wallet (desktop and phone) and I will make transections everytime both devices need to verify that transactions. After that we have created the multi-sig wallet.
Final Status of Multi Signature Wallet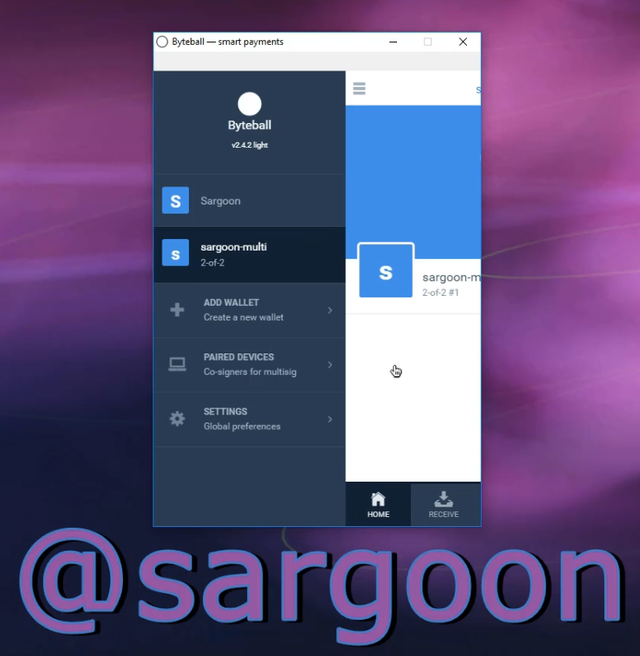 The Multi Signature Wallet feature also allows you to quickly switch between your other Byteball Wallets.
Sources
Video Tutorial
My GitHub Account