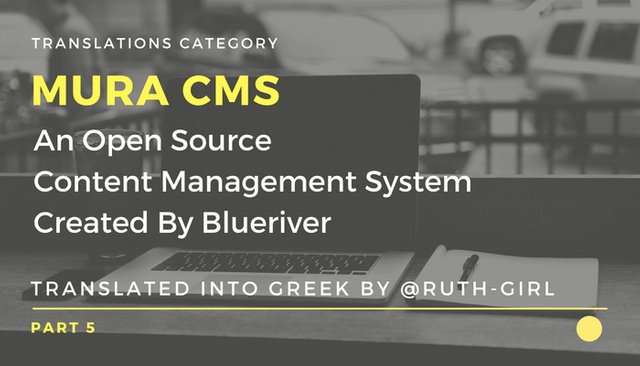 ---
The Basics...
Mura CMS Repository on Github:
https://github.com/blueriver/MuraCMS
Mura CMS on Crowdin:
https://crowdin.com/project/muracms
---
Project Details:
Mura is an open source content management system, meant to make the creation, editing and managing of digital content easier.
It is the perfect tool for content managers, content contributors, marketers, developers and IT professionals.
According to Wikipedia's article:
Mura is a modern web application that can be deployed via Docker in a containerized environment, as a WAR file on any standard Java servlet container, such as Apache Tomcat, or natively with any modern CFML engine such Lucee or Adobe ColdFusion. Mura supports popular databases such as MySQL, MS SQL, Oracle and Postgres SQL.
Mura also supports Content as a Service and application development via Mura.js and any modern javascript framework or library such as Vue.js, Node.js, Ember, etc.
Mura basically features:
Content Management
Content Personalization
Site Management
Analytics
Workflow
Development
Deployment, and
Integrations
For more details, you can visit the official site:
http://www.getmura.com/
Or browse through the video list of Mura's official Youtube channel:
https://www.youtube.com/channel/UCuHRf7rwQdUCgKOqTwd_wFQ
Basically, Mura CMS is an open source platform that promises to save digital content producers and managers from a lot of fuss.
@dimitrisp, our developer Language Manager, will be in charge of proofreading this project.
Interested in learning how Mura works?
Those who live in the US can enroll to this year's "Mura Training" in November 2018, in Sacramento. For more, you can click on this link.
---
Why this project?
After completing JabRef, the reference management software, I started going though the white-listed projects and Mura seemed to be the less demanding considering terminology. There are some strings that puzzle me with specific terms, but thanks to @dimitrisp's invaluable help and some googling, I can overcome such "obstacles".
Also, Mura CMS seemed like a very helpful tool that I would like to see being used by more people. Therefore, by submitting a good Greek translation, I aspire to see more Greeks using it in the future.
---
Contribution Specifications
Translation Overview:
The original text contains 7463 words. It's pretty much as big as JabRef and I believe I will finish it in 6 - 7 parts as well.
When I first started working on it, about 1% of the second file was already translated and approved by a proofreader outside the DaVinci-Utopian Translations project. This meant I had to check all these translations first, before working on the second file, in order to make sure they were correct and would not mess with the wording coherence within the text as a whole.
Languages:
The original text is all written in English and it is my task to translate it in Greek (my mother tongue).
---
The current session...
Activity Overview:
In the fifth session I am still working on the second and bigger file of the project, Core Admin that contains the basic features of the software. I have already completed translating more than 80% of the whole text and I believe that in the next contribution, the project will be finished!
Some examples of the strings I had to work on this time...
Messages:
"Due to system load session tracking has been disabled. Reload application to restart session tracking." = "Η παρακολούθηση συνεδρίας έχει απενεργοποιηθεί λόγω αυξημένου φόρτου του συστήματος. Πραγματοποιήστε επαναφόρτωση της εφαρμογής για να επανεκκινήσετε τη λειτουργία παρακολούθησης συνεδρίας."
As you can see, the English text is more "inclusive" and some things cannot be put in so few words in Greek.
Some buttons again:
"Full Edit" = "Πλήρης Επεξεργασία"
But there are, of course, cases where things can be translated using the same number of words.
---
Word Count:
According to Crowdin's word count tool, in this session I translated 1320 words. My previous two contributions were less than 1000 words. This time I tried to go beyond the 1000-word limit and I made it! After subtracting a rough 10% for: a) untranslated words (like email) and b) duplicate strings; I can say that I have translated about 1188 words.
Note: The previous part was about 904 words long
---
Proof of Authorship:
Note: No Activity Screenshots were added after the new guideline we were given on August 2nd, 2018.
---
TL;DR
This was the fifth part of Mura CMS. The project is slowly coming to an end, as I believe it should be completed in the next session. @dimitrisp is again in charge of proofreading and reviewing my work. This contribution was bigger than the last two and so will be the next one.
---
Credits
---
Image credits for the first and second images of this gif: @pab.ink

Third and fourth images from the Public Domain