Repository:
https://github.com/sduduzog/slim-launcher
Looking back in time when we were using non-smartphones, we'll notice how technology has changed our lives for the better. Technology of then can't be compared with the one of now. There has been tremendous advancement in innovations and gadget functionalities.
One of the main advantages of technology is the ability to comfortably reach out to our loved ones without moving an inch. This had led developers create social media platforms, apps and other means where users meet new and old friends.
We are in 21st century and the improvement of these social medias is rapidly increasing. Everyone now wants to be the first on any new platform or gain more followers on older platforms. These acts, had led every social media addicts to careless about their loved ones or anything in their surroundings.
Oh I have been talking more on social media. But, technology in general can also be a huge disadvantage in our day to day living.
There is a popular saying and I quote;
Too much of everything is bad.
That is certainly true. Large amount of technology & internet users now misuse the functions of their gadgets or paying more attention to online things rather than paying attention or doing the right thing to better their lives or environment.
There are better things to do with our lives rather than to get ourselves addicted to smartphones and online social lives.
My whole points do not mean we shouldn't use smartphone, apps or websites. But, lets minimize the amount of time or how addicted we are with it.
Few android developers had rightly used the advancement of technology to build apps which will give users time to enjoy life as it was intended. Instead of wasting time on social media or any other platforms and apps that prevents them from doing what they ought to do.
Beautus S. Gumede & Aswin Mohan are both mobile developers who had taken time to develop two different but similar Android launchers that lets users minimize the amount of apps they can access.
Oh! Are you wondering why am I comparing the two developers?
I have to compare the two projects because they have both aimed at solving similar issue from the same angle. Although, one is doing it for free while the other isn't. I will give the real differences in both launchers in my next article when discussing on their features.
Slim Launcher is an open source launcher developed and being maintained by Beautus S. Gumede, while LessPhone Launcher is a similar launcher but a closed source one being maintained by Aswin Mohan.
These Launchers are developed for anyone who wants a strict routine or just less cluttered home screen.
In this article, I will be discussing more on the open source launcher at the same time comparing its home screen interface with the closed source launcher.
Introduction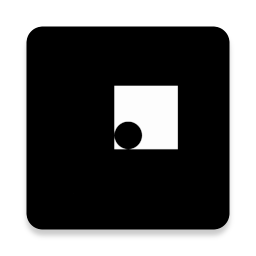 As I have explained above, Slim launcher is an android launcher developed to strictly restrict users from using apps that prevent them from doing meaningful things with their lives.😊 The app won't pick the helpful apps for you. You have to do that during installation. So, to be sure you are ready to reduce your addictiveness on some apps, you have to deselect them when you are given options o choose your best apps.
In other words, Slim launcher can be referred to as an app that gives customizable interface to its users. There are many other ways I can provide a definition to Slim launcher.
Slim launcher can be downloaded from Playstore
First impression
Over the past few months, due to the content I'm creating for Utopian blog category, my Android home screen is messed up with lots of apps. So, I needed to uninstall some or maybe freeze them which was why I headed to Google playstore for an app that'll suit my need.
The first app I got as a suggestion was the closed source launcher with the name Less Phone Launcher by Aswin Mohan followed by Slim launcher. The third suggestion I got was Slim launcher.
One thing that made me go for these apps was the launcher I saw in their titles. Because my issue was related to plenty of apps on my home screen, and a launcher is an interface that let users to customize their home screen.
I was like Perfect These are the solutions to my messed up screen. I wasted no time but to download the two launchers.
Installation
Slim launcher Installation doesn't take time. Not even up to 60 seconds. I was amazed how it immediately got Installed just after clicking on the installation button. I had to go check its file size from PlayStatore and noticed it's only 1.7mb.
Look at what displayed after installation Wow! The interface is so neat.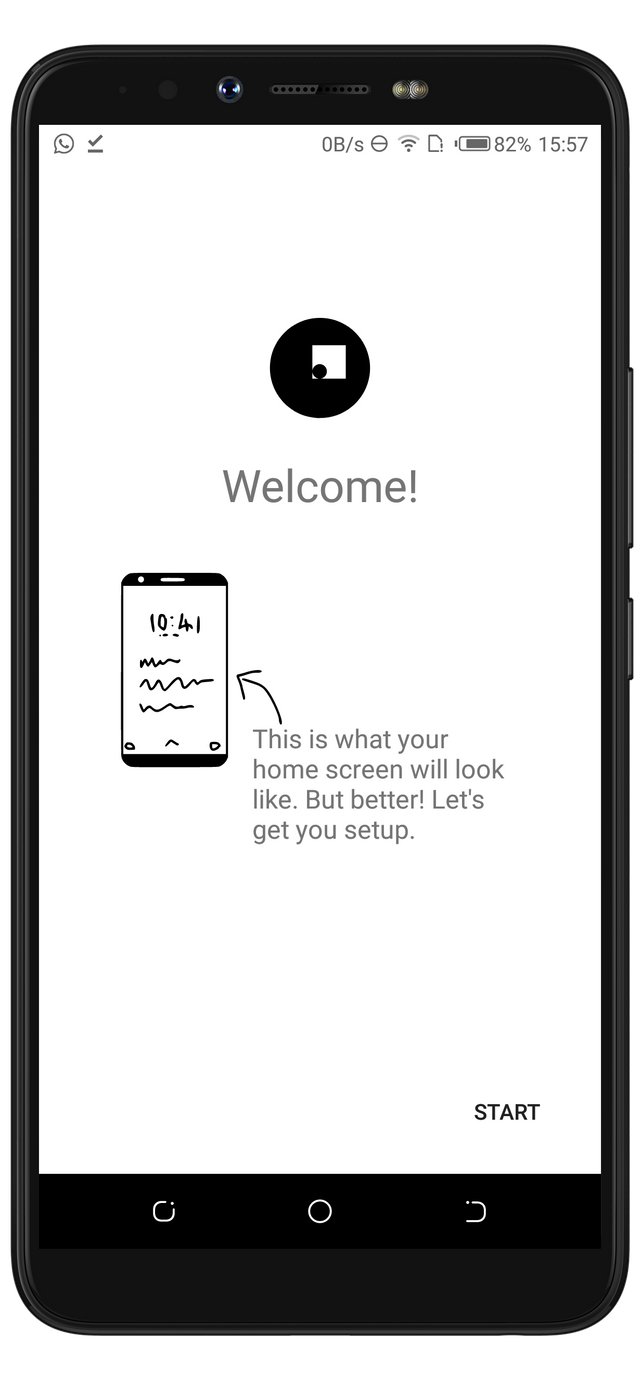 Before I clicked on the start button, I read the welcome message twice and laughed myself silly over the hand sketched mock up of how my home screen will look like.
Slim launcher do not only restrict users from accessing apps, but it also gives users options to pick 5 apps to use while the rest are hidden.
Let me ask you one question; What are your 5 best apps ?
That is the same question Slim launcher literally ask after clicking on start from previous image.
Here's the screen that requests for your 5 best apps from the user.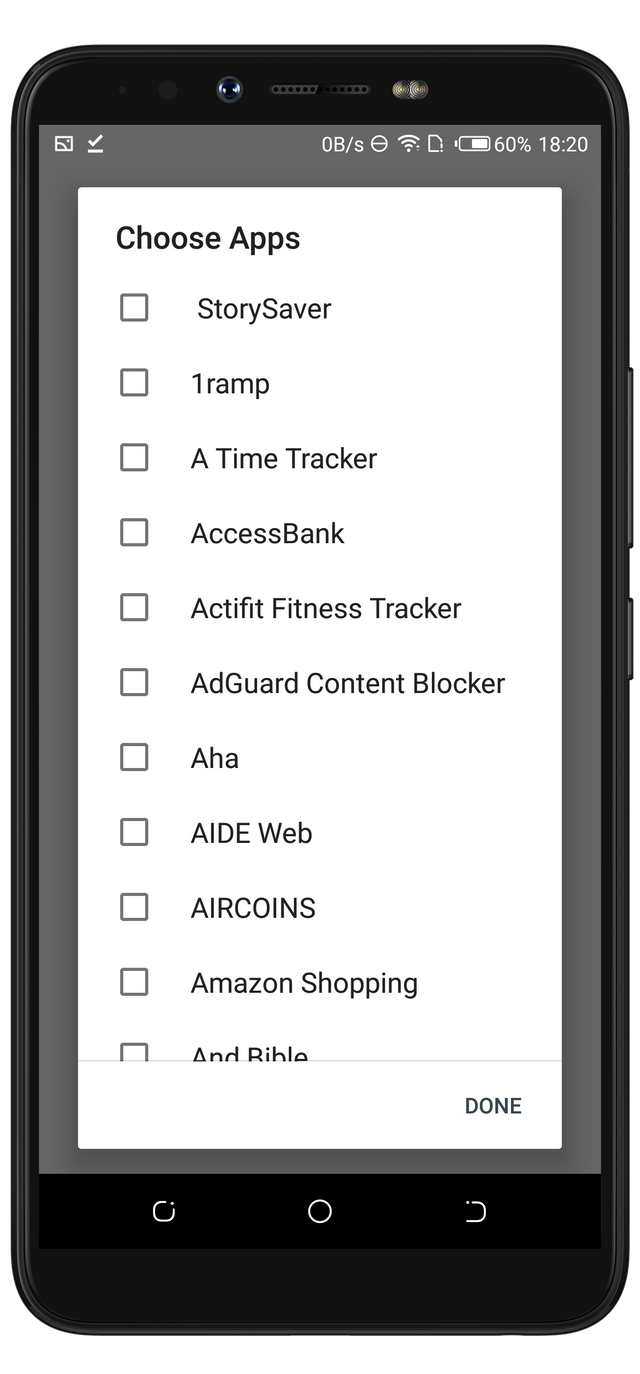 One other thing I have noticed while using Slim launcher is, It saves battery life while restricting me to use the selected apps. I have loved the whole features embedded in it which I would be explaining in my next blog series.
Slim Launcher Vs LessPhone Launcher
Personally, I prefer apps that lets me write article, access steemit, check my crypto coins, Whatsapp and my bank app.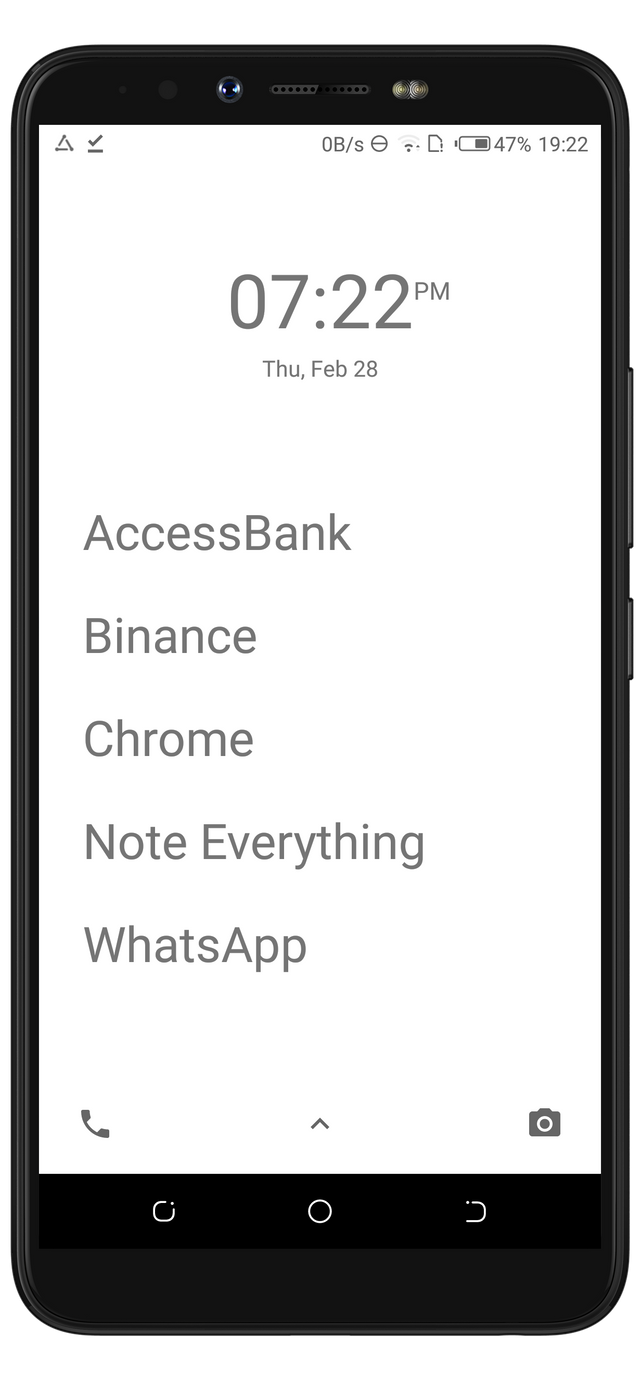 LessPhone Launcher do not support up to 5 apps. While using it, I was only limited to pick just 3 apps including the default task app making it 4. The default app below is the To-do list app.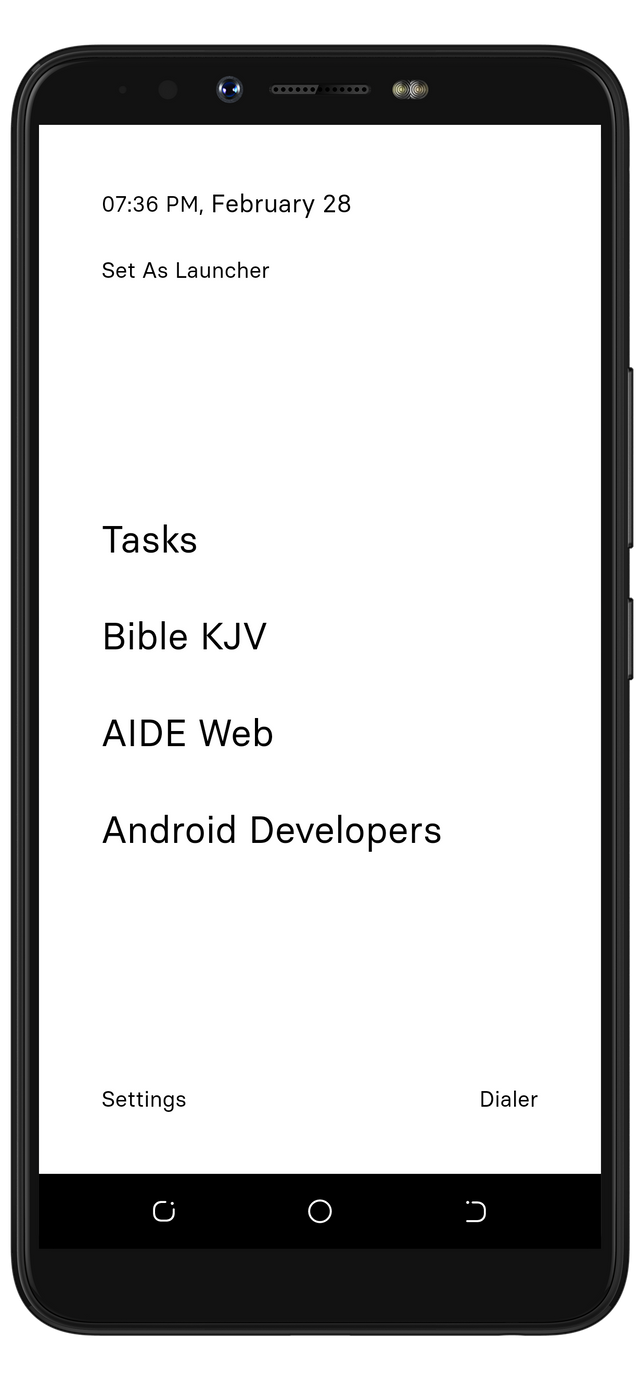 Slim launcher beats LessPhone Launcher in terms of the amount of apps to include on the home screen.
As you can see from the last two images above, they both look alike. The first one is Slim laughter while the other is Less phone launcher.
They both uses white theme as their default theme. Also, most of the options available on the home screen are similar. Options like;
Settings
Dialer
Time and date.
Slim Launcher has an additional option on the screen which is my default camera.
In general, they both display the selected apps in text form excluding their icons. This helps to keep the home screen neat as intended.
Project update
The latest version is v2.2.7 which was updated 5 days ago. There wasn't any code update though. He only updated the readme file.
Summary
I started this series by discussing how users are misusing technology and how developers had managed to provide an app to help us limit the amount of time we spend using our phones doing unnecessary things.

I introduce Slim launcher as one of the best, simple and neat open source launcher. I also gave a brief introduction on a similar closed source launcher (lessphone).
I have shared how I found the two launchers.
Next, was how I discussed the amount of apps allowed on slim launcher & lessphone launcher after installation.
I also reviewed the home screen of the two Launchers where I stated their differences and similarities.
Lastly, I gave the code update on slim launcher repository.
The final point to take home is, Slim launcher is far better than lessphone launcher.
Thanks you all for reading my blog post. I recommend you to use and share slim launcher with your Loved ones. Stay blessed and wait for the next part of this series where I will discuss deeply on Slim launcher's features.
Thanks for reading. Bye.