[ListenToSteem] - Real Time Transaction Visualizer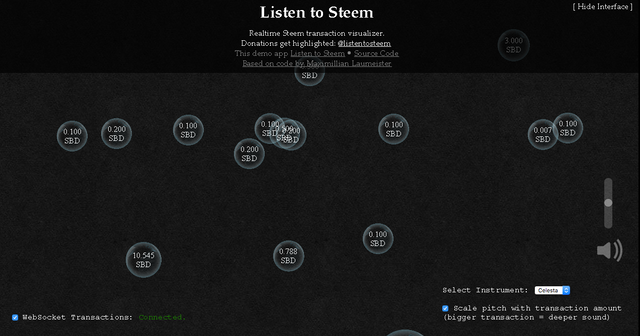 ---
Introducing the debut of Listen to Steem
What is Listen To Steem?
ListenToSteem is a real time blockchain visualizer for the Steem blockchain. The source code is adapted from the ListenToBitcoin project, and is currently showing all transfers that propagate on the Steem blockchain.
What is the purpose?
The purpose of the project is simply to provide a visualizer for users that are interested to get an idea on the amount of transaction volume that the Steem blockchain is processing. In the future, I will be adding support for visualizing posts/comments/votes/etc...
Donations are highlighted!
Want to see your transfer get highlighted with a thank you message attached? Of course you do! Go ahead and open https://listen.steemliberator.com then send a transfer to @listentosteem. You will be able to see the transaction on the website within seconds!
What should be added?
Do you have some great features or suggestions that you want to recommend? Feel free to leave comments/issues/suggestions on this post or the Github repo
Links
---
Posted on Utopian.io - Rewarding Open Source Contributors
---