I'm a huge fan of betting, so when I saw Bethereum on the State of the Dapps social category ranking last week, I was super intrigued and did my background research on it and I was blown away by it's features and it's uniqueness. I would share my honest review of this Dapp(Decentralized Application) which sits at number 229, as at the time of writing this review on the State of the Dapps social category ranking. For those, who are into betting, this review promises to be super interesting and very informative, so I would kindly advice that you find somewhere quiet and sit back and read through this super interesting Social DApp review, that I made just for you(smiles & winks).

What Is Bethereum
Bethereum is a social betting platform that operates on the Ethereum network and that makes use of smart contracts. Bethereum is a Decentralized Application(DApp) that is designed to tackle the key challenges of conventional betting as it aims to deliver the most engaging and secure betting platform on the market. Unlike, conventional betting platforms that have a centralized bookie, where there is no much transparency and security of your money, the Bethereum platform is highly decentralized, i.e there is no centralized bookie, higher level of transparency and security of your money. I remembered a time back when I credited my online betting account but it didn't reflect on my betting account but the amount was deducted from bank account, I called and called the betting platform but no refund, they said it may be some technical glitch, what if I had unluckily deposited like $20,000. Also because of the centralized nature of these conventional betting platforms, I don't make my payout to be above $150,000, because if you think of it rationally, your account could be completely wiped out and there would be nothing you can do, but with Bethereum these kind of situations can never arise.
Long ago, betting used to be a social activity but now with different advertisement by different bookers and the nature of these conventional betting platforms, betting is now taken too seriously, and it's no longer fun. Me, for example, I take my bets seriously, sometimes too seriously, that my blood pressure goes up and I begin to run temperature. Do you imagine betting with your friends in a bar, who would win a game, although there is tension, but there's that mix of fun in the air, that's what Bethereum is trying to implement. Making bet a fun activity. Although, Bethereum don't make use of fiat currencies, it makes use of it's platform's token called Bether. In summary, Bethereum is a social sport betting platform where you bet against family members and friends instead of bookies, in order to create a fun and social interaction when betting.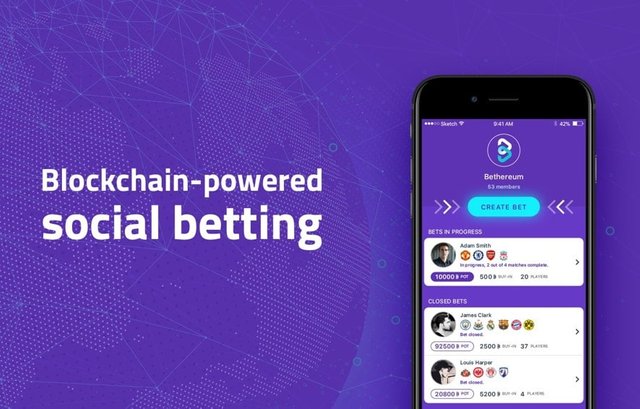 How Does This Platform Work?
As I said earlier on, the platform don't make use of fiat currency but their own tokens, which is called Bether. So you bet your games using Bether, and receive Bether as reward when you win. Bethereum is not like other betting platform that you bet against their bookie, on Bethereum platform you bet against your family members, friends, and new people from every corner across the world. The platform gives you the opportunity to either create your own bet or join another bettor's bet. If you are to create your own bet, you would would have to customize how your bet would be, like; how many Bether can be used to buy-in your bet, that is, how much would be the minimum stake for entering your bet, you choose the games that you want those who bought-in your bet, to predict, and you would finally set the method of reward distribution. What makes it more fun and interesting, is that you can challenge your friends to take up your bet, I must say that's super cool. And as your bet begins, you can track the progress of your bet, by knowing who is on up of the leaderboard and the winners. What make this platform even cooler is the Smart Contract features which assures transparency within the platform and also ensures immediate distribution of rewards.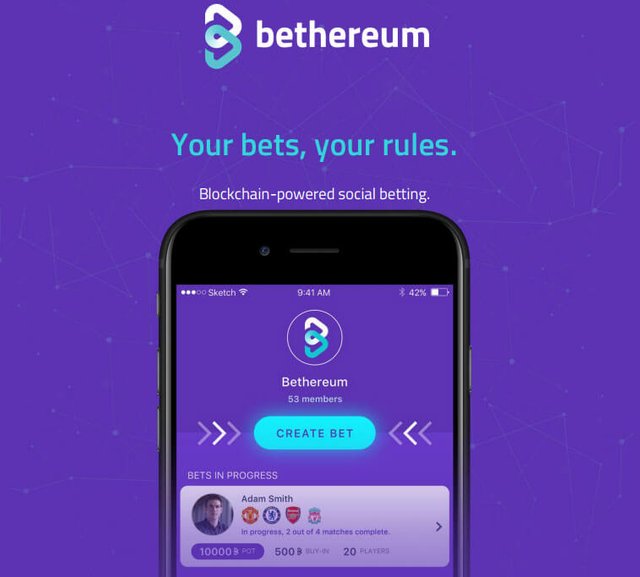 Unique Features Of Bethereum
There are some many unique features about this platform that I have seen within a week that I like very much, I don't want this article to be too length, so i'm gonna just give you guys few cool unique features of this platform.
Unlimited Bets: Yea, these conventional betting platforms usually restrict you from betting if you are in an amazing winning streak because you are ripping them off of their profit. I don't mean low winnings, imagine winning $50,000 like 10 times within 4 days, it's very rational that they would have to restrict you from betting, there are profit-oriented, they get profit when you lose not when you win. With Bethereum you can never be restricted, which is very amazing and unique.

Safer: Like I said earlier on, the use of the Smart Contract features makes this platform safer than conventional betting platforms. The smart contract ensures that there is agreement among users within the platform without any third party. Transactions on the Bethereum platform is open for everyone to see, so there is no way transactions can be manipulated or any occurrence of transaction glitch.

Quick Payout: Unlike conventional betting platforms that you have to wait until they approve your winnings before you can pay out, that's not the case with Bethereum, you get paid immediately the last game plays, no waiting, it's real-time payout. I can still remember one payout that almost gave a heart attack. I won quite a huge amount, and for several hours, they didn't confirm a game on ticket, and yet that particular played game about 6 hours before my last game on that ticket. It took the betting platform 2 days to confirm that game and I got winnings, it was an unpleasant memory, though I got the payout but the tension and stress I had those days wasn't funny at all(don't laugh me).

User Friendly & Social Functions: This platform is very user-friendly, it's so easy to use that, non-gamblers don't find it difficult to navigate within the platform. The social function of this platform is super unique as it makes betting fun and interesting. You don't need to betting against a faceless bookie, bet against your family members, friends, and that stranger that may soon become your friend, it's more fun and more interesting.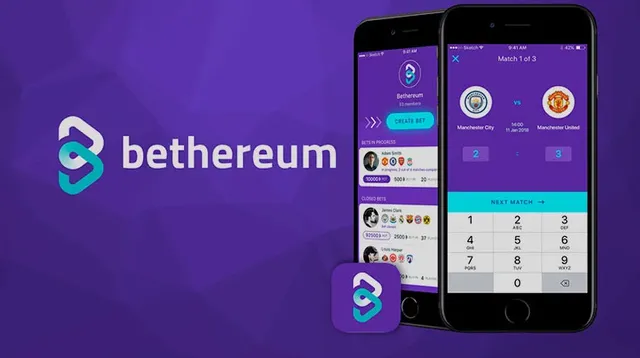 How To Can Started?
It's quite simple, click here, after the page has loaded, you click on register and fill in your necessary details. After that, you would be sent an email(so input an active email) for verification, click the verification, and you are in. You would receive 3,000 points to start betting. You can buy Bether token in order for you to complete some transaction, here. Enjoy, the future of betting.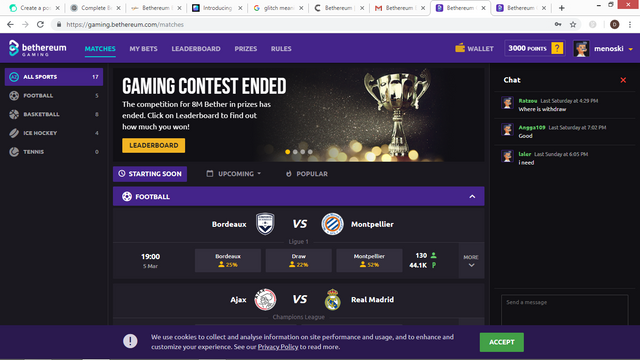 Conclusion
This awesome platform got it's pros and cons and I would let you guys in on both. Let's start with the pros; it's a safer platform to bet because of the use of Smart Contract, a big thumbs up on that. Making betting to be fun and interactive, is something that have never been done on any platform, is a big thumbs from me. The platform has been gaining some world wide recognition which is very good for the platform and it's value of it's token. The team has some of the most experienced online gaming and technology minds on blockchain, that's super cool from me. The interface is very nice, I like it and it's super user-friendly.
Let's move to cons; as at now, the platform hasn't met all legal requirements and if we are betting illegally that is a big issue because lots of users might leave & potential investors won't find the platform attractive. Yes, they got some of the most experienced online gaming and technology minds in the blockchain, but most of these individuals didn't add any details tracing them to be working with Bethereum on their LinkedIn accounts and that's not cool. Lastly, the world of betting is very huge and competitive, and it seems Bethereum might not be prepared enough to be as recognized as we would want.
After saying all that, I must say that, Bethereum is something new and unique, and have taken an approach no betting platform have taken which is to, make betting social interactive and fun related and also it has promising future, it's followers on the social media is massive, and for a platform to have that massive followers, it means it's coming to stay and that's why I rate, Bethereum a 4.3 out of 5.
Useful Links
Bethereum's Official Site | Bethereum's Twitter | Bethereum's Telegram Group | Bethereum's Email | State of the Dapps Ranking
Disclaimer:
The content of this article does not intend to serve as financial advice, kindly do your own personal research.