Localization of Verto, Finished translation of verto project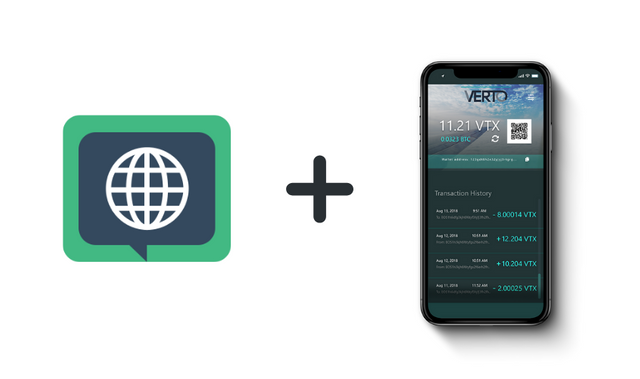 Verto thumbnail the photo may be subject to copyright.
GitHub Repository:
Repository link : Volentix/Verto
What is Verto .
A multi-currency wallet that will allow access to the Vdex. Private keys are maintained in this wallet and are accessible only by its owner. Verto will also have integrative functionality of other DApps like order book settlement from VDEX and crypto ratings and rankings dashboard from Vespucci.

When a trade is made on Vdex, the funds are temporarily locked until either the transaction is completed and the new funds become available, or the transaction is canceled and funds are again available.
Advantages
User-Friendly - It is specially Designed for beginner trader and makes it features easy to use.
Security - The assets of the user are not stored in the exchange. All of it is stored in the user's wallet.
Collaborative - The VDEX exchange is scalable in that it allows for the bridging of order books with those of other decentralized exchanges. This allows for making of the VDEX exchange as a single liquidity tool for the provision of the maximum benefit to the traders in cryptocurrency.
Contribution Specification
This is the screenshots before I start translating Verto to Filipino in this part.
File progress Screenshot. click this link to see the current progress

Screenshot of the report of total translated words and Target words. click on this link to see the report.

Samples of untranslated text & Uses of different translations:
Blocktopus
Username & Password
Bonus
Chain
Address
Email
KYC
Condition
Screenshot
I used magrekwest instead of using humiling in this string https://crowdin.com/translate/verto/32/en-fil#17828 nowadays people are using magrekwest in their everyday life especially the new generation of people.
Samples of articles where you can find this word and how it is used in the sentence.
Screenshot of final result
Language translation progress after finishing this part of the translation.

Screenshot of the report from 0 words to 1,148-word count.

Translation report
Source Language : English
Translated Language : Filipino
Number of translated words: 1,148 words - 114 (untranslated, names and links) total of 1,034 words.
This is the first and final part of my translation in this project.
You may able to view all my activities of this part of translation here on My Activity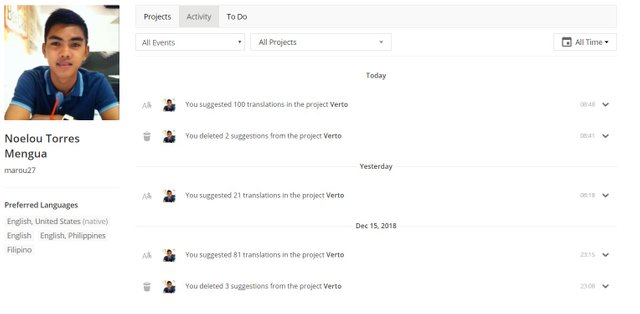 Special thanks to @davinci.polyglot and @utopian-io team for the creation of Filipino Translation Team.
Currently, the Language Moderator for Filipino Team is @ruah and is composed of 5 Approved Translators namely: @toffer, @josephace135, @timliwanag, @dandalion and yours truly, @marou27.