Introduction
My name is Ideh Daniel Rioborue and I'm a utopian contributor. I manage several accounts which includes facebook and instagram.
The steem blockchain is evolving with more innovations being built on it frequently. Steemcasino offers a distinct service from other platforms on the blockchain because it doesn't require too much intellect to participate. Steemcasino creates a system whereby participants gamble on real life casino games and earn steem which is the cryptocurrency of the blockchain, therefore users, who can't blog or advertise gigs can test their prowess on gambling and earn too. Overall steemcasino is a revolutionary project that needs to be promoted so as to garner more participants and this will lead to high stakes and entertainment.
---
Audience
Steemcasino is a platform for gamblers, so it was ideal I set my target audience to a location that is likely to have people interested in gambling and cryptocurrency.
I placed Nigeria as my preferred target location, I set to target adults therefore the age range of my target audience was 18-65+ Years and lastly I narrowed it down to people interested in gambling and cryptocurrency.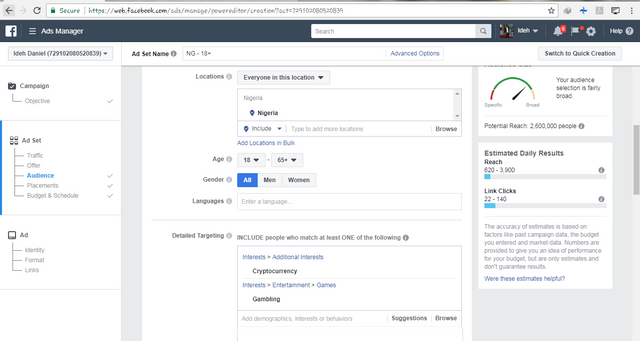 ---
Activity
To create an awareness of the steemcasino project to my target audience, I made an ad with direct message to my target audience. The ad post consist of a short direct text and an image provided by the project owner.
The ad text and image is shown in the screenshot below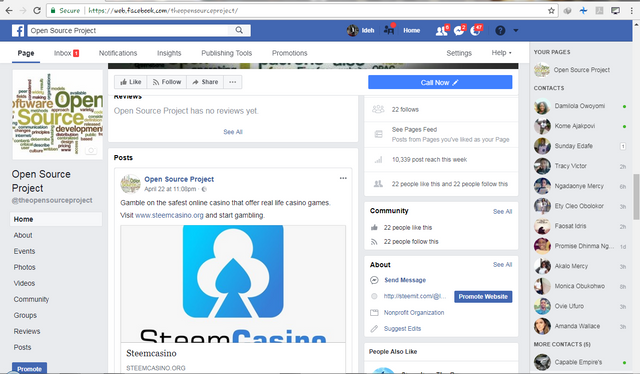 The ad post was boosted to reach my target audience with link clicks prioritized. As desired by the project's owner.
Links
This is the link to the project's owner task request
This is the link to my facebook page I used for the promotional campaign
This is the link to the post
---
Results
With a well coordinated ad boost, I reached a total of over 10,000(ten thousand) people who got engaged with the post in form of likes and link clicks.
| Activity | Results |
| --- | --- |
| Reach | 10,339 |
| Engagements | 159 |
| Link clicks | 173 |
Screenshot of the results shown below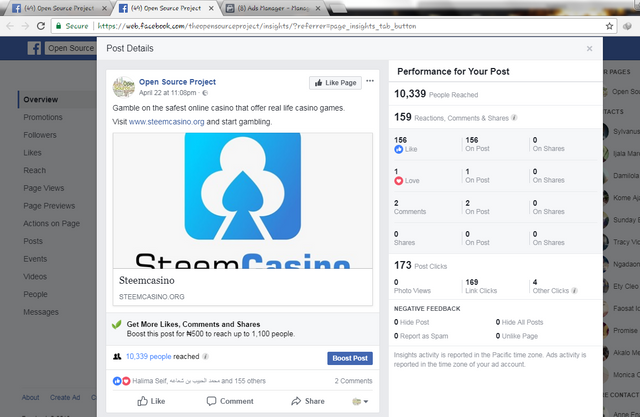 Below is the screen of the demographic spread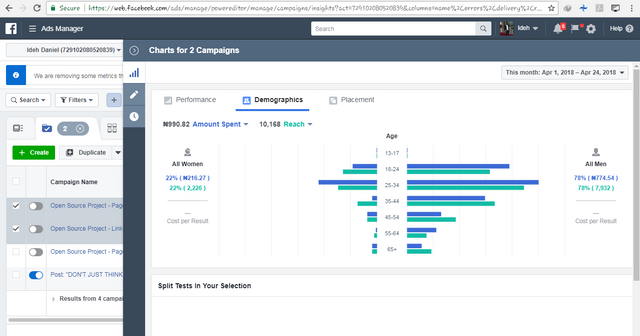 From the chart above, it is evident that men are more interested than women in gambling and this is reflected in the huge percentage gap between them.
Furthermore, from the total reach, post engagements had a little over 1 percent , also the link clicks is above 1 percent of total reach.
SCREEN RECORDING TO CERTIFY THAT THE WORK IS AUTHENTIC AND IT WAS DONE BY ME.
My name is Ideh Daniel Rioborue and it is my username on facebook, Lorddanzi is my nickname on facebook and it is used as my username on steemit.