Components
One of my main hobbies on internet is inviting content creators to the steemit platform and one of the main push backs I encounter with professional content creators is the limited time that a post can earn rewards.
youtube creators count on the small continuous income from their older videos after they peak in the first few days, for them switching to d.tube would feel like a lose. the same goes for bloggers or musicians.
As a consequence the content created for steemit platforms has a lower quality because it only needs to perform for a short while and after that it has little to no value.
however, we can fix the problem by adding a small feature.
Proposal
We can add a small message: to show when a viewer clicks upvote on a post that is older than seven days, and suggest visiting/upvoting one of the newer posts by the same author, redirecting a wasted vote (in the eyes of users) to benefit both author and curator.
As a side feature we can add a checkbox to leave a comment or memo for the authors and let them know which one of their posts is getting attention and rewards for them.
Mockups / Examples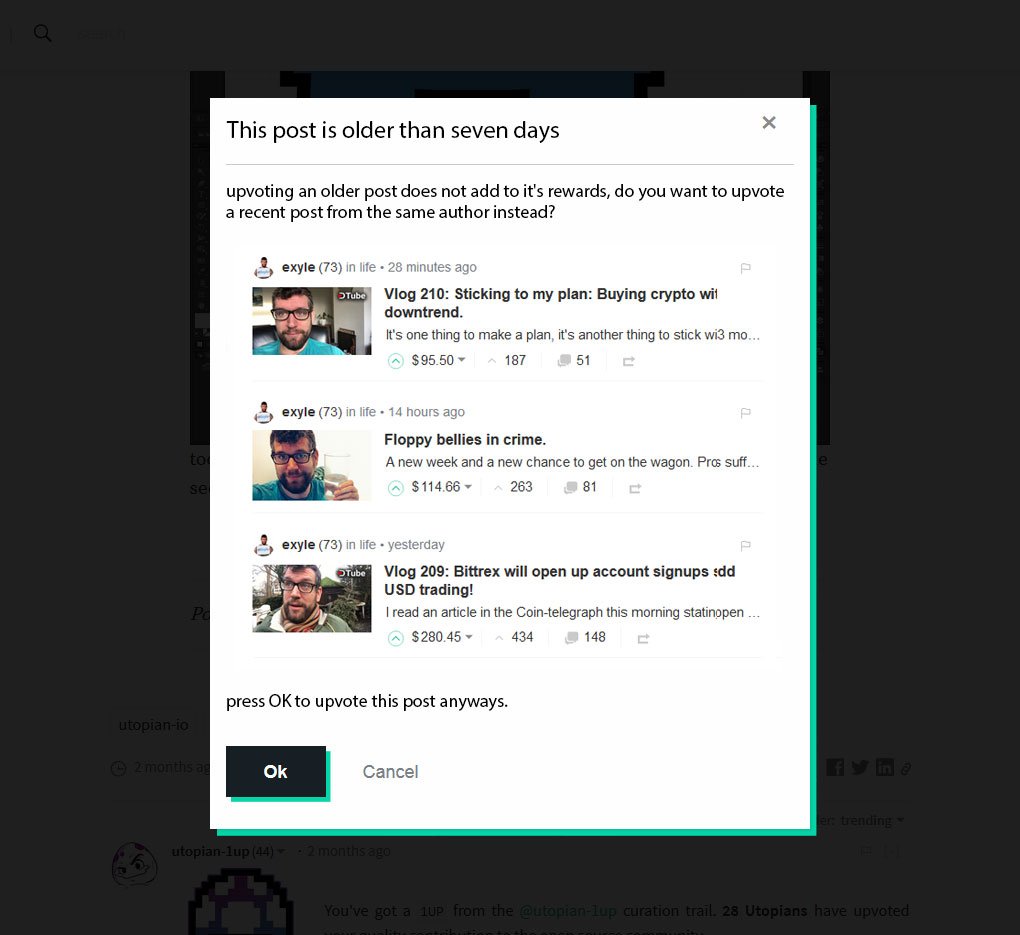 Benefits
there might be several other benefits to this small feature but from the top of my head I can mention few.
the new users don't need to read about the seven days reward period to learn about it.
better chance to reward authors with quality posts.
directing more traffic to the newer post from the same author.
offer a chance to visitors to hang around a bit longer and view similar content.
the steem platform becomes a little more interesting for professional content creators.
a reason for authors to post for the long term instead of the first few days.
a good reason for authors to post at least once every week and catch those votes and not just any post, something worthy of an upvote.
---
Posted on Utopian.io - Rewarding Open Source Contributors
---