Components
steemauto - Curation Trail
Following a curation trail while you're away from your computer for a long time is very effective way of putting your voting power to good use, steemauto is one of the good tools for it, however, it can use some improvement in how the voting power is managed.
Proposal
instead of global limit on how much voting power should be used before the voting is stopped, it would be better if we could set a minimum voting power requirement for each trail before it's activated, this way we can prioritize the trails the way we want.
the same can be done to the fanbase part of steemauto as well.
Mockups / Examples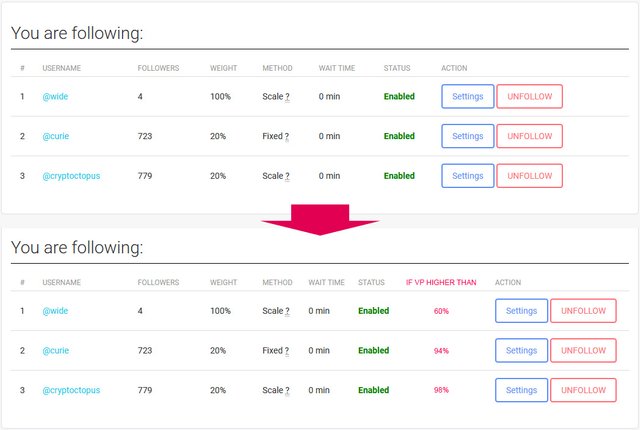 in this mock-up, the smaller trail with occasional votes gets the most priority and gets an upvote till the voting power drops below 60% making sure it gets a vote while the other two are waiting, if the smaller one has no activity, the voting power charges till it's above 96% and the "curie" trail is activated and if there's no activity from the "curie" trail till the voting power is nearly full, the votes go to the more active "cryptoctopus" trail.
Benefits
finer control over the trails
better management of the voting power
more users would start using steemauto
smaller trails get more followers
each user would follow more trails
The idea of supporting a community automatically through its trail is simply brilliant, but many of steem users want more control over which one gets their votes first and simply leaving it to chance won't cut it for them.
Giving the user more control over what they vote for will open the doors to a wider variety of users.
---
Posted on Utopian.io - Rewarding Open Source Contributors
---