Last day of the First Month of the Year Today! I could never believe that January of 2019 would go by so quickly!
It was a very interesting month, lots of statistics and motivation was shared during the last weeks. We also had a charity contest which received lots of love from the community :)
More than 200 Actifit Reports and more than 2.862.955 Activity was generated for Charity!
You can read more here: http://bit.ly/2RS98tx
A few more interesting numbers for the contest .. 10980 Afits were distributed to Charity Projects by 49 participants!
If you like statistics, you should absolutely check out the post by Stats-Generator! http://bit.ly/2HeiFH7
---
New Contest with great prizes in STEEM!
A new contest is taking place now and we are thinking of a variety of ways to promote it. We are giving incentives to new users to join steem and to use the referral program for bringing new actifitters!
Contest Details
For each successful sign up the user earns a minimum of 5 Steem and 13 AFITs!
The Top 3 referrers will also share a total of 200 STEEM!
Competition will last 2 weeks and will end February 12th.
More information: http://bit.ly/2SdGTG0
---
February .. oh, this month of love
---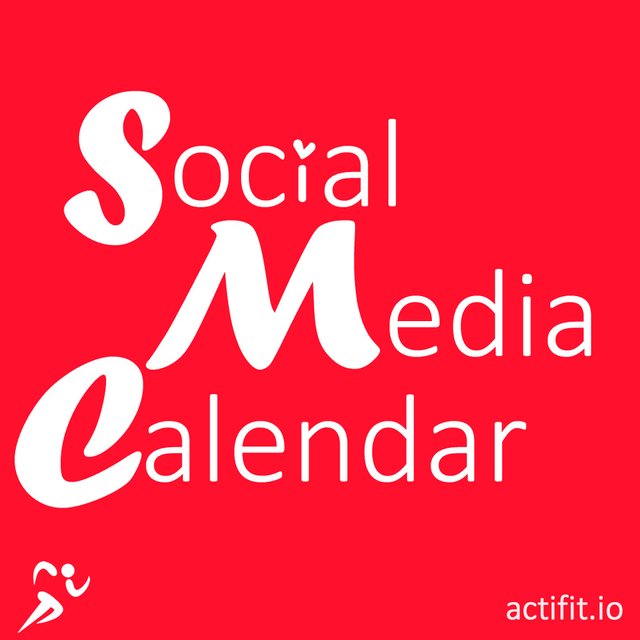 February this year only has 28 days, a fact that would normally make it easier to create this calendar. However I have to admit that in between a variety of other work and family tasks, it has proven to be rather challenging.
Nevertheless, I am here to present it to you!
This month ... :
We are giving the necessary (but not too much) attention to l o v e
We are sharing information & reminders about the sign up contest
We are sharing fitness and health tips
We are sharing information for our users (about charity, about our discord server etc)
We invite people to think and act .. healthy!
*Note: Very often, there are specific news, contests, updates that need to be shared, so these days the social media updates are more than once per day. When necessary, custom graphics are being created *
Social Media Calendar
(Graphics are created for all days of posting, but I do not think it is necessary to post them all here)
February
Caption
Image
1
Friday, February .. Fitness! Perfect allignment to start your #actifit Journey Today!
2
Have you followed us on #facebook yet?
3
Did you know? Every day, a lucky Actifitter sees their rewards DOUBLED UP! Will it be you today?
4
8 Days left for our Actifitters to sign up new members for our Contest and Win Steem! What? You don't know about it? Check it out!
5
"Do you know what my favorite part of the game is? The opportunity to play." – Mike Singletary
6
Laughing is good for the heart and can increase blood flow by 20 percent. #WednesdayWisdom
7
Join our wonderful community on discord http://bit.ly/ActifitDiscord and promote your actifit & steem posts!
8
"Strength does not come from the physical capacity. It comes from an indomitable will." – Ghandi
9
Did you know? Exercise will give you more energy, even when you're tired.
10
Did you know? Actifit counts all types of activities, from walking to your office, to playing tennis and more!
11
Find out Actifit's news and … 1 day left for the Sign Up Contest! Who will win the great prizes?
12
Last Day for our Contest! - Winners
13
Guess who else joined actifit? Let us Welcome …XXX
14
Love is.. To practice your favorite sport .. Together!
15
You can earn AFITS at the most impressive places! Post your most beautiful walking image and tag #actifitadventures to be featured in our social media channels!
16
Exercise is more effective at increasing your energy levels than caffeine.
17
Remember to take some time and stretch during your work outs!
18
Running and Earning Rewards? It is possible! Download actifit app now!
19
Walking outside – or spending time in green space – can reduce negative thoughts and boost self-esteem.
20
Actifit rewards both outdoor and indoor steps! Download actifit now!
21
An apple a day does keep the doctor away. Apples can reduce levels of bad cholesterol to keep your heart healthy.
22
Thank you Dave for a great review! What do you think of our app? Let us know:
23
We welcome our new users ..!
24
What motivates you enough to get up from your couch?
25
Join our wonderful community!
26
Did you know? You can donate your AFITs to one of the seven available charities! Click on Settings to enable your option!
27
#PokemonDay! Following your suggestions, we have now added as an activity "Chasing Pokemon"!
28
Did you know? You can use the wallet from our actifit.io to power up or transfer funds!
Previous Calendars
Social Media Calendar for Dec 2018
Social Media Calendar for January 2019
Special Note .. I did not have enough time to proofread or to find someone to proof read this for me, so please .. forgive any typos, syntax errors etc ..💙