Repository
Project Details:
Verdaccio is a simple, zero-config-required local private npm registry app that requires just a little database to get its' operations started. It is developed with Node.js and have the ability to operate as a local network proxy. It relatively easy to install and use, in fact, it is a pluggable application (i.e can be used as a plugin). It offers support for Kubernetes and Docker. It is a good innovation for improving proxy registries.
For more details about the project, you can visit this link to read more and have the idea of what the project is all about.
Contribution Specifications:
Translation Overview:
This is my sixth translation work on the Verdaccio project. The experience continues and I am enjoying every bit of it. No new words were really encountered other than the ones that have been encountered in the previous part of the project. The sections translated this time around doesn't have any previous Yoruba translations, so all the strings were newly translated. Some words were left the way they were in the original text because there are either trademark words or brand names e.g Windows, Github e.t.c.
I worked on 3 different pages this time around (loggers.md, packages.md, and plugins.md pages) with only loggers.md not 100% complete yet. The strings were all translated for easy understanding and the true meanings retained.

Languages:
The project is being translated from English which is the source language to Yoruba which is the target language.

Word Count:
According to my estimations, I translated a total of 1,265 words from the source language resulting in total words of 1,499 (June 12th - June 13th) in the target language as shown in the picture below
Proof of Activity
This is an image showing my activities in the Verdaccio project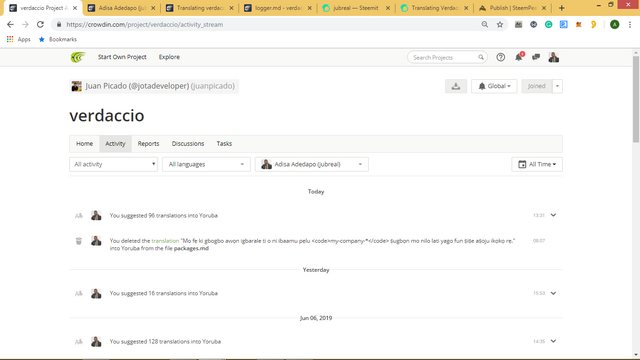 Proof of Authorship
Thank you.