---
---
Gridcoin State of the Network Report #7
February 3rd, 2018
---
---
Welcome to the 7th Gridcoin State of the Network Report. The SotN Report is a fortnightly report organized by @parejan and @jringo. It compiles useful news and statistics that the community can use as they see fit.
In this SotN we have added Computational Power in gigaFLOPS for each BOINC project. These figures were retreived from each project's website. Unfortunately not all projects have this information on their server status page, which is why you will notice a few "Not Avail" in the column "Comp. Power".
We had hoped to provide a fairly accurate estimation of total team Gridcoin computation power, however some of the major projects (like [email protected] and World Community Grid) don't mention their Computational Power. Any estimation would lack these projects, which are without a doubt significant contributors to total computation power. If you have any suggestions or ideas, post them in the comments below!
Also, you may have noticed our new header. Thank you @grc-son for your contribution -- we love it! Reach out to @jringo on discord to receive your earned bounty.
---
---
Community and News
---
Development
We have a hotfix for the forking issues! Gridcoin 3.7.7.0 has been released along with a snapshot that will help you get back on the main blockchain. Take a look at @barton26's post here for more information. Thank you everyone for your patience as this has been a very hectic time. Above all, thank you @ravonn and @tomasbrod for the sleepless nights put into this patch, and thank you everyone else who helped by setting up testnet wallets. The more people we have on testnet, the more stable future releases are likely to be!
A discussion around forming a Gridcoin treasury has begun. Follow the github thread for further developments and to join the conversation.
A discussion around forming a Gridcoin 2018 budget was initiated by @hotbit on steemit and is continuing on github. Find the github thread here.
@delta1512 has released BOINCOS beta v2.0! Have a read.
---
Polls
There are 7 polls running in the Gridcoin wallet. Five roadmap polls, one regarding the creation of a whitelisting process, and one regarding the removal of MOO from the whitelist. Be sure to check your wallet for more information!
---
Projects
ODLK1 has been added to the whitelist!
---
Marketing and Outreach
The quest to build a Medium presence continues with the third Medium post briefly describing the Gridcoin ecosystem.
A push has been initiated to get GRC on altcoin.io.
---
Art and Design
The Twitter media bounty competition has ended, and the winner is: @mehanik! Mehanik has 1 more week to reach out to @jringo on discord or we will be forced to use the 2nd place winner's media.
---
Data, Trends, and Resources
We have a new resource that presents some introductory information on Gridcoin.
Gridcoin has minted its 400 millionth coin!
@nexusprime has compile two very useful resources that estimate expected mag for CPU's and GPU's across projects. Take a look!
@cautilus has also compiled a lot of useful information regarding RAC, magnitude, and expected earnings. Another great read!
Team Gridcoin is now 25% of all BOINC RAC output!
We have ourselves another update from @jefpatat and his RAC experiment!
---
Gridcoin in the News
@barton26 has found a very large prime number!
---
---
Statistics update
The stats update is divided into 3 sections: Blockchain Statistics, BOINC Statistics, and Project Statistics.
Every other week we bring you the most up to date statistics regarding the operation of the Gridcoin blockchain and Gridcoin BOINC projects. The information is gathered from Thursday to Wednesday on fortnightly basis and compiled from the getblockstats RPC command in the Gridcoin wallet, BOINCStats, and from individual project websites.


---
Blockchain Statistics
Blockchain statistics from 18/Jan to 31/Jan
The table below contains the blockchain statistics of the last 2 weeks and covers blocks 1138633 to 1152073.

Blockchain charts
The blockchain charts below contain the longer term blockchain trends.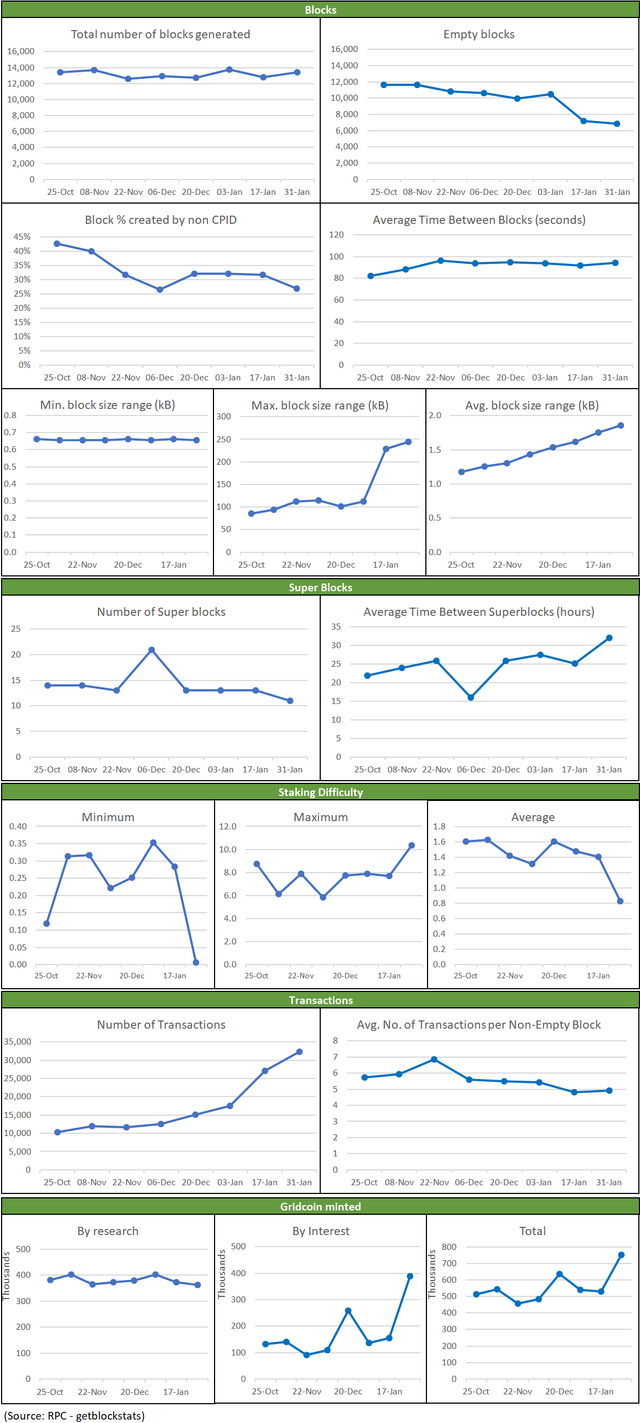 ---
BOINC Statistics
Team and pool statistics from 17/Jan to 30/Jan
The table below contains BOINC team and pool statistics of the last 2 weeks.
Team and pool charts
The team and pool charts contain the longer term team and pool trends.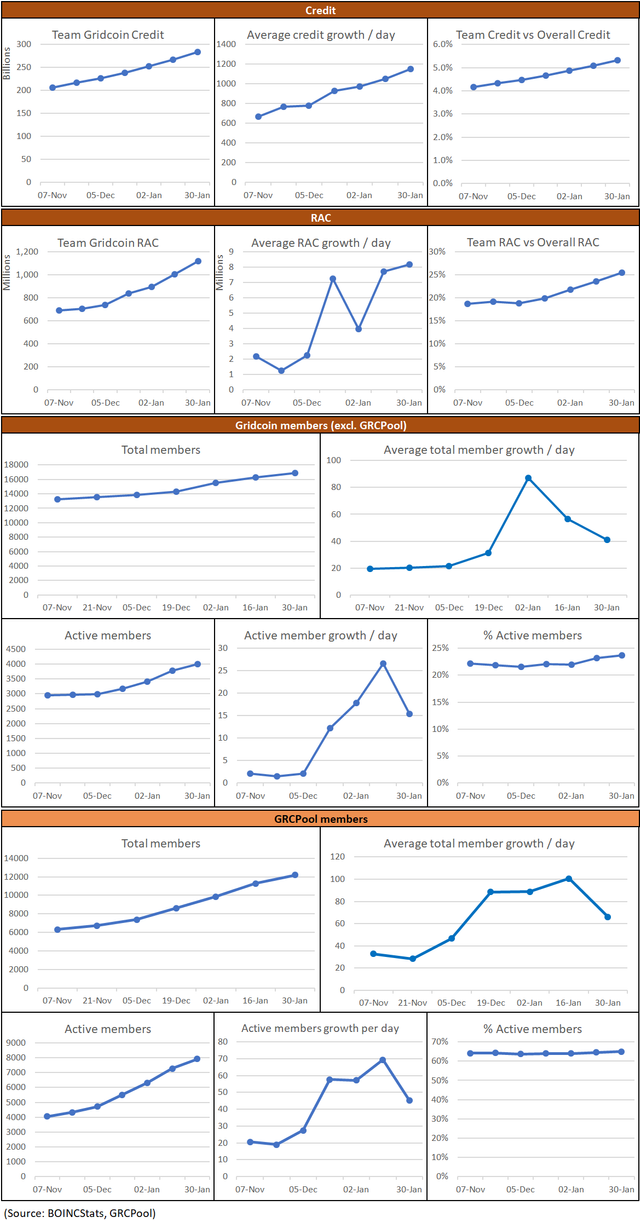 ---
Project Statistics
Project tables from 17/Jan to 30/Jan
The table below contains the project statistics of the last 2 weeks.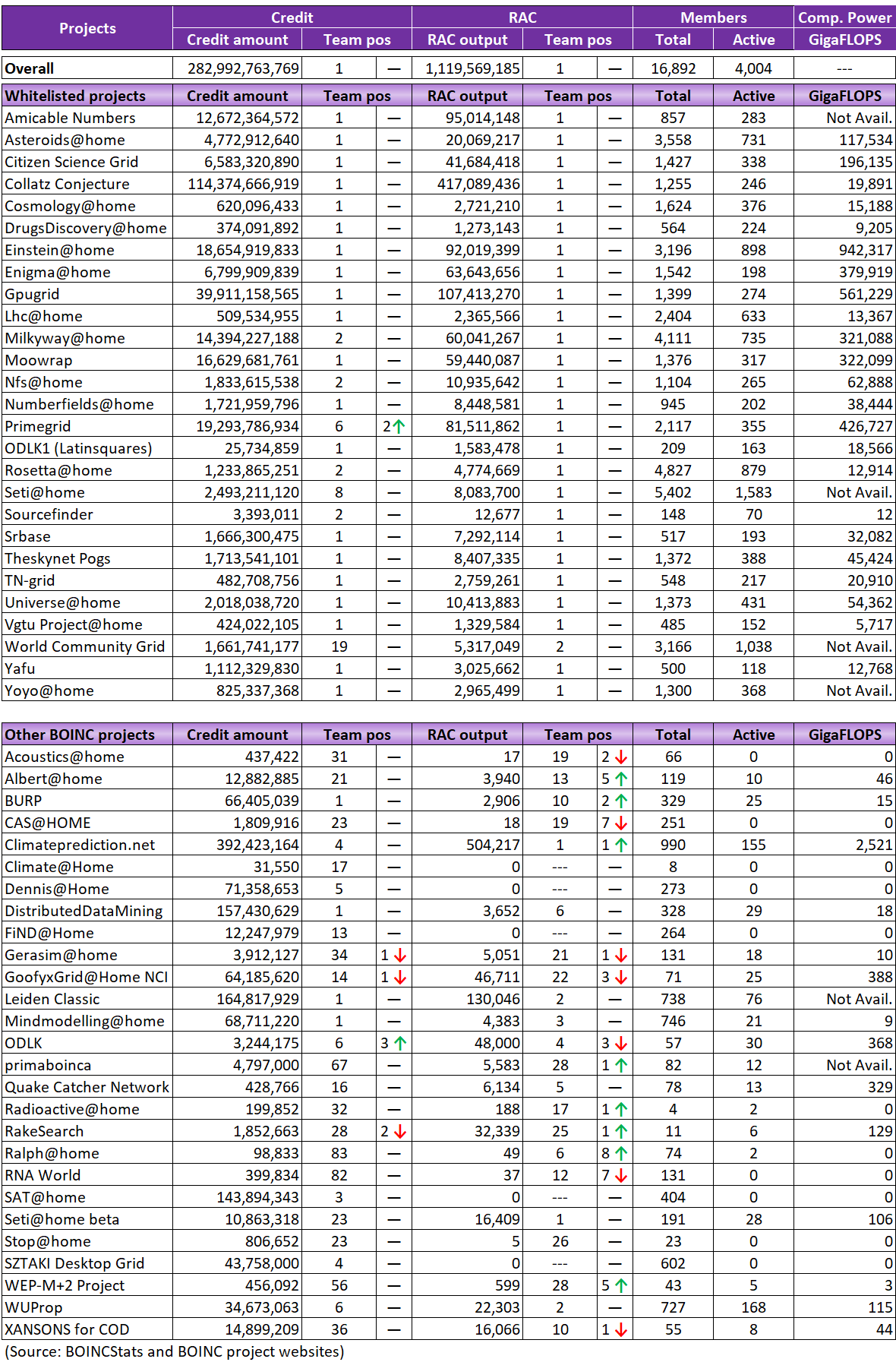 Project charts from 17/Jan to 30/Jan
The charts below contain the project contribution breakdown of the last 2 weeks.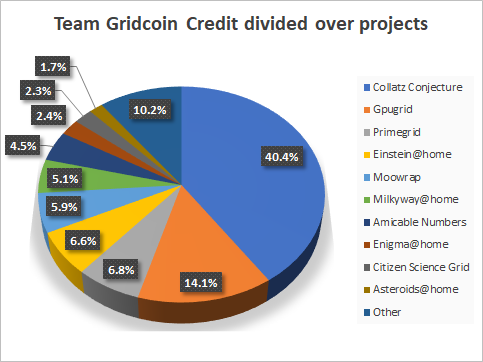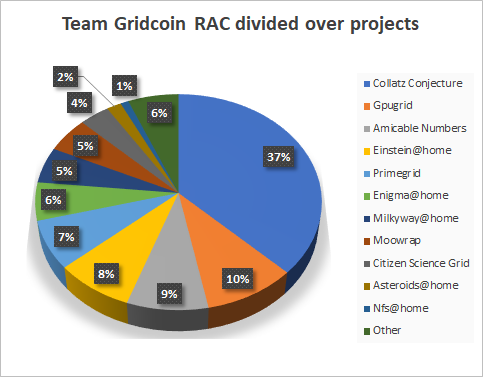 ---
---
This concludes the 7th Gridcoin State of the Network Report. See you in two weeks!
SotN 6 | SotN 5 | SotN 4 | SotN 3 | SotN 2 | SotN 1
---
Posted on Utopian.io - Rewarding Open Source Contributors
---