Minecolonies – Spanish Translation project (I completed the Minecolonies translation of all the incomplete Spanish)
Project Details
MineColonies is a mod of the minecraft game, this help to improve the experience in the game to make it more fun, but better let the wiki explain us in a more detailed way that is minecolinies
MineColonies is a Colony/Town Simulator that adds many structures and NPC workers and guards that you control and put to work for you! Based around a townhall and village mechanic, there are numerous workers that can be added to your colony, building a busy and vibrant village/town/city within Minecraft. - wiki.minecolonies.com
But what is Minecraft?
Minecraft is a sandbox video game created and designed by Swedish game designer Markus "Notch" Persson, and later fully developed and published by Mojang. The creative and building aspects of Minecraft allow players to build with a variety of different cubes in a 3D procedurally generated world. Other activities in the game include exploration, resource gathering, crafting, and combat. - Wikipedia
I completed the Minecolonies translation of all the incomplete Spanish
I want to help translate this project because i play minecraft and I have always enjoyed of this great mod and I have always seen that it has some problems with the translation into Spanish, that is why I completed the translation and in the future I will correct all it. I am also a gamer and what better to participate in the projects of your favorite games.
I have invited all the people who can help this project because there are many languages that have not yet been translated, there is still a lot of work to be done.
---
YoutubeSource
Profiles
https://github.com/Minecolonies/minecolonies
https://www.minecolonies.com/
https://www.youtube.com/user/MrPMardle
https://crowdin.com/project/minecolonies
https://crowdin.com/project/minecolonies/es-ES#
Spanish Argentina Spanish Uruguay Spanish Venezuela
https://wiki.minecolonies.com/index.php?title=Main_Page
My profile
https://crowdin.com/profile/tpennywise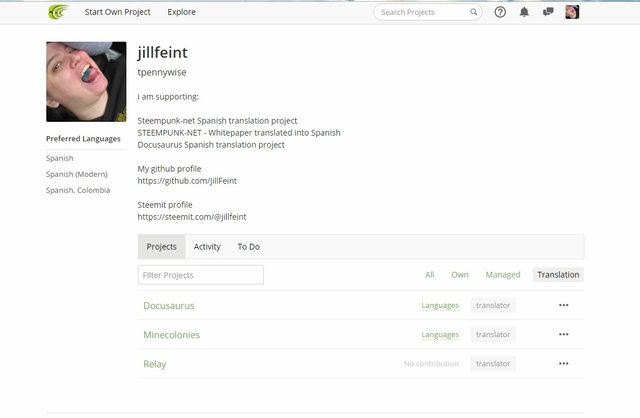 I quote because from the university I was taught to investigate and give credit to the people who deserve it and same to the creator
Links related to the translation
Source Language
English
Translated Language
Spanish, Spanish Argentina, Spanish Uruguay, Spanish Venezuela/ 0
Number Of Words
1077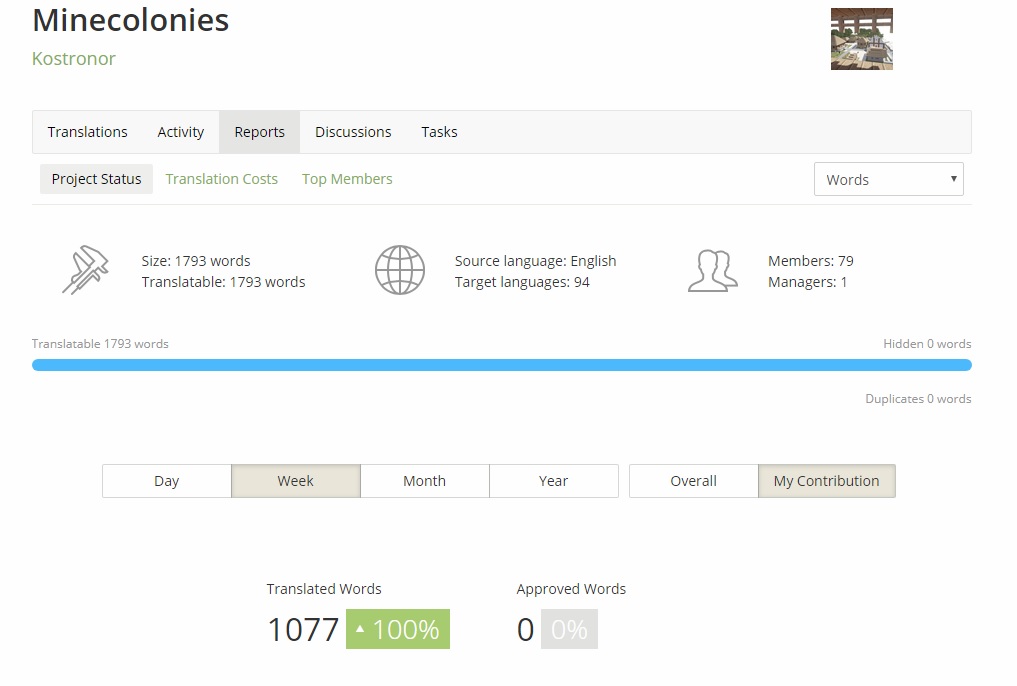 Number of words translated on this contribution: 1077
Proofread Words
20+
Previous translation on the same project
This is the first
Number of words translated on the project before this report (if any): 0
---
Sample
Papel de pared
Crear Resolutor
Horno de fundición
Placa de la losa
Taller de fundición
Taller de fundición
Mineral de fundición
Lista de recetas
¡Receta exitosamente salvada!
Enseñar receta
Quitar
Eliminar
Tablilla de acacia
Tabla de Roble Oscuro
Tablilla de selva
Tablilla elegante
Tablilla de roble
Tablilla de abedul
Cambio de nombre fallido: no puede cambiar el nombre de su Ciudadano.
Cambio de nombre fallido: ¡2 ciudadanos no pueden tener el mismo nombre!
¿Estás tratando de engañarme, al recoger ese barco de suministro de nuevo?
Prioridad de entrega:
Por favor, haga clic derecho en la colonia para registrar su portapapeles para esto.
Almacén
Está en necesidad de en.
Equipo de limpieza
El asesino
Registrado en colonia.
Portapapeles
Cumplido
Cancelar
Peticiones
Solicitudes abiertas:
Escudo
Tijeras
Azadón
Caña de pescar
Arco
Espada
No tienes permiso para colocar cabañas en.
Cinta de construcción
Hacha
Pala
Pico
Desconocido
y
con nivel mínimo:
con nivel mínimo:
Herramienta de clase:
Combustible
Comida
Entrega de: Cetro de permiso
Minando
Parado
Recuperando
Porción
Cocinando
Restaurante
No puedo encontrar comida en el almacén.
¡Construye un almacén o tráeme comida para servir a mis clientes!
¡Por favor construye un restaurante o tráeme algo para comer!
Restaurante
Cocineros:
Cocinar
Cocinar
Estupendo.
logros
logros
¿Quieres eliminar?
Eliminar estructura
Eliminar la estructura
Cambiar el nombre de la estructura
Editar estructura
Mis esquemas
Decoraciones
El tamaño del esquema es demasiado grande, no puede ser mayor que bytes
Nivel
Cancelar reparación
Cancelar Actualización
Cancelar edificio
No se puede entregar debido a un cofre lleno de.
Agregar bloque/posición:
Manual
Panaderos:
Granjero:
Leñadores:
Guardias:
Pescadores:
Mineros:
Configuración de MineColonies
---
Posted on Utopian.io - Rewarding Open Source Contributors
---