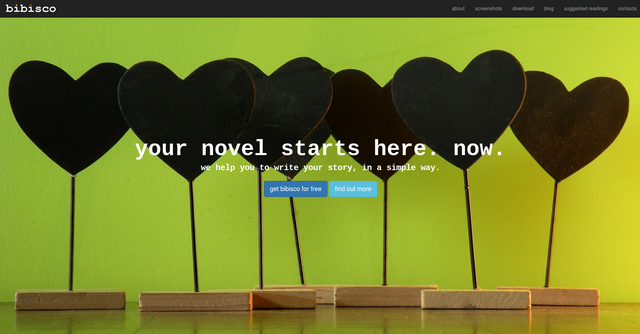 Abstract:
There are many people Spanish-speaking within Steemit who want to make a career as writers, for this reason I want to show to them ** Bibisco ** an excellent open-source software that can help them to write their novels, not only in an organized way, but also has valuable tools that can guide them in this work. ** Bibisco ** gives you the opportunity to create excellent guides for each important step in the novels and also, has a tool that will give you a boost in the analysis of your work at any moment that need it.
Existen muchas personas de habla hispana dentro de Steemit que quieren hacer carrera profesional como escritores, por esta razón quiero mostrarles Bibisco, un excelente software opensource que puede ayudarles a redactar sus novelas no sólo de una forma organizada, sino que también tiene valiosas herramientas que los pueden guiar en este trabajo: Bibisco le da la oportunidad de crear excelentes guías para cada paso importante dentro de sus novelas y como si fuera poco, cuenta con una herramienta que le dará un empujón en el análisis de su obra en los momentos que usted lo necesite.
Instalación:
Bibisco cuenta con versiones para los sistemas operativos de windows, mac y linux. Sólo diríjase a su web http://www.bibisco.com/ y allí podrá descargarlo.
Si usted es un usuario de Ubuntu sólo tiene que descomprimir la carpeta donde quiera y abrirlo. No olvide asegurarse que el archivo esté marcado para abrirse como un programa ;)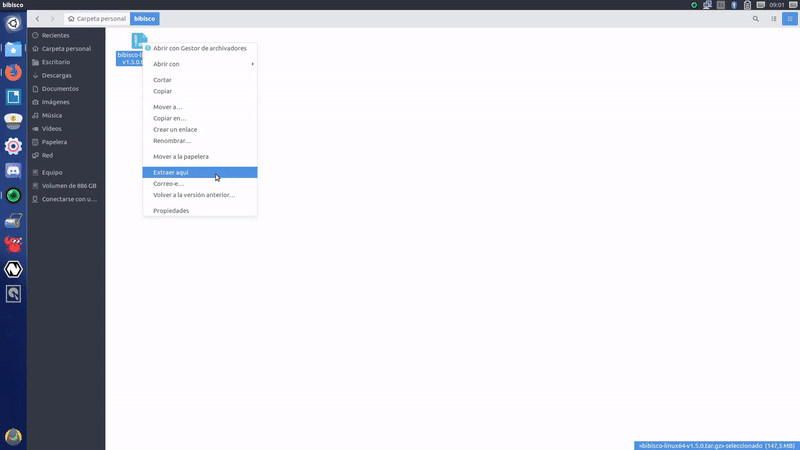 ---
Inicio
En la primera ventana que verá cuando inicie Bibisco debe seleccionar su idioma: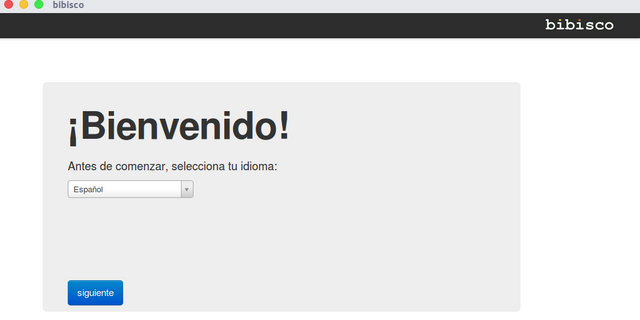 Luego de dar click en siguiente deberá escoger la carpteta donde guardará sus proyectos, cuando esté listo de click en terminar.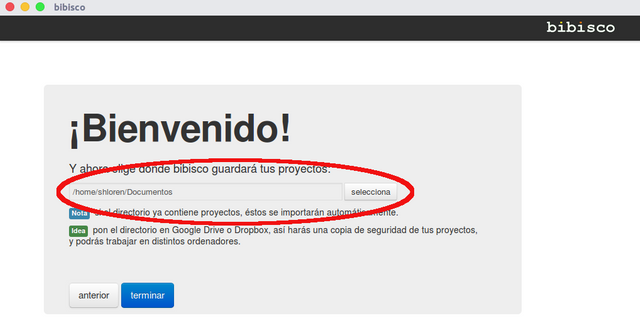 Ahora sólo debe dar click en crear tu primer proyecto. En esta ventana también puede cambiar el idioma o el directorio de sus proyectos dando click en la pestaña Configuración.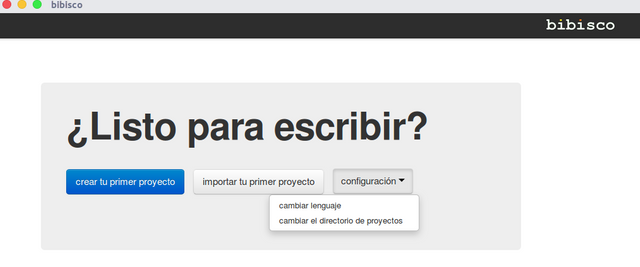 Al dar click en crear tu primer proyecto usted verá una ventana donde podrá darle nombre a su primera novela. Una vez termine con esto Bibisco lanzará una ventana de advertencia para que usted esté seguro del idioma que acaba de configurar, recuerde que esto es muy importante para que el programa lo ayude con las correcciones ortográficas y obviamente que la interfaz del mismo sea entendible para usted: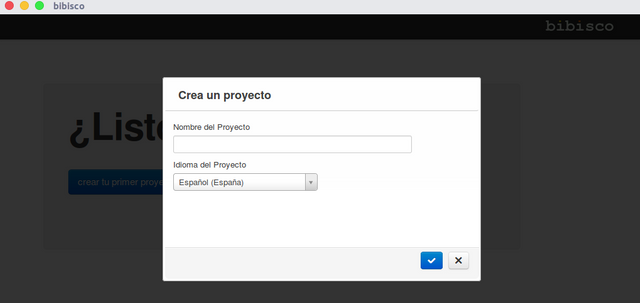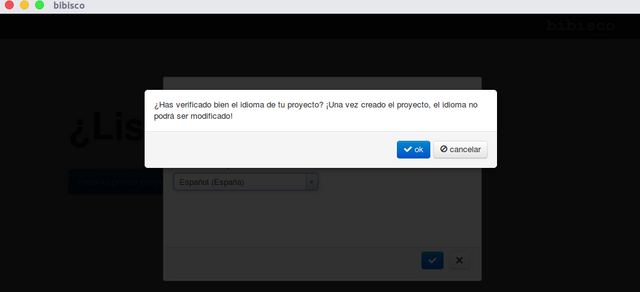 Aquí comenzamos, pero recuerde que Bibisco no trabaja como cualquier programa de creación de textos, Bibisco realmente lo ayudará con su novela desde la primera ventana que se abre luego de darle nombre a su proyecto. Aquí podrá encontrar muchos consejos útiles que lo guiarán en su producción, puede revisarlos cuando quiera.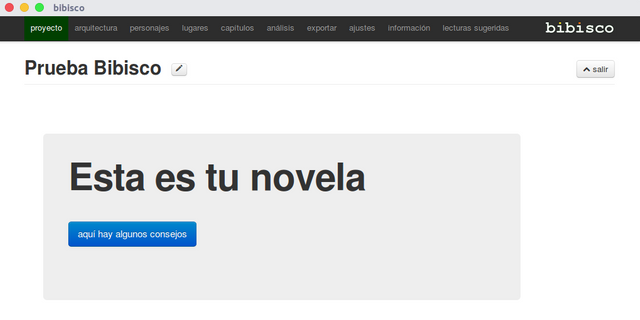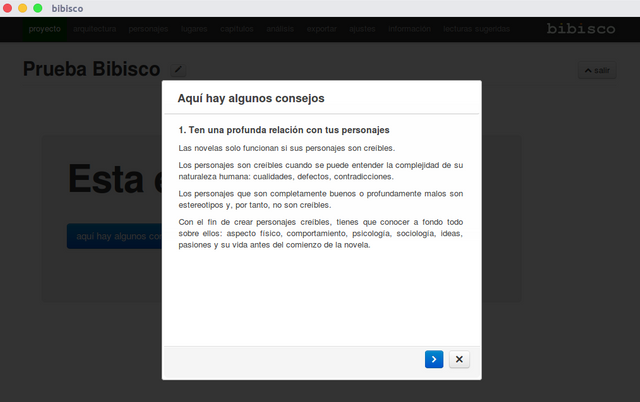 También encontrará algunos libros recomendados en la pestaña de Lecturas Sugeridas para que aprenda un poco más del formato literario.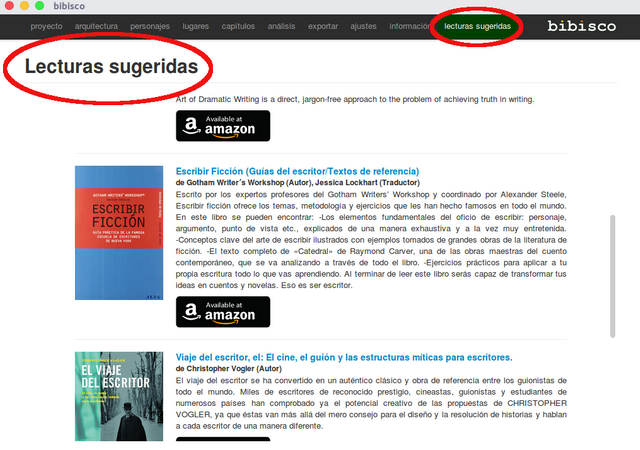 ---
¿Cómo Puede Ayudarlo Bibisco en su Trabajo como Escritor?
Bibisco está estructurado para que usted no se pierda redactando su novela y saque el mejor provecho de sus ideas. Veamos:
En esta ventana usted puede crear los Hilos Narrativos de su novela, la Premisa, Fábula y Ambientación General.
Nota: Recuerde que llenar todos los campos dentro de las pestañas que le facilita el programa es clave para que los análisis que le proporciona Bibisco sean los mejores.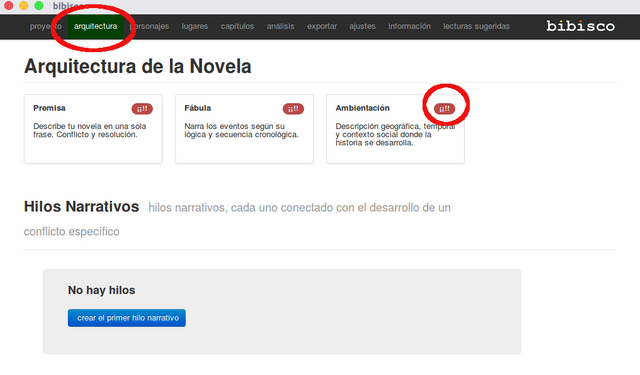 Los signos de admiración están siempre presentes en cualquier ventana del programa que tenga que ver con el desarrollo de su novela, cuando usted no ha realizado ningún trabajo dentro de esos campos:

Cuando usted cree su primer Hilo Narrativo esto será lo que verá: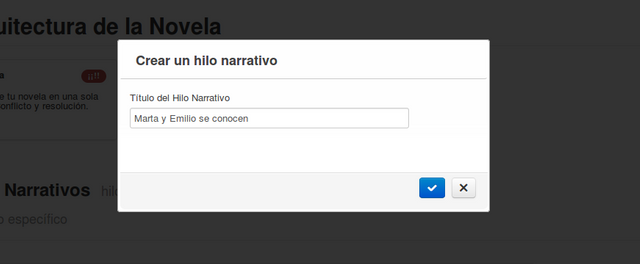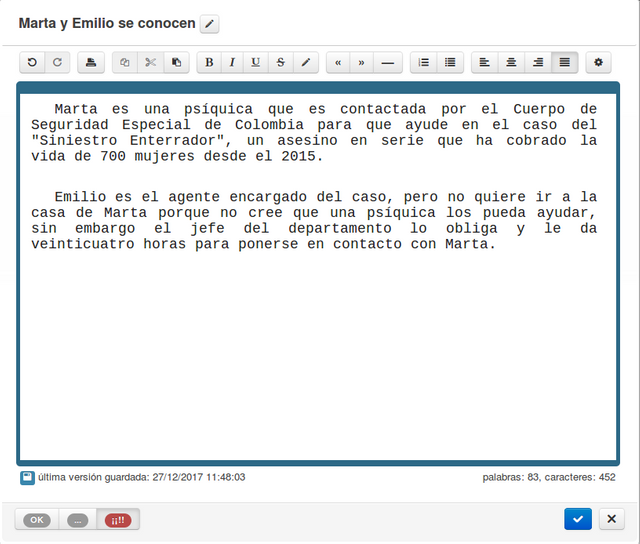 Observe la diversidad de herramientas disponibles para usted en materia de edición de texto, si pasa el mouse por encima de cada uno de ellos podrá ver su función y el atajo de teclado que le corresponde a cada botón.
El programa también le proporciona conteo de caracteres y palabras, y las fechas de sus últimas actualizaciones. En los botones de abajo usted marcará en qué estado se encuentra esta parte de su novela.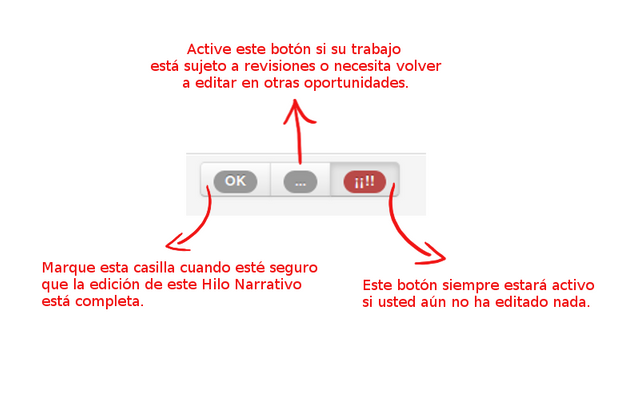 Nota: la mayoría de los módulos dentro de Bibisco tienen la misma distribución que acabé de discribir, con algunas variantes que a continuación le mostraré.
Recuerde que la correcta elaboración de cada módulo lo llevará al exitoso análisis de su trabajo cuando necesite consultarlo con la herramienta que le proporciona el programa. Voy a proporcionarle el ejemplo más útil y más elaborado, según mi criterio, para que pueda darse cuenta de cómo funcionaría la estructura de su novela enganchada con la herramienta de Análisis. Observe:
Así se ve la pestaña Capítulos cuando aún no ha creado uno:

Y así después de crearlo:

Al hacer click sobre el nombre del primer capítulo (No más víctimas) aparecerá el siguiente diálogo.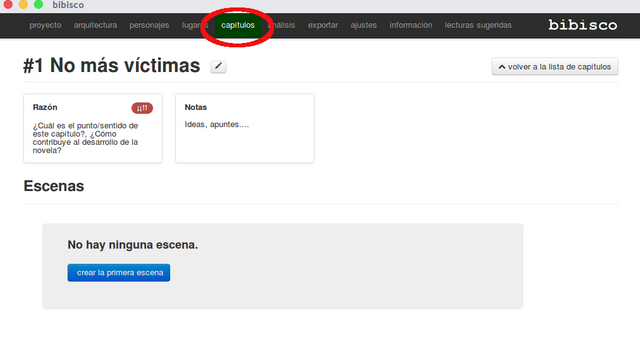 Como puede observar en esta ventana usted cuenta con un módulo para describir las razones que lo llevan a escribir ese capítulo. Otro módulo para hacer las notas que quiera referentes al capítulo que está trabajando. Y la esencia de todo: usted podrá estructurar sus capítulos a partir de escenas. Cuando oprima sobre el botón Crear la primera escena, aparecerá el siguiente diálogo:
Una vez le coloque un nombre a su escena la ventana que le muestra el capítulo sobre el que está trabajando se verá así: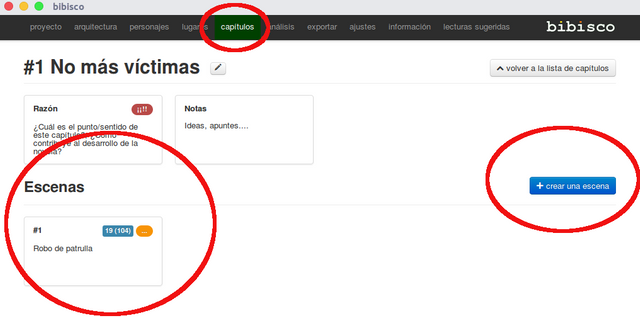 Usted puede crear las escenas que necesite para su capítulo, no hay límite. Cuando cree la segunda escena se abrirá un cuatro de diálogo que le indicará que usted puede cambiar las escenas de sitio cuantas veces quiera. El programa automáticamente las enumera según la posición que usted establezca. Lo que le describí también sucede cuando usted crea su segundo capítulo.

Pienso que lo mejor es que usted no oprima el botón no volver a mostrar este consejo en ninguna parte del programa mientras está comenzando a usarlo.
Después de crear su primera escena pulse con el botón izq del mouse sobre la escena y enseguida se abrirá el siguiente diálogo.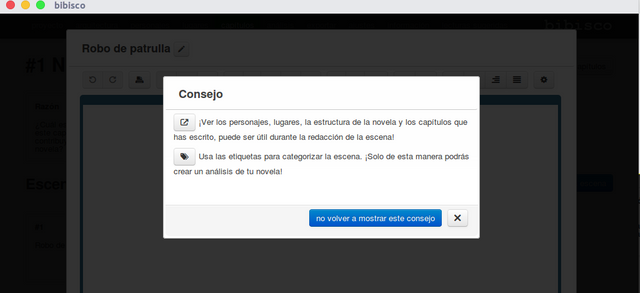 Como puede observar el programa le muestra dos botones que son muy importantes cuando esté trabajando dentro de la escena, sobre todo el segundo, porque al crear las etiquetas se comenzará a diseñar el análisis de su novela. Una vez de click en la X se abrirá la ventana donde trabajará su primera escena.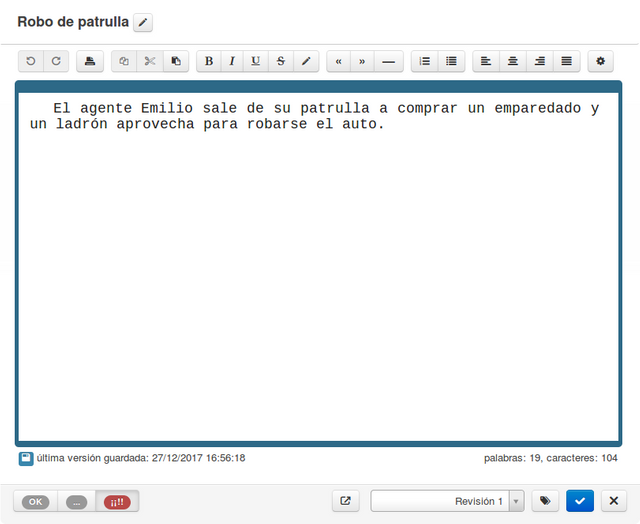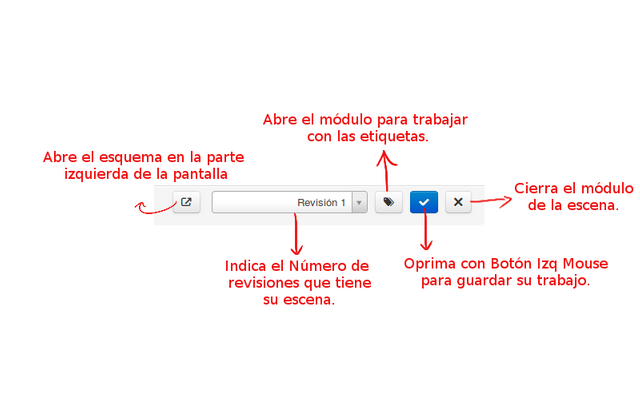 Cuando pulse sobre el botón que abre el esquema verá esta ventana en la parte izquierda: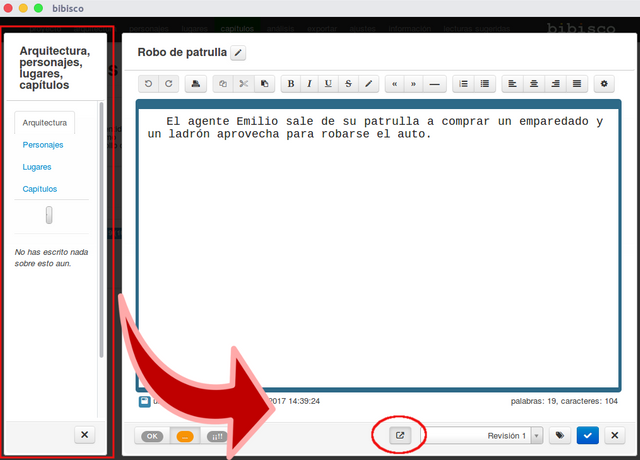 Cuando pulse sobre el botón que abre el módulo de las etiquetas verá está ventana: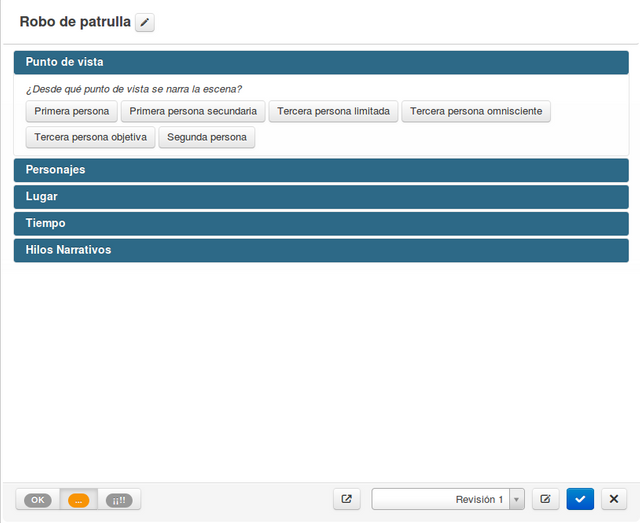 Dentro de la pestaña Análisis usted podrá ver información muy valiosa que realmente lo ayudará en su trabajo: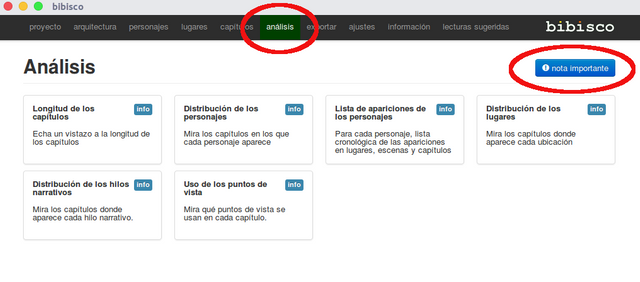 Cuando pulse sobre el botón nota importante, saldrá esta pantalla de diálogo:

Nota: tenga en cuenta que antes de trabajar en sus capítulos debe llenar los contenidos dentro de las pestañas Personajes, Lugares y Arquitectura.
Generalidades
Bibisco le permite exportar su trabajo de la siguiente forma:

En Ajustes puede cambiar las opciones de idioma, tamaños de letra, fuente, entre otros: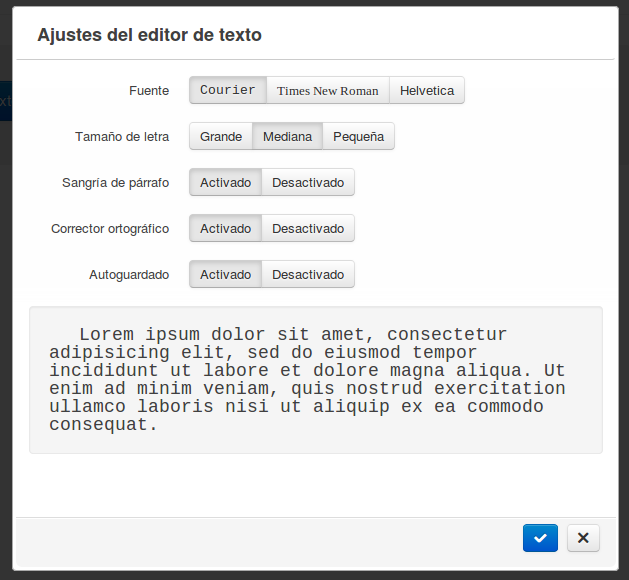 ---
Posted on Utopian.io - Rewarding Open Source Contributors
---