Translated 1054 words from English to Tagalog for Symfony - Open Source Contribution

Project Details
Symfony is an open source project that is a PHP web application framework and a set of reusable PHP components/libraries. Symfony was published as free software on October 18, 2005 and released under the MIT license.
Symfony aims to speed up the creation and maintenance of web applications and to replace repetitive coding tasks.Symfony has a low performance overhead used with a bytecode cache.
Symfony is aimed at building robust applications in an enterprise context, and aims to give developers full control over the configuration: from the directory structure to the foreign libraries, almost everything can be customized. To match enterprise development guidelines, Symfony is bundled with additional tools to help developers test, debug and document projects.
I decide to translate this project since the only lacking translation almost in their documentation is the Tagalog translation so that user here in the Philippines can also utlized the said project in our own dialect. This project is now closed for Tagalog translation beacuse I already translated the required documentation they want to be transalted into Tagalog.
Links related to the translation
My GitHub Profile: ergiegonzaga
Project's Main Repository in GitHub: symfony/symfony
Merged Pull Request in GitHub:
Merge Pull request #26130
Merge Pull request #26159
Source Language
English
Translated Language
I have translated the project into Tagalog Language.
Number Of Words
Write here the total number of words you have translated.
Number of words translated on this contribution: 1, 054 words
Proof: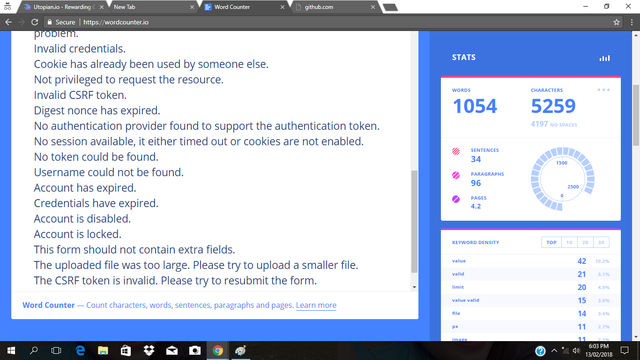 Proofread Words
I have translated three(3) files for this contribution and a total number of 1, 054 words translated into Tagalog Language and already merged into the original project.
The 3 files that I have created and already been merged to branch 2.7 of the project:
Tagalog Translation File for validators.tl.xlf for FORM
Proof:





Tagalog Translation File for security.tl.xlf for Security
Proof:





Tagalog Translation File for validators.tl.xlf for Validator
Proof:





Previous translation on the same project
Number of words translated on the project before this report (if any): 0
None. This is my first contribution for this project.
---
Posted on Utopian.io - Rewarding Open Source Contributors
---