Repository
https://github.com/mcfarhat/actifit/
Introduction
My aim of writing this "short" post is to reintroduce/introduce Actifit to current users, and potential users of the app alike who have maybe seen posts from actifit, or some kind of report cards on daily step counts and wonder what it is all about, and also to teach or show some basic ways to use the Actifit App.
As individuals who have no previous use/ knowledge of the app before now, knowing what to do and how to use the app could be quite tricky.In this post, we will look at what Actifit is all about, how to use it, and what rewards you can gain from using actifit.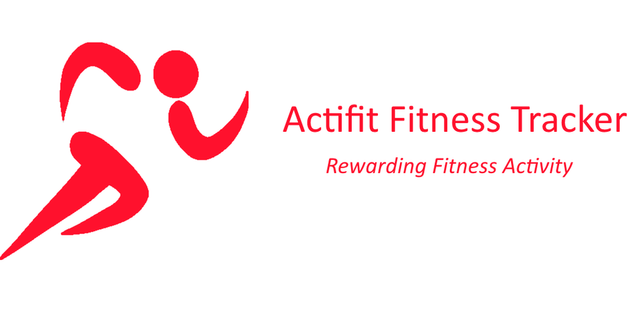 Post Body
1. What is Actifit?
Actifit is an android app built on the steem blockchain which encourages individuals to maintain a healthy lifestyle vis-à-vis keeping fit on a daily basis by doing even the most basic of all activities – walking! That's how the name was coined – Activity and Fitness!
With Actifit, you are pushed to do more as doctors recommend no less than 10,000 steps a day for individuals to keep fit.
2. Why Use Actifit?
There are so many other apps out there which you can use to track your fitness, even better than actifit does, and with so many more beautiful features. So why do I have to use actifit?
Truth is, actifit remains the only app built on the blockchain which aims to reward you for keeping fit. These rewards are a way of incentivizing you and even pushing you to do more, just for the betterment of your health. Thus, you should be glad to use the app.
3. What rewards do I gain from using actifit?
When you record your steps with the actifit app, and post them to the steem blockchain via the app, actifit gives you a percentage of their upvote from the account which has hit over 8k steem power recently.
Also, you get actifit tokens for every proof of activity recorded to you, depending on the number of steps you make for the day. This is how the percentage upvote per daily proof of activity looks like. This same system is also used in calculating the tokens to be given out to each user.
0 to 4,999 steps: 0%
5,000 to 5,999 steps: 20%
6,000 to 6,999 steps: 35%
7,000 to 7,999 steps: 50%
8,000 to 8,999 steps: 65%
9,000 to 9,999 steps: 80%
10,000 and above: 100%
4. How to Use Actifit
To use actifit, you need to possess an android phone. At the moment, the iOS version is still being set up so there iOS users will have to wait for a little more while before they can begin using actifit.
A. Downloading the Actifit App:
You can download the actifit app via the google Playstore with this link – Actifit App. It is not a heavy app, less than 4mb so it can run comfortably on your phone without taking up much space.
B. Installing the App
The actifit app is installed normally like every other app after downloading it from the store. Once you are done installing it, you can now begin using it.
C. Using the App proper
Once you have installed it, you can now begin carrying out your daily activity and recording it with the actifit app. Apart from walking, you can also use it in jogging, at the gym, running etc.
Most times, the app runs in the background once it has been opened. So you can keep on recording your steps while checking out some great posts on utopian.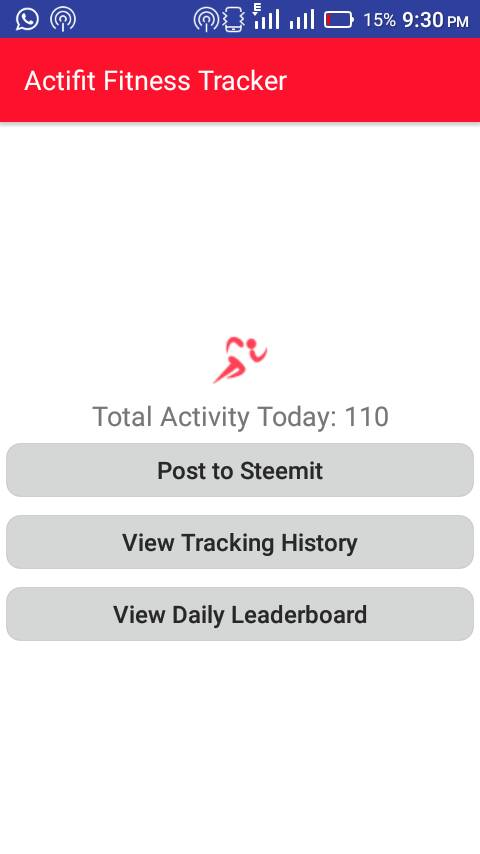 D. Posting to the Steem blockchain
You will need to have recorded no less than 1k steps before you can be allowed to post to the steem blockchain.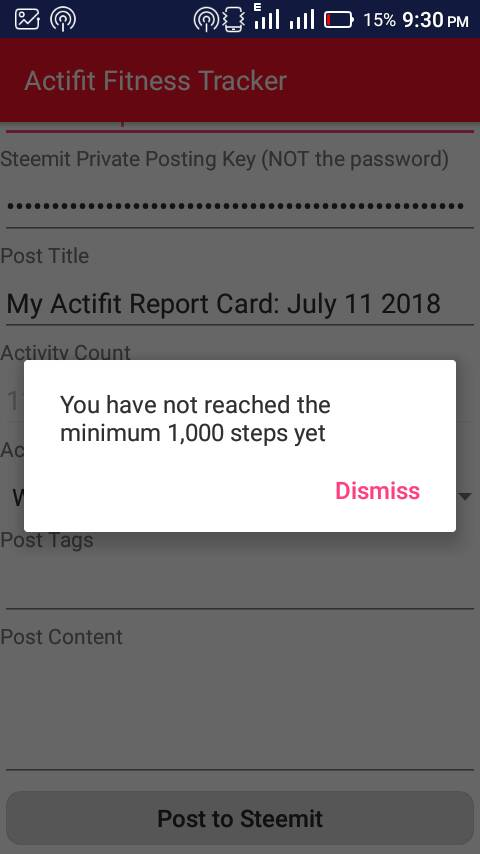 When you are ready to post to steemit, click on the 'Post to Steemit' tab on your app screen.
This will take you to another page where you have to provide your steemit username, and your steemit private posting key before you can post.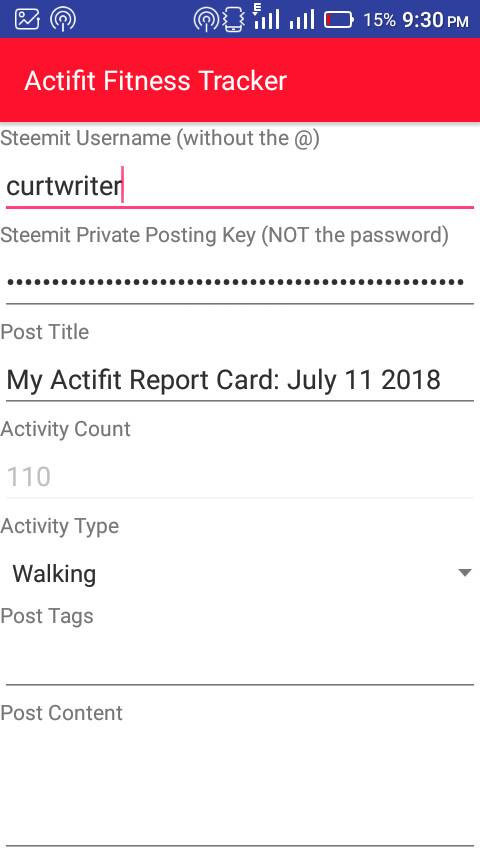 After that, there is already an existing post title for your post, but you can choose to edit it to whatever you wish.
Your activity count is below that, and cannot be edited to avoid people gaming the system.
Activity type
This was not formerly in the beta version of the app but was recently introduced in the new version recently released. Here, you can choose the activity type you underwent to get your result. There are many options to choose from such as jogging, running, cycling, football, basketball, walking, and several others.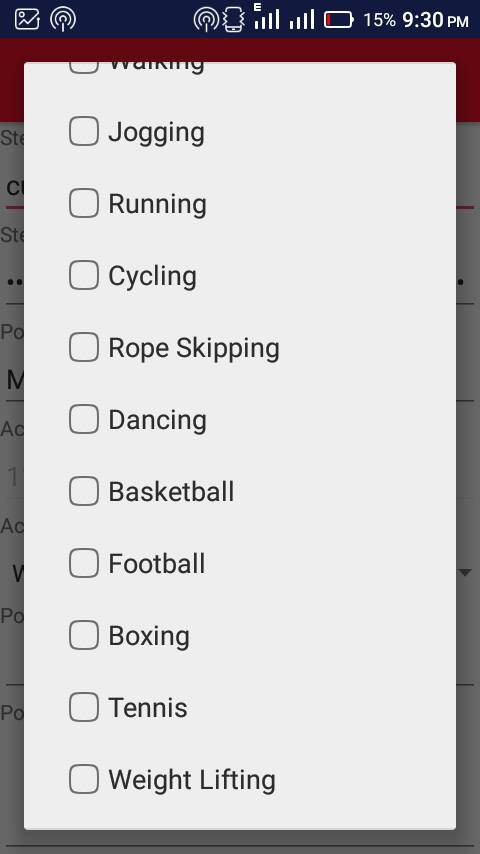 Post tags
Choose the tags you want your post to carry, with "actifit" being the first tag, and others can follow.
Post content
Here, you can choose to tell us all you did for the day to achieve the record, or you can choose to make it a short, one-liner read, it's all up to you.
Once that is done, you can now click on the 'post to steemit' button below to post it to the blockchain.
5. Other Ways to Earn from Actifit
Not able to do any fitness activities due to one reason or the other but you still wish to be able to earn from the platform? No problem! You can simply delegate to the actifit account and earn actifit tokens according to the amount of SP you delegate. So if I delegate 2,000SP, I will get 2,000 actifit tokens to my account.
You can delegate as low as from 10SP to infinity.
6. The Actifit website.
The Actifit website is actifit.io and is still under intense development to ensure that it is ready in the coming weeks. There, you can view your tokens, transaction history and necessary information.
How to reach the actifit team?
You can reach actifit via @mcfarhat who is the developer of the app, or through Actifit Discord Server.
I remain CurtWriter (Actifit Moderator).
Resources
A. https://steemit.com/actifit/@actifit/announcing-actifit-innovative-smt-for-rewarding-fitness-activity
B. https://github.com/mcfarhat/actifit/
Image sources: https://steemit.com/actifit/@actifit/announcing-actifit-innovative-smt-for-rewarding-fitness-activity
Other images are screenshots taken from my phone.