Repository
https://github.com/esteemapp/esteem
Introduction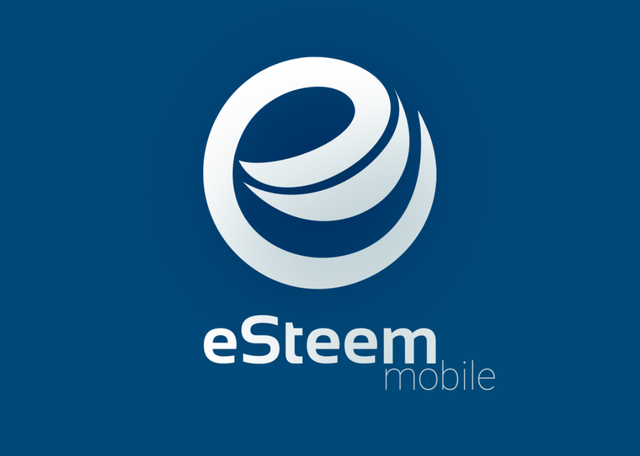 It was around the last days of January 2018 that I first heard about Steemit and created my account on the platform. Ever since then, the journey has been an enjoyable, fun, rewarding, yet demanding one. At first, I never knew the kind of creative platform I had forayed into, and so surfing the Steemiverse proved to be a serious challenge for me. It was almost more than 3 months since I joined the Steem blockchain before I noticed eSteem, an app that had been making waves on the blockchain.
Still around that period, I had come across and read stories of people whose account had been hacked for clicking on phishing links. I also heard of someone who had downloaded a third party app on Google play store and got his Steem account hacked just like that.
I'm sure you can imagine the fear and doubts I had within me as I clicked the "Install" button on Google playstore for the download of the eSteem mobile for Android devices. The eSteem app pretty beat my expectations, but also came along with its own shortcomings. As they say, bad news travel faster than good news, and a lot of people prefer to listen to bad news first before consoling themselves with the good news. So let's hear the bad news first. In this write-up, I'd discuss the shortcomings of the eSteem Mobile for Android and leave the benefits/advantages for the second post in this series.
The Prior Shortcomings of eSteem Android Mobile
When I first looked at the app on playstore, it took me almost three minutes to come to a decision on installing the app. Infact, to borrow and edit the words of Shakespeare, "To install or not to install: that was the question". I soon found myself about to flip a coin just to install an app. I'd tell you why below.
First of all, I felt the app was just too heavy for no reason. Anything above 10mb is termed heavy for me, not to talk of a whooping 33mb! I mean, when it is not Temple Run or Angry Birds! You'd also consider the fact that it would still have its cache which would considerably increase the size of the app. There was also a rumor that the app was a battery drainer.

Secondly, I equally noticed from comments from users that the app freezes a lot while scrolling through and then gives off a white screen on their devices. There were a lot of complaints from users on the review section of the app on the Android store.

Thirdly, some features were present on the eSteem app but cannot be used. Where you decide to click on them, just know you are inviting trouble as the app would forcefully shut down. Then, you'd have to restart the app to use it again. It was quite frustrating for users then.
Still, I installed the eSteem Android App!
However, good soon prevailed over bad as I decided to download it for two reasons. First, it provided a sleek way for me to surf the Steemit ecosystem. By just the click of a few buttons, carrying out activities in the Steem blockchain became easy and breezy.
Secondly, eSteem and its founder, @good-karma always upvotes users of its platform. So what better way to earn on the blockchain than use an app? In the light of these, I tapped the install button and all is history now.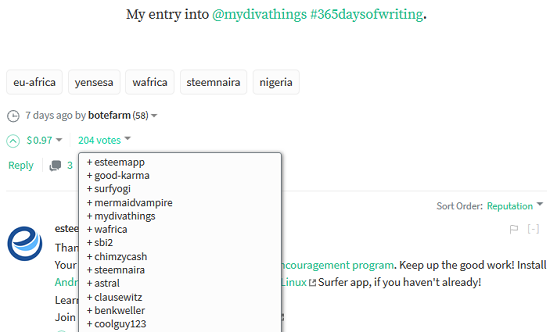 The Journey so far
A few weeks after I had installed the eSteem Android Mobile app, an upgrade to the app was released. A lot of changes had been made, and features on the app became better and much more responsive. I still remember a contest done by @dunsky who is the graphic designer of the app asking about ways they can improve the platform. By the time the new app was released, a lot of fixes to the bugs plaguing the app had been carried out. eSteem was about to get much better.
Curation on content made through the eSteem platforms soon began as a team of curators were put in place to seek out and curate quality contents. This led to an influx of users, both old and new to the platform.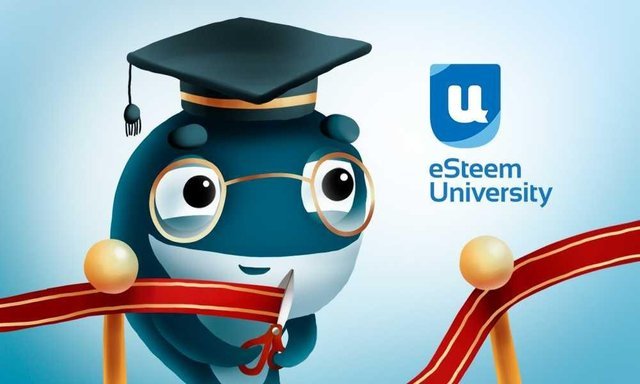 To ease the work for curators, the use of tags was implemented. Wherever you see tags such as #eu-africa, #esteemapp, and #esteem, just know that they are related to the eSteem platform. EU-Africa was a term for eSteem University-Africa. It was created to help in a successful onboarding of new users, as well as educating them on what they should know about the platform.
By the time another update was released a few months ago, eSteem mobile had become stable and an app to be reckoned with. The issue of the app freezing unnecessarily had been fixed and new features were added to the app. I will discuss extensively on the features of the eSteem Mobile Android app in a new post. For now, let me talk about the shortcomings of eSteem as a platform.
The eSteem setup and its Shortcomings
Attracting new users to begin to use a new product or app is hard, but keeping and satisfying them is even harder. Let us take a look at esteem and some of its shortcomings as a project.
Despite its seemingly unwavering popularity, a number of Steemians have yet to come across the eSteem app. While this may not be a fault of the team, I for one, believes that marketing and advertisement should be a top priority for the eSteem team. Both on Steem and other social media platforms, users should be recruited and rewarded for promoting the eSteem various platforms.

Normally, the introductory posts by new users gathers quite some reasonable amount of upvotes and Steem/SBD as well. However, subsequent posts after that gets next to nothing apart from the upvote from eSteem and its trail. Also, some percentage is taken out by eSteem at post payout so you can imagine what is left for users. This has led to a number of Steemians abandoning the app and going for other apps that do not make such cuts.

Finally, there are cases where despite having made content of very good quality through the eSteem app, it is missed out during curation. This is enough to discourage users from further using the app. It has happened to me before, so I know what it feels like.
Possible Solutions to the Shortcomings
Here are what I feel should suffice as possible solutions to the shortcomings I have stated above.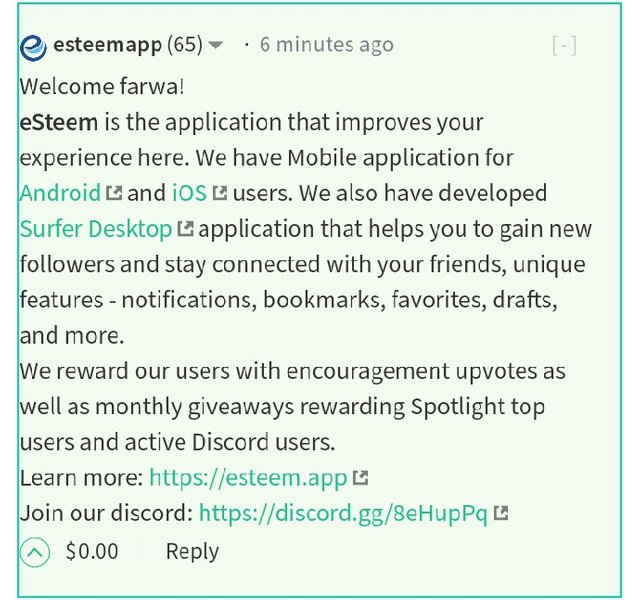 Like I mentioned in the first point above, marketing, advertisement and promotion needs to be a top priority for the eSteem team. eSteem has done well with the congratulatory comments they make on new users introductory post. However, much more than that needs to be done for something more tangible to be achieved. Users need to be educated sufficiently about the app and the benefits of using the app should be communicated more strongly to these new users.

While it is true about the cuts taken out by eSteem from the payouts on users posts, these are normally close to nothing and excusable. There are a lot of developments and payments that need to be borne and handled by the team. These are where those rewards from the little cuts are channeled. However, this should be communicated to users in the clearest of terms with the percentage being stated visibly.

For an app that has promised to curate all posts made from its platform, it definitely is not an easy task. Now, if I make my quality posts from such an app one, twice and thrice and they are not upvoted, what do you think my reaction would be? Definitely, I'd uninstall the app and look for a better one.
In essence, I'm saying that eSteem should find a way to curate all quality posts made by users no matter how little it is. This would go a long way to keep these users glued to the platform for some time to come.
Conclusion
The eSteem app is a great platform which holds a lot of promise for its users. I have managed to pencil down some of its shortcomings and possible solutions to them. It is my hope that they would be addressed soon enough.
At the end of every tunnel, there is the light. As such, in my next post, I'd focus on the advantages and benefits I have gotten from my prolonged usage of the eSteem app.
Thank you.
Resources
Series Backlinks
This is the first post made under this series.