How to use Busy.org? How do I get support? // Busy.org nasıl kullanabilirim? Nasıl Destek sağlarım?
Busy is an open source project on Steem . Busy.org is currently in Beta version. I will give you information on how to post trought busy. I hope it will be a guiding guide to our new friends. Thank you.
Merhaba arkadaşlar
Öncelikle steemite yeni kayıt yapmış arkadaşlar açısından bir destek olur manasıyla "busy.org" sitesi üzerinden nasıl paylaşım yapılır ve ne yaparsak destek alırız onu aktarmaya çalışacağım.

Busy'de aynı steem tabanlıdır. Yapmış olduğunuz tüm paylaşımlar busy.org sitesinede aktarılır. Yani siz steemite üye olduğunuz anda bir busy üyesinizde. Direk olarak steemite girmiş olduğunuz kullanıcı adı ve şifre ile girişinizi sağlayabilirsiniz.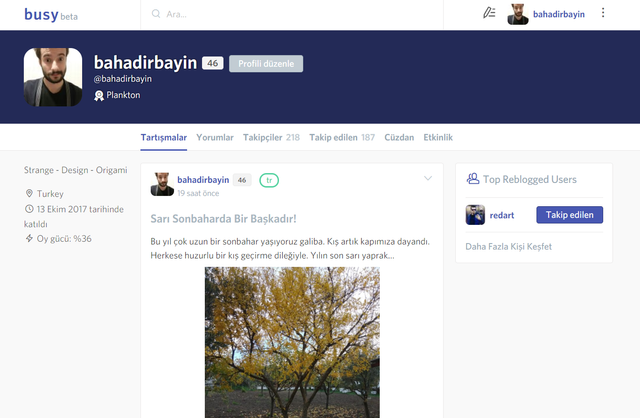 Yapmamız gereken yeni bir post oluşturmak. Steemitten gibi ingilizce değil türkçe tabanlı olması işlerimizi bi hayli kolaylaştırma. Bir yazı yaz kısmına tıklıyoruz.

Karşımıza post ekranızım çıkıyor ve sırayla işlem basamaklarını takip edelim.
1-Konumuza uygun bir başlık girelim
2-Konu başlıkları kısmına uygun "TAG"larımızı yazalım.(Fakat bunu postu bitirdikten sonra eklemenizi tavsiye ederim. Yanlışlıkla entera bastığınızda post yayınlanır sonradan düzeltmekle uğraşmayın.)
3-Burada postumuzun içerik kısmını ekleyelim.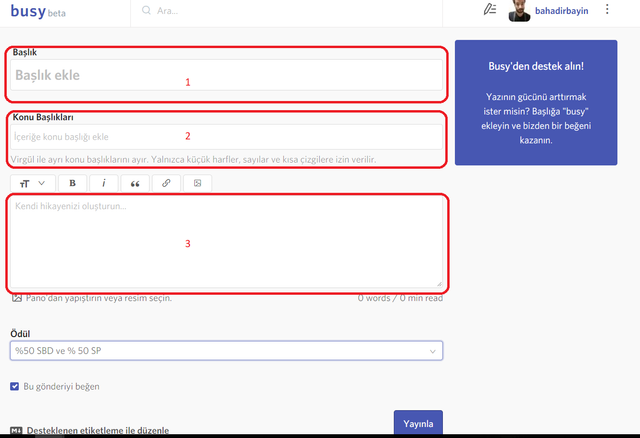 4-Burada kullanmak için size sunulan yazı gereçleri ve link,alıntı vs. gibi düzenlemeleri yapabilirsiniz.
5-Bilgisayarınızdan resim yükleyebilirsiniz.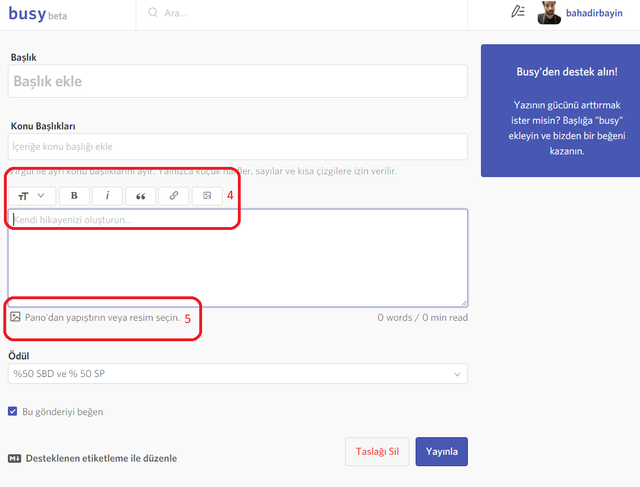 6-Son olarakta size verilen ödülü nasıl istediğinize bırakıyorlar. Buradan bir seçim yapmalısınız.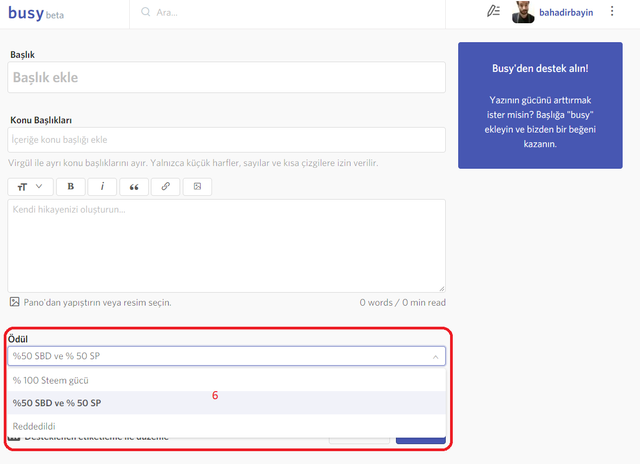 Evet sonra olarakta postumuzu yayınlayabiliriz.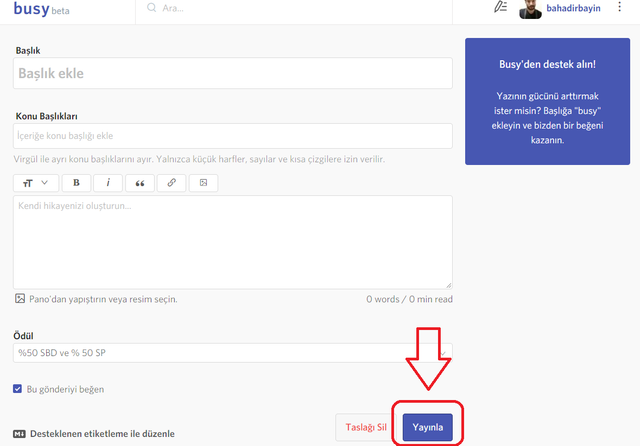 Nasıl destek sağlarım kısmına gelirsek :
Busy.org postunuzu yayınlarken TAG kısmına "busy" tagınıda eklemeyi unutmayın. Size gücü kazandıran bu olacaktır. Sırası önemli değil.

Github adresine buradan ulaşabilirsiniz.
Teşekkürler ..
---
Posted on Utopian.io - Rewarding Open Source Contributors
---