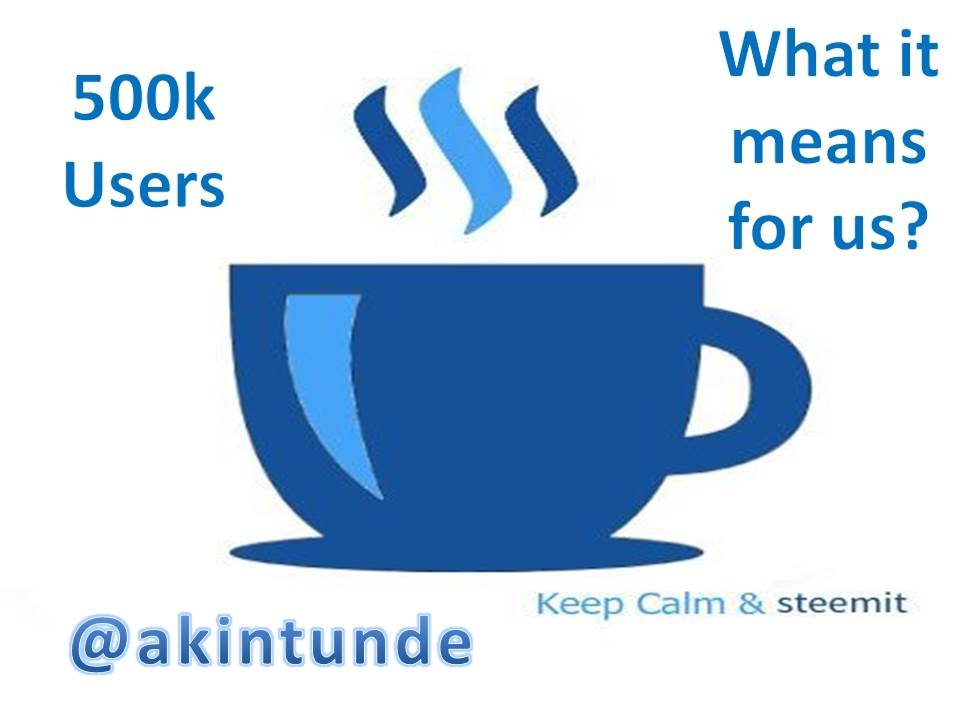 The Steem Blockchain will be approaching 500k users in less than 6 days and I really don't think we should celebrate. Why? Because that is not good enough. Who takes the blame for that? You or Me? None of us and All of us.
The whole philosophy that the steem blockchain runs upon just seems too good to be true (even though it is true,people can get paid for doing what they love) which is the more reason why people are here and also the reason why many aren't. It's isn't just about steem alone. The whole cryptocurrency world still seems like a fad that will fade to so many people, so for the fact that steem bears a resemblance with that , it creates a sense of disbelief with so many.
Nevertheless, I think the whole steem community has been awesome , the promotion and everything.
I joined two weeks ago and I have met some really wonderful people both off and on line via this platform.
It didn't wait for the second day for it to start changing my life, it started immediately, my sleeping has reduced tremendously, you must wonder, "You haven't been posting tremendously, so what have you been doing awake" I have been reading and analyzing tremendously.
I don't know about you, but one thing , I think the whole steem network has done for me, is that it had brought me a glimpse of the future and challenged me to be a part of it. If you understand blockchain technology and why it's important to the world, you will definitely know what I am talking about.
I am way better at analyzing cryptomarkets now than ever, this place looks like a better version of bitcointalk.
oh! I was suppose to talk about #steemusers reaching 500k in a few days. You must be wondering how Iknew that. I will tell you how I knew that, I have been keeping some minor records.
Nine Days ago, I posted an article that featured this screenshot from my #steemuser monitoring website

Then, I brought another screenshot from 15 days ago.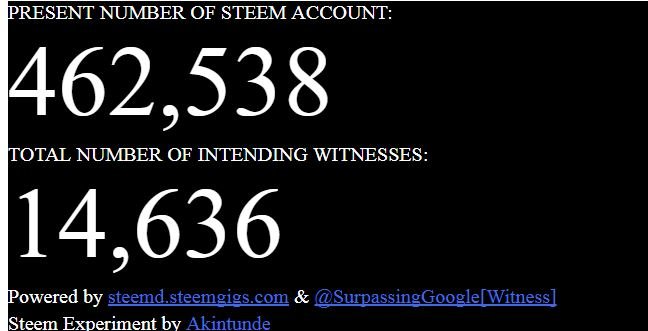 and then with that, we calculated the average of users joining everyday to be around 1528 users.
So today, this is what we have 491,524.

So from my little calculation, it means in 5.5 days time or less, the steem blockchain would cross the 500k users line.
I am joyous for that, reason one being that I joined earlier, gives me a sense of pride, reason two being that we are growing even though I wish for more, reason three being that many people 's life are gonna be turned around if they want it to be.
So sit back and relax and watch the show as we clock 500k. You can monitor it here, (http://akin.com.ng/steem) if you wish.
Thank you for reading, I hope I didn't bore you
More so, i need to recommend a vlog for you, it actually answers the question on why the SBD went sky high. It was a blessing when I watched it , I guess it might mean something to you too [https://steemit.com/vlog/@dan-atstarlite/the-steem-dollar-mystery-the-tether-hack-and-traders-buying-breakouts]
---
Posted on Utopian.io - Rewarding Open Source Contributors
---