utopian-io: Weekly overview of the Analysis category - Week 52/53, 2018/2019
This is a weekly overview post of the Analysis category at @utopian-io. The report aims to provide insight into the topics covered, the scores provided, staff picks (if any), and a look at how the current week has fared against recent weeks gone by.
Any other work taking place and my personal thoughts in relation to the category will also be included.
If you have any suggestions for additional information that could be included in this report, please comment below.
This particular report covers 2 weeks. Week 53 is split between the final days of December 2018 and first few days of January 2019.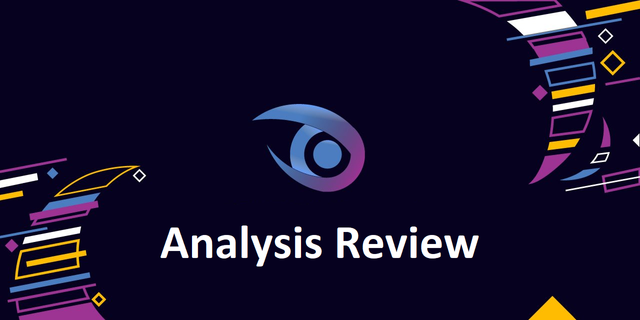 ---
Previous reports
Weekly overview: 43, 44,45-46, 47, 48-49, 50-51.
---
Analysis contributions summary
Week 52: December 20th - 26th (inclusive)
No staff picks this week
1 contribution, 1 scored
An average score for the week of 73
An average of 21 comments
Week 53: December 27th-January 2nd (inclusive)
No staff picks this week
7 contributions, 6 scored, 6 unique contributors
An average score for the week of 50 for all 7, and 58.3 when excluding the un-scored contribution
An average of 13 comments per contribution (lower than average)
Contributions
Week 52
Week 53
In summary, the contributions ( paulag's aside) scored averagely in the past two weeks. The single submission in week 52 was balanced by 7 the following week. The average comments on the contributions was slightly lower than the average in recent times, but it is likely that the time of year has had some effect on this.
More than one analysis lacked a broad scope and failed to cover obvious additional metrics, meaning that an opportunity was missed to add value to the work. The reviewers tried to make the contributors aware of this, without sounding too harsh.
Perhaps filters on the condenser used would give more insight into human/bot posters - if not a standard UI condenser, then likely scripted? Sadly the contribution lacks in many areas, including depth of analysis and visualizations, and I think more work on slicing and presenting the data could have been added.
The contribution that was unable to be scored was not related to open source, and the reviewer left a kind comment stating this, which included:
Unfortunately, the post does not fit the Utopian analysis category. The scope of this category is data analysis generated for Open Source projects, in the best case helping the project owner/maintainer in decision making for future developments. Market price analyses of assets on their own do not fall into the scope of Utopian.
The standout piece was again related to Bid-bot earnings, and this contribution by 'paulag' also attracted around 45% of all the comments on Analysis contributions, over the past two weeks.
---
Analysis and visual reporting
The aim of this section is to represent the current weeks activity along with a recent set of data. The current data span covers the previous 14 weeks.
Weekly Average Score and number of Contributions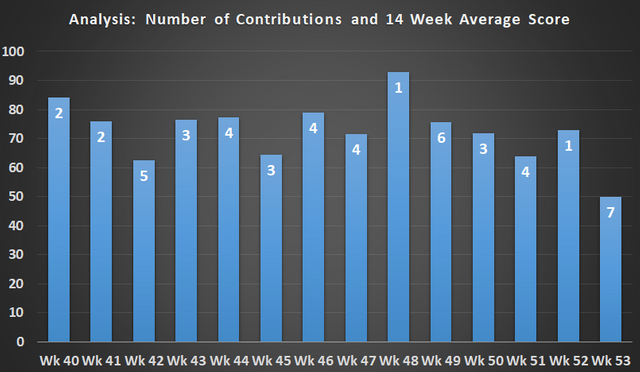 An average score of 58.3 this week (53) is close to 15% lower than the 14 week average of 72.72. Six scored contributions is close to 60% more than the 14 week average.
---
Contributor Totals and Average Score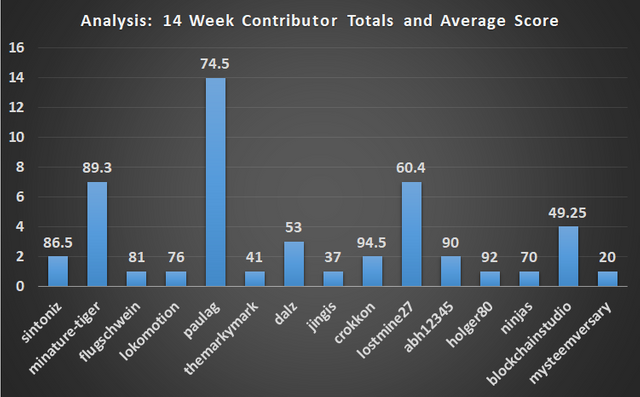 One new contributor since the last update.
'paulag' still tops contributor table with 14 contributions over the past 14 weeks. 'lostmine27' and 'miniature-tiger are tied in 2nd with 7 contributions each over this period. 9 contributors have an average contribution score of 70 or above, over the past 14 weeks.
Contributions that did not receive a score are not included in the charts above.
---
Review Totals by Reviewer (Scored/ Not scored)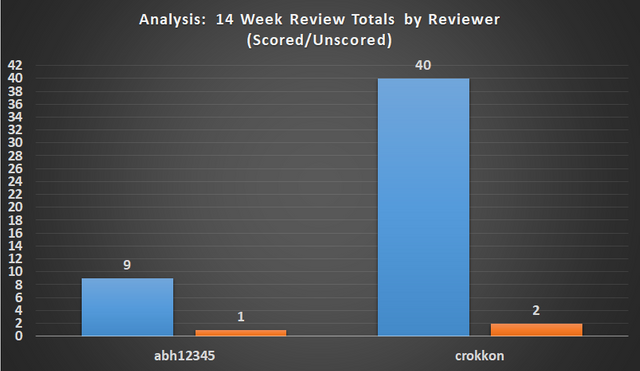 Two reviewers assessed all 49 contributions that received a score in the past 14 weeks. One contribution this week was reviewed by 'crokkon', bringing the total to 3, which is only 6% of all contributions submitted/reviewed.
---
Other items
Contacting previous contributors - update
In the previous report, I details the result of a question I sent to 10 previous contributors. The reply rate, as expected, wasn't great, but the feedback was helpful. During the past week, I received further reply, and this is perhaps the most positive yet:
Thank you for contacting me personally @abh12345 ! I will be back soon. I was on hiatus due to some changes in my day job schedule. I was still on adjusting with my new schedule. Aside from that, I have a personal matters to attend to in the last few months. I love the utopian-io , steemit and steem blockchain in general. I am am happy to contribute sooner. Once again, thank you!
This is a bit more positive for utopian-io, and I'm thankful for the reply. I still suspect the current market to be weighing heavily on the fall in contributions to the category. Although, this week 7 contributions is a good effort, and we already have a couple logged for next time.
At present, I'm reasonably happy with the category, and think that as 2019 progresses, Analysis, and all the categories at utopian-io can grow further.
---
Thank you for your time.
Asher