This is a weekly overview post of the Analysis category at @utopian-io. The report aims to provide insight into the topics covered, the scores provided, staff picks (if any), and a look at how the current week has fared against recent weeks gone by.
Any other work taking place and my personal thoughts in relation to the category will also be included.
If you have any suggestions for additional information that could be included in this report, please comment below.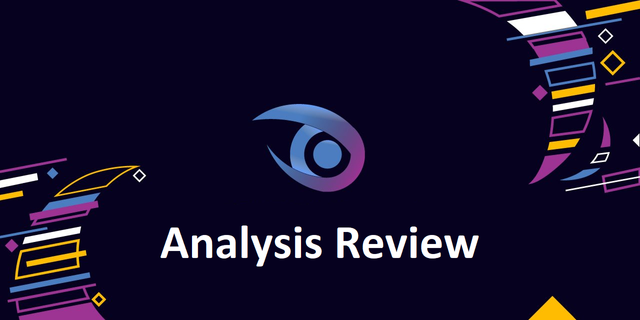 ---
Previous reports
2018
Weekly overview: 43, 44,45-46, 47, 48-49, 50-51, 52-53.
2019
1
---
Analysis contributions summary
Week 2: January 10th - 16th (inclusive)
No staff picks this week
7 contributions, 5 scored, 5 unique contributors, and 1 new contributor
An average score for the week of 48.4 (68.6 excluding the 0 scores)
An average of 25 comments per contribution is well above the average
Contributions
Another broad selection of topics for the 2nd week of January 2019 and a range of scores, including two contributions that were unable to be given a mark. No single contribution stood out as far as score, but 'vlemon's submission did receive a healthy number of comments. This analysis focused on recent 'Steemit' statistics and the engagement shows that people are keen to see how the flagship interface for the Steem blockchain is holding up during the cryptocurrency bear market.
Two un-scorable contributions is uncommon for the Analysis category at utopian-io. Both submissions however were not related to open source projects, even though the work on both was of good quality, hence the mark of 0 for each.
Even though there are methods and scripts provided by MagicDice how results can be verified based on the retrospectively published seeds, the server seed generation itself is not included there. However, this also means that your contribution is unfortunately not in the scope of Utopian
Unfortunately, the post is not in the scope of Utopian, since Tasteem is currently not an open source project.
The reviewer gave positive feedback on both contributions, and included the above notes to clarify why the the submissions were not suitable.
'dalz', the contributor of the un-scored 'Tasteem 2018' did however submit two further contributions which were scored. These formed part of a collection of analyses this account has been working on in recent times, covering a wide selection of metrics for projects for the whole of 2018.
---
Analysis and visual reporting
The aim of this section is to represent the current weeks activity along with a recent set of data. The current data span covers the previous 16 weeks.
Weekly Average Score and number of Contributions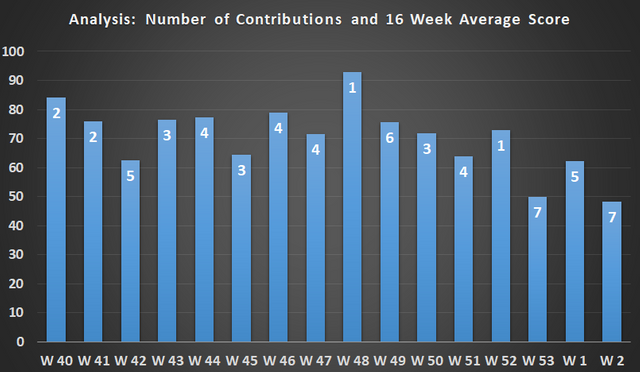 An average score of 48.4 this week is well below the 16 week average of 70.55 - Two unscored contributions having quite an impact on the average. 7 contributions for the 2nd week in January is well above the 16 week average of 3.8. The previous three weeks have seen a total of 19 contributions - much better than prior to Christmas 2018.
---
Contributor Totals and Average Score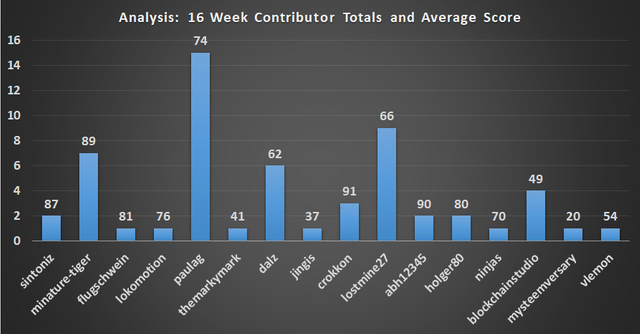 Contributions that did not receive a score are not included in the chart above.
One new contributor since the last update.
Nine contributors have an average contribution score of 70 or above and seven are below this score, over the past 16 weeks.
---
Review Totals by Reviewer (Scored/ Not scored)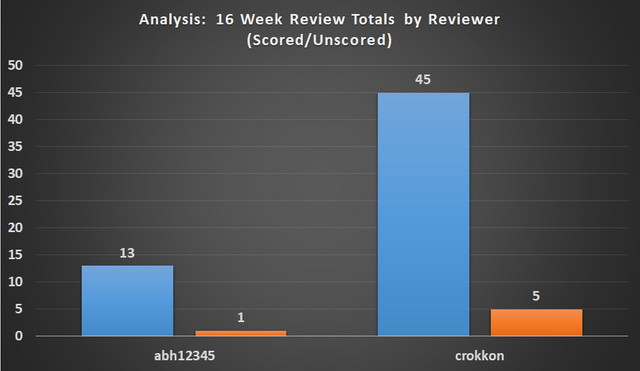 Two reviewers assessed all 58 contributions that received a score in the past 16 weeks. Six contributions have not been scored during this period.
---
Other items
Un-scored Contributions
Over the past couple of weeks, there have been a handful of contributions that have not been eligible for a score. The reasons for this are not the lacking quality of the analysis, but the fact that the subject area of focus is not an open source project. This is a bit of a shame for the contributor, who may have spent hours on the work, only to find it is out of scope for utopian-io.
The Analysis team is available for contact in the utopian-io discord, and also via our blogs. We would like to be able to give every contribution the opportunity to be scored, and welcome conversation from contributors who have an idea of a piece of work they are thinking about submitting.
utopian-io Discord: https://discord.gg/6T97um
Analysis team: 'crokkon', 'abh12345'
---
That's all for this week, thanks for reading.
Asher