:: Universal Recognition Token :: Blockchain-Based Employee Rewards Marketplace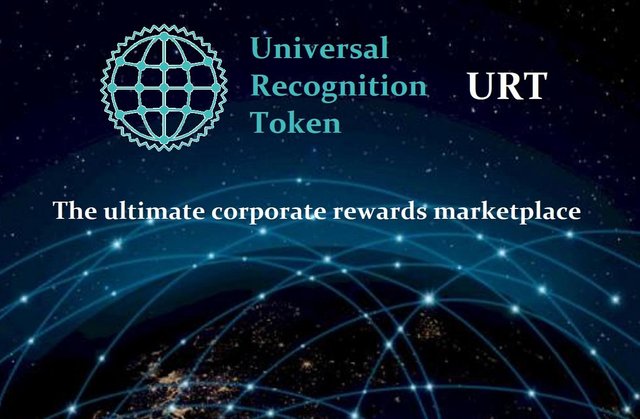 ---
URT is a unique cryptocurrency project that aims to facilitate trades in a market for unwanted gifts. This marketplace will be fully decentralized and will use smart contracts to ensure that the transactions are accurate and verifiable. The global platform will be an auction styled format allowing for individuals to bid on certain items. The gifts can be sold for points or cash, and since a distributed ledger is being used the points will be 100% authentic and traceable. This means users won't have to worry about counterfeit points, and will be able to exchange safely.
It is estimated that in the United States $90Billion is spent on gifts for employees, which has allowed for a new market to be born. Reward points that are given for sold items can be redeemable by the employer or can be saved for different prizes or prize vendors that have different gifts. This creates a new economy that hasn't been targeted before, and since a blockchain is being used the fees for transactions can be greatly reduced.
URT Introduction Video
---
According to a study, corporations that gave employees rewards typically gave out gift cards. 33% of these gift cards were never actually used and so the corporate spending for these cards was purely wasted. Surveys have shown that 60days are typically the peaking point of gift card use if a card is held longer than 60days they are likely never used. So even if a gift card is purchased with a yearlong expiration date, the cards inherit use is typically 2 months. Other times companies will give employees items that they don't typically want, and so the money is spent inefficiently. Instead of buying gifts with no real value to the employees, these corporations could be instead of giving pay raises.
---


https://urtoken.net/
---
URT Marketplace Solution
URT plans on tackling this industry by offering a virtual marketplace for employees with gifts. Employees that received a gift card or item will now be able to offer it on the global marketplace and can be redeemed for a value that can be later used to purchase a future gift or combined to get a more expensive gift.
This allows the employees who don't want the gift to be able to obtain a value, and not accept a 0 sum item. Employers will also be able to join the platform as they can offer redeemable point, like "loyalty points".
Example: Microsoft can create a "Point Club" in which discounted items that can be redeemable with Points or cash value are offered. Employees can then auction off their items for points, or a cash reward.
Employers will be able to get data from the blockchain platform as to what items employees are keeping or auctioning off. This will allow the employers to get a better idea as to what items should be given as a reward. Since the platform will work globally, gifts will be traded based on market demand in the form of URT tokens.
---
[URT] ICO Coming Soon!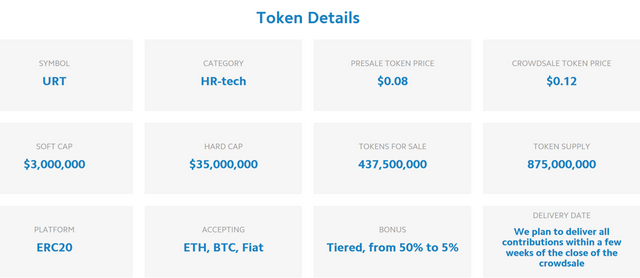 Additional Project Information
Website: https://urtoken.net/
Whitepaper: https://s3.us-east-2.amazonaws.com/urtoken/URT-WPv07b.pdf
BitcoinTalk [ann]: https://bitcointalk.org/index.php?topic=4550909
Social Media Links
Telegram: https://t.me/ur_token
Medium Blog: https://medium.com/@urt
Facebook: https://www.facebook.com/urtoken
Twitter: https://twitter.com/ur_token
---

---
---
BitcoinTalk user: Mr.Ease
User link: https://bitcointalk.org/index.php?action=profile;u=803528
Ethereum Address: 0xfd797888c66DfEbf7bA5A6927a50F2F75Ad7175e
Follow Me for Upcoming Token Sale Information