How Much is the Payout from an Upvote?
Hello Steemians!
We hope that by now, you've all gotten a chance to use the @minnowfairy voting bot service to promote your post and give your account a welcome boost. If not, we encourage you to try it out. You can find links to instructions at the end of this post.
For this post, we'd like to share with you more about payouts. In particular, have you ever wondered how much will be your payout after you've sent a bid to @minnowfairy?
Let's say @minnowfairy has upvoted on your post. You can confirm this from your post on the Steemit site. When you open your post, scroll down until you reach the status bar just before the comments section. The number of votes you have received so far is shown (see image below). Click on this to further drill down who have voted for you.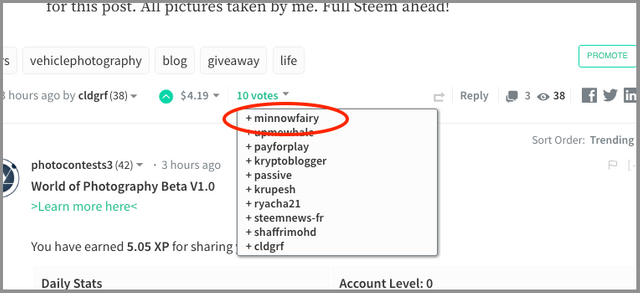 You should see @minnowfairy on the list. However, it will not show you how much your payout from @minnowfairy will be. There are a few ways to find this out, each with varying degrees of complexities. We've found the easiest way is from busy.org. Busy.org is an alternative site to Steemit, allowing you to do most of what you can do in Steemit but with enhanced features and capabilities.
To check your post from busy.org, get the URL of your post and simply change the site name from "steemit.com" to "busy.org". For example, if the original URL is:

https://steemit.com/@minnowfairy/introducing-minnowfairy-bid-bot
change it to:
https://busy.org/@minnowfairy/introducing-minnowfairy-bid-bot
Going back to the above example, when we checked the post on busy.org, we find the following info on the status bar below the post. Hover your mouse on the thumbs up icon.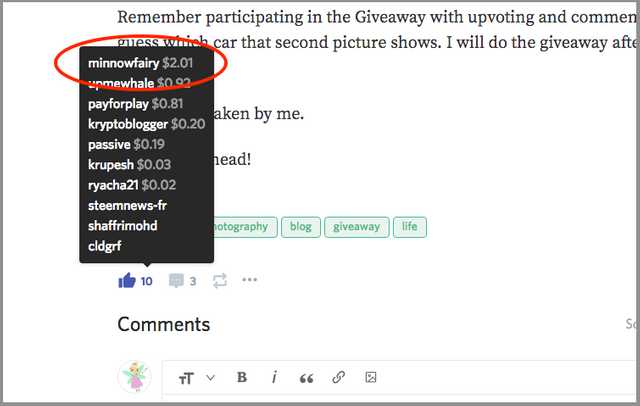 From here, @minnowfairy's upvote on the post is worth $2.01. If the upvote happened 30 mins after the post was created, your author reward will be 75% of the value. In our example, 75% of $2.01 is $1.507.
Finally, remember that when you first created your post, you had the option to choose whether you want the payout to be 50% SBD/50% Steem Power or the full 100% Steem Power. Choosing one over the other will have a different impact on your final payout. As of this writing, you will be better off choosing the 50%/50% payout option. With that option, your final payout will be approximately $0.753 SBD and 0.284 Steem Power (at the current rate of 1 Steem Power = $2.65 USD)
Note that the above figure is just an estimation, and the final payout will usually vary slightly from this. You can find out your exact payout 7 days after your post has been created. A good site to check this will be Steem Now.
We hope you find this useful as a reference. If there are anything else you find confusing in the world of Steem, leave a comment below and we'll try to address them in our future posts.
@minnowfairy is a voting bid bot to help promote your post. When you send in a bid, @minnowfairy will support your post by upvoting it. You will also have the potential to gain back higher returns on your investment.
You can send your bid to @minnowfairy thru the Steem Bot Tracker website.
Here are a few helpful links: