#UPFUNDME - We will not give up on you Grandpa! A little help for my Grandpa who has severe emphysema (chronic obstructive pulmonary disease/COPD )
June 17, 2018 is father's day when supposedly everyone is celebrating this special day for fathers who are the provider, head and one of the most important person in the family.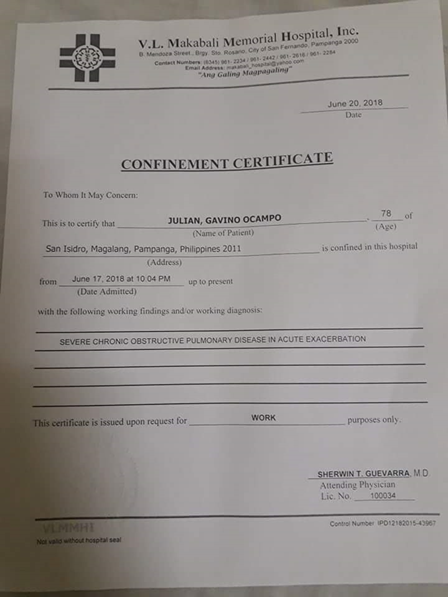 It is their day... but sadly our grandfather cannot be able to celebrate his day because he's emphysema (chronic obstructive pulmonary disease/COPD ) attacked again on this special day.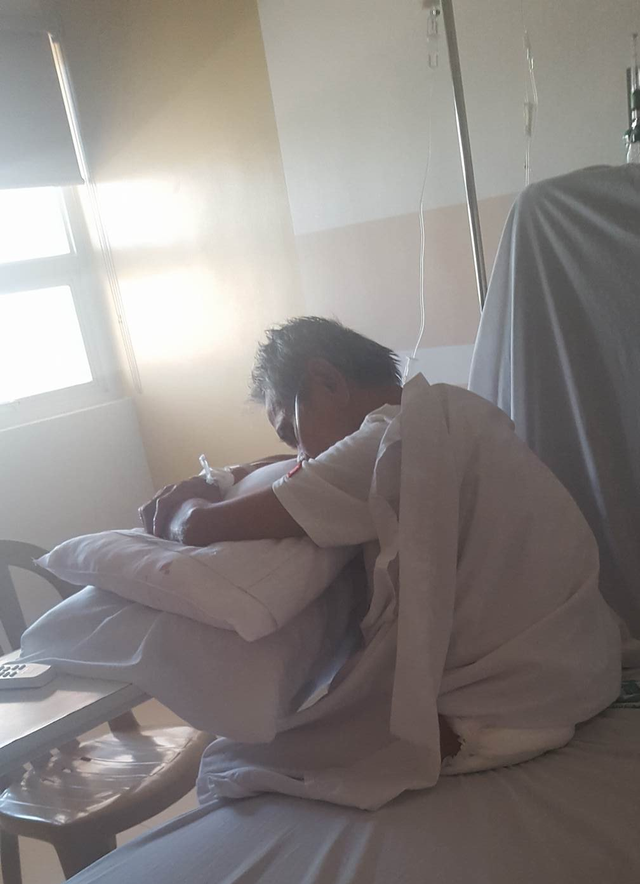 This was taken last February 2018
Being the only grandfather left and that we have, we are really saddened by the news, we cannot be able to concentrate in our works and we are really stressed emotionally and mentally. I am in tears while writing this because I personally witness last February how difficult for him to breath even he has support from the oxygen tank.
He is suffering in difficulties in breathing and needed oxygen to able to support the shortness of his breathing. He had been to hospital from January up to first week of February and been able to recover for 3 months, he's been using nebulizer, oxygen and has medicine for maintenance.
---
Due to the climate in the Philippines and his severe condition, his emphysema is getting worst again, As of now he is in the hospital and has a possibility to transfer in ICU because he still has difficulties in breathing for almost 4 days now.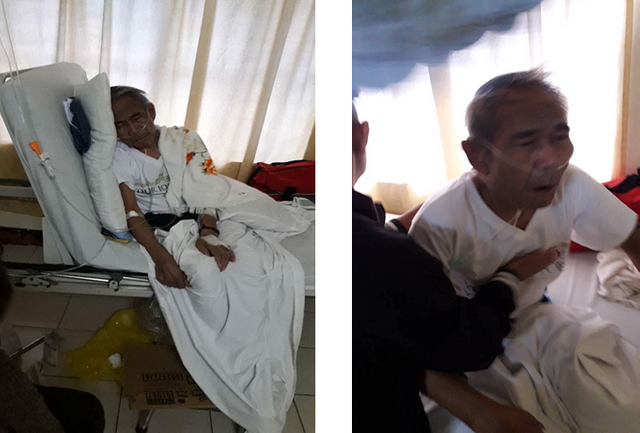 Seeing this photos makes me in tears :(
Being far away from him, we are just getting updates/pictures from my relatives who are in the hospital. As per to them presently, my grandpa couldn't walk, eat and sleep again because every simple activities he's doing triggers his difficulties in breathing.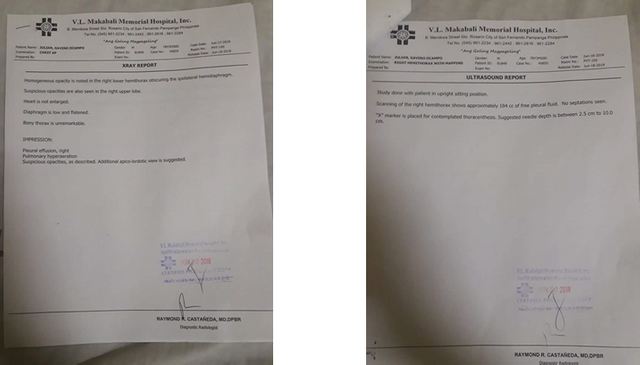 His Xray and Ultrasound Result
---
In his almost 4 days stay in the hospital, there is still no progress. We really don't know what to do, because it is really hard to see him suffer like this. We are continuously asking for prayers for his fastest recovery.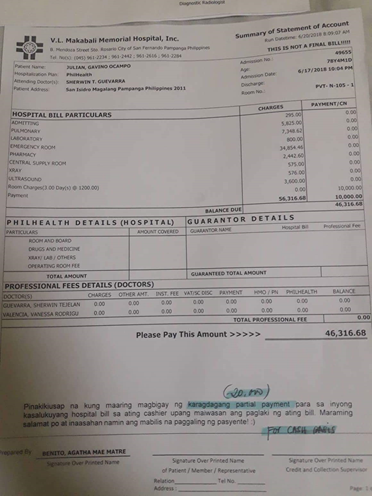 We still don't know when he will be discharge from the hospital because of his condition, his 3 days stay already costs us 46,316.68 PHP, we already paid 15,000 in advance and they are requiring us again 20,000 today or else, if we will not give them the required amount they will stop all the medication for my Grandpa. The doctor also told them that he still needs to stay for 3 more days in the hospital because he has pneumonia. He needs to become stable before he will be discharge and travel again from hospital to home because it will be very dangerous for him, if he experienced shortness in breathing while travelling or while at home. They also need to repeat all the test to check if he has improvement.
He is not allowed to confine in a public hospital because of his sensitive condition so we are trying are very best to give the best treatment for him. God knows how really hard for us to see him like this every time he's suffering from this.
My grandpa is already 76 years old but he is still fighting, because he promised us that if we will come back to the Philippines he will be there to hug and welcome us home.
---
We are continuously praying to God to help him because we will do the best that we can for him. We are trying to go on with our daily lives even it feels like we are about to faint and give up. It is really hard for us but I know that praying will be the best weapon in everything.
We are humbly asking for your continuous prayers and support for him.
As of today total expenses : 46,316.68 PHP.( 866.68 USD) For the oxygen, maintenance and his hospital needs.
Target Goal: We're not expecting to get the full amount, a little support will be really appreciated.
May God bless us all!

Have you voted your witness?
Consider casting your witness votes for @steemgigs (@surpassinggoogle), @precise, @cloh76.witness, @ausbitbank, @teamsteem, and @curie who have been adding an invaluable contribution to the community.
And don't forget @blocktrades, @guiltyparties, @henry-grant, @paradise-found and @themarkymark!!!
Hey! especially @sircork and the entrepreneur @enginewitty from the @thealliance
To cast your votes, just go to
https://steemit.com/~witnesses