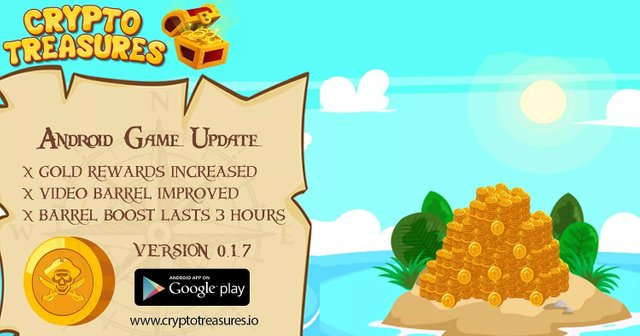 Hello Everyone,
A huge update to the Android version - 0.1.7 is now live!
It brings an increase in rewards, especially Gold, as well as making the game more stable. The Video Barrel is working properly now. See what's new below:
1.) Gold Rewards Increased!
a.) Quests now reward:
Daily: 50 Gold, 100 XP, 1 Wooden Chest
Weekly: 100 Gold, 150 XP, 1 Wooden Chest
Video: 50 Gold, 150 XP, 1 Wooden Chest
Flip the Coin rewards increased
b.) Refer a Friend now rewards up to 300 Gold:
When your friend registers a new account, you will both receive 200 Gold.
When your friend gets 50 PHM, you will both receive 100 Gold.
2.) What's New section added on the home screen.
3.) Online status flag removed.
4.) The Quests (ship) icon is rocking and the skull is green when Online, changing it to red when Offline.
5.) Video Barrel fixes and improvements
6.) Barrel Boost now lasts 3 hours
7.) New players start with 1 Magnet and 1 Crypto Key.
8.) More bug fixes and game improvements.
Thank you for your continued support and stay tuned as more treasures and quests are coming soon!
Best regards,
The Phoneum Team