Maayong Adlaw Steemians!
Mapasigarbohon kong ipailaila ninyo akoang Lolo!
Garbo sa among Pamilya! Garbo sa among Lungsod!
A Centenarian. A World War II Veteran. 101 Years Life Blessed.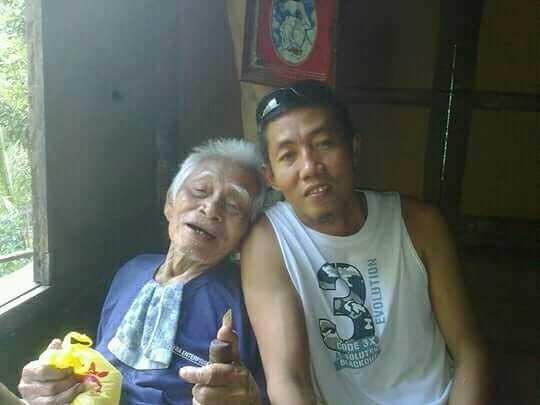 He is my Lolo (Grandfather), FELOMINO CAMPOMANES ANOR. Born on October 11, 1916. The Father of my Father.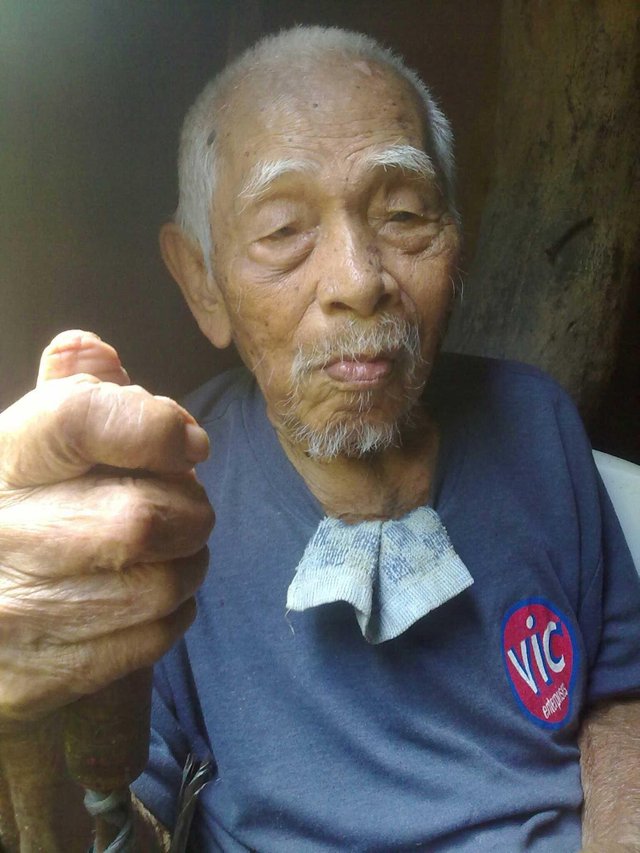 We call him Lolo Minong. Mostly of my childhood was spent with him.
During those times I am always the one who would go with him wherever he goes to farm, buy to the market, feed his farm animals, harvest his crops, etc. Whenever I'm not around he would always look for me. I could humbly say that I am his favorite grandchild (haha, sorry to the others). My other siblings and relatives even call me Minong also.
Even at school events he is mostly the one who attends meeting, programs, especially during recognition days.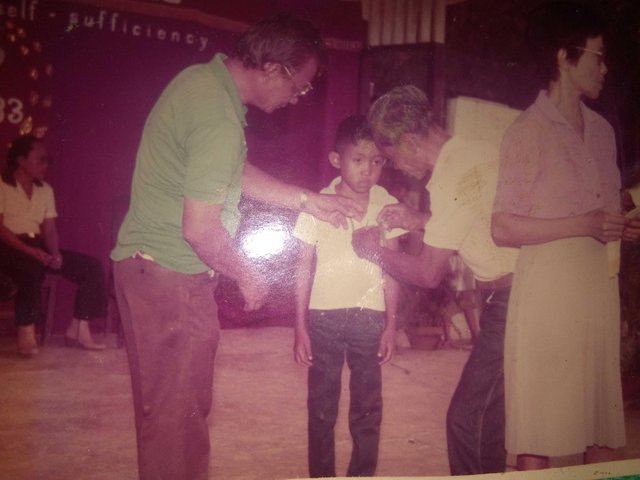 This is one of the pictures I kept for a very long time. This was during the year 1983, my elementary days, my recognition day. Lolo was the one pinning my ribbon.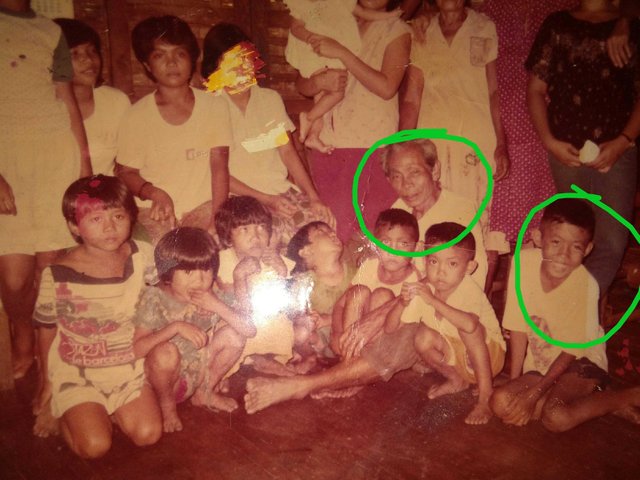 While the other photo was with Lolo and my other siblings and cousins.
He was a former town councilor of Alcoy. During that time there was no school for highschool students, only elementary school. After graduating elementary, students would enrol then at a nearby town named Dalaguete.
Being a responsible councilor then, he proposed to have a high school at our town. It was granted and named it ALCOY MUNICIPAL HIGHSCHOOL. Few years later, the local government changed its name to ALCOY NATIONAL HIGHSCHOOL.
Three of his children were already dead, including my father who passed away because of brain cancer. But he remains tough.
Whenever asked if what is his secret to longevity? Toil everyday (as his exercise), he doesn't smoke cigar but eat the tobacco instead. Drink occasionally, eat healthy and never takes a bath everyday (funny but true) 😁.
Last October 11, 2016, he celebrated his 100th birthday. The local government of our hometown, Alcoy, Cebu, gave him Php 20,000.00 as a reward of being a centenarian. Several months after, the government of Cebu Province gave him Php 100,000.00. A big help to this old man, for his daily expenses, food and medicine.
What a grace from God having reached that age. At present he has three (3) great great grandchildren from the children of my nieces (his great grandchildren).
Last year I wasn't able to attend his 101th birthday, hopefully this coming October 11, his 102nd I'll be able to attend together with my wife and my 1-year-old daughter, who is an addition to his great grandchildren. 😊
Everytime I got a chance to visit him he would always say that he wishes he could go back to HAWAII, U.S.A. Yes he went there with his family, they lived there for 2 years. He was 8 years old at that time, then they returned to Philippines at age 10. Some memories were forgotten but not his wish.
It's sad that I can't fufill his wish because I'm not that financially blessed to support him.😢 But in small ways I know I can make him happy.
I am very proud and at the same time thankful to God for giving Lolo Minong as a source of inspiration to us. A blessing that only few can have. All we have now, the farm, the land, the house we own, we owe it to our dearest Lolo Minong.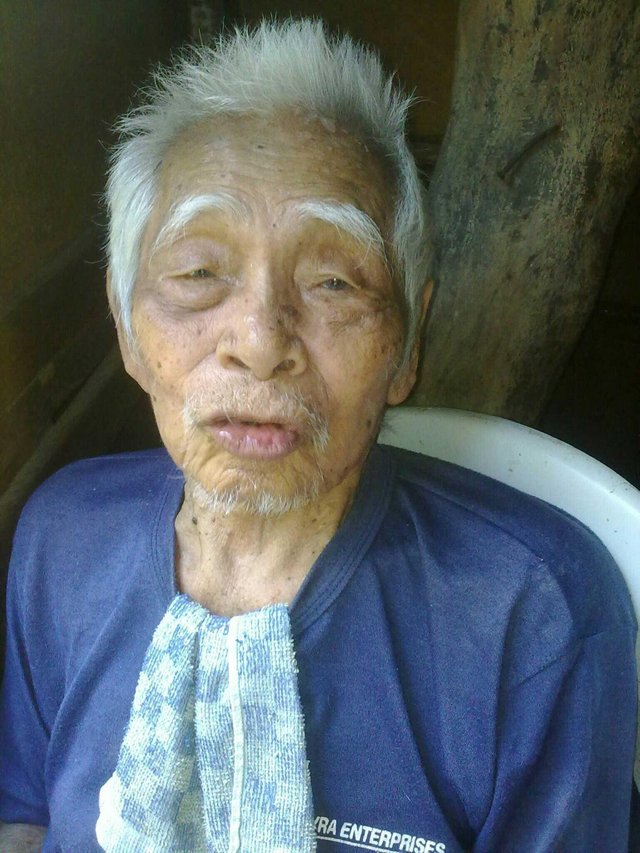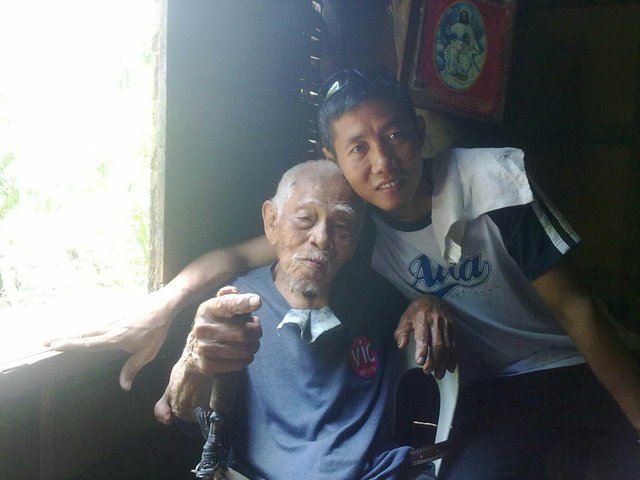 If anyone of you wants to meet him, just contact me here. 😁
These are just some stories of his 101 paged book. I hope you find it inspiring. This year another page will be added.
Thank you for reading Steemians!
This is one of my ways of sharing #gratefulvibes here. How about you, what's your #gratefulvibes story? Join the @gratefulvibes community by @paradise-found.
P.S. please support Sir Terry @surpassinggoogle by voting @steemgigs as a witness. Visit https://steemit.com/~witnesses then type "steemgigs"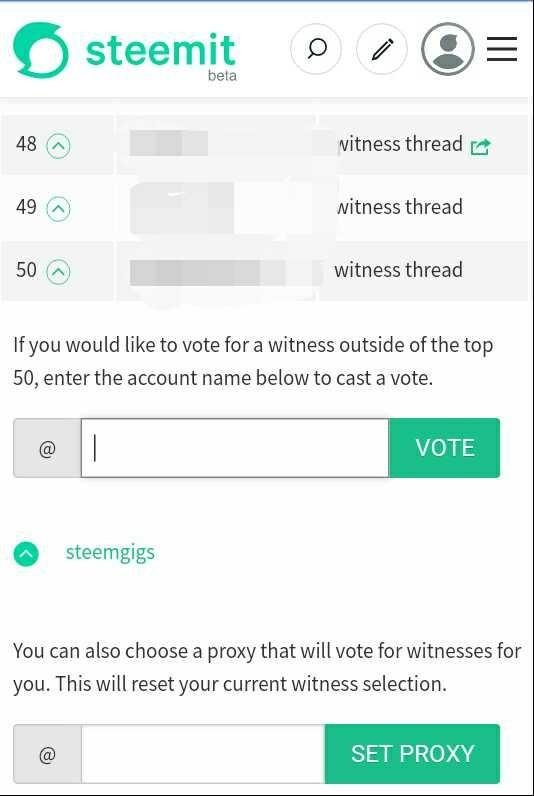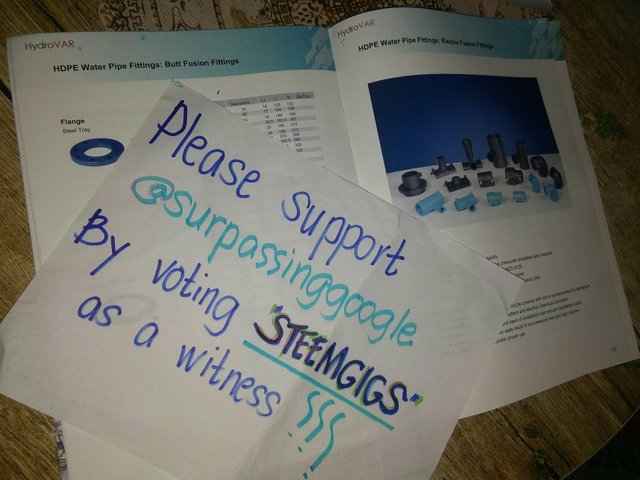 Daghang Salamat Steemians!
Spread Love!