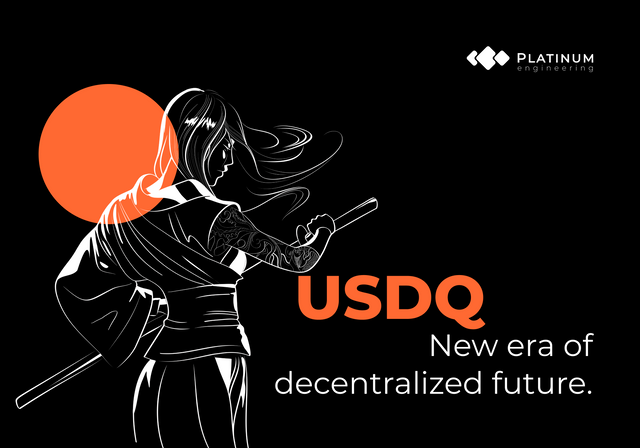 Hello dear readers. Today we will talk on the sidelines of a cool interesting project that is already working on the market. Yes, I managed to find a really interesting project that has already established itself. The project that will be discussed today presents us with simple solutions and gives us a fairly good product for the world of cryptocurrencies. What do you know about the Platinum Q DAO project? The project created its stable cryptocurrency based on the Ethereum blockchain and there are no analogs to this product. The project intrigued me with its decisions. So I decided to share it with you.
Problems

There are many problems with the cryptocurrency camera today. The so-called cryptocurrency instability. Every day, investors cannot be sure how much their coin will fall or grow. Therefore, projects strive to give some stability. To help an investor a trader, as well as bring cryptocurrency to the global economy. What stability means is an element in which the cryptocurrency is not affected by the fall of the market and it always remains in value. There are not many such coins today, but they already exist. A vivid example of this is the well-known Tether coin or is it USDT. A coin that equates to the dollar per unit of the token. However, the biggest problem with stable coins has already been noted. And not tied to bank accounts. But unfortunately, even investors will not be able to find out if the money is in these accounts. What can affect the stability of a coin in an emergency? Therefore, a large team of Q DAO proposed its solution to this problem.

Unique stable coin. Which fully provides itself due to certain crypto assets, namely Bitcoin. Any user can determine all the information in seconds. Says that this is a stable coin. It is protected by a special stabilization mechanism so that the USDQ is equal to one dollar. This is a coin for everyday use. This is a coin so that traders stay calm when the market falls. This coin fully supports itself. Now issued 5,531,632.5042 USDQ Collateral at 1,410.582 BTC (200% collateral). As you can see Any information can be checked. It can even be checked on the CMC. But the project will not stop there, they have already announced that there will be several types of stable coins. Which will also use the ERC-20. KRWQ JPYQ CNYQ and other coins will be created thanks to the Q DAO team.
As you can see from the graph, the price of the main QDAO token continues to grow. And USDQ is stable.

Where can I get this wonderful coin?

Today, the USDQ coin is currently traded on only 4 exchanges. These are the BTC-Alpha, Hotbit, Bancor Network and BTCNEXT. But the team is determined, in addition to creating a large number of coins that will be stable. They, how and how USDT is trying to get on all the best world exchanges. The goal for 2019 is to get to + 20 cryptocurrency exchanges.
What the community thinks

Of course, the project is very interesting. The project has very high ratings in all respects. Experts from around the world give him preference. I believe that this is a merit of a multinational large team. I would like to bring you an example of some positive feedback from ICOBench.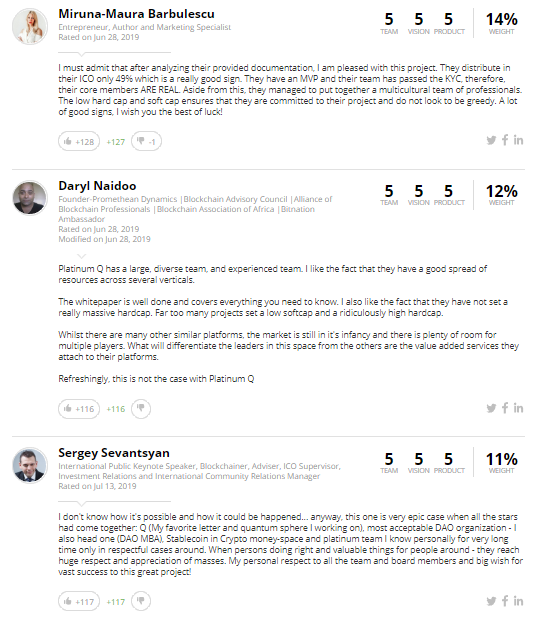 Conclusion

I have the stability of this coin of trust is very high. The fact is that if you look directly at the QDAO project itself, it is really impressive. Today we looked at one final product. But their engineers are not only working on this project. Therefore, the use of QDAO or USDQ coins directly is not subject to my doubts. Moreover, since the project is tied to cryptocurrency assets. You can always find out that the coin rate is confirmed. Unlike most similar projects. Stable coins are needed by these industries to competently operate with their assets. Thanks for attention.
---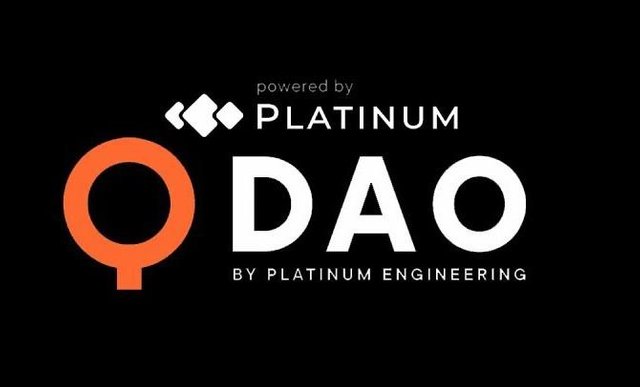 Contacts
🌏WebSite (https://usdq.platinum.fund/
◉Twitter https://twitter.com/platinumqdao
◉Facebook https://www.facebook.com/FundPlatinum
◉Reddit https://www.reddit.com/user/Platinum_QDAO
◉YTube https://www.youtube.com/channel/UCeT4b3_cdVHfSuV_5o7Qw7g
🔊Telegram(🇺🇸) https://t.me/PlatinumQeng
🔊Telegram(🇰🇷) https://t.me/Platinumq
🔊Telegram(🇯🇵) https://t.me/PlatinumQjp
🔊Pinterest https://www.pinterest.com/platinumqdao/
🔊Kakao https://open.kakao.com/o/gfFhY2mb
🔊Medium https://medium.com/platinum-fund
🔊Steemit https://steemit.com/@qdaoplatinum
🔊Linkedin https://www.linkedin.com/company/platinumqdao/
📃GitHub https://github.com/platinum-engineering?tab=repositories
📃BitcoinTalk https://bitcointalk.org/index.php?topic=5139238.0
🔊Quora https://www.quora.com/profile/Platinum-Q-DAO
---
Autor
Bitcointalk Username: anatolij.shishkin
Bitcointalk Profile: https://bitcointalk.org/index.php?action=profile;u=2280356
ETH 0xae291938EcF7887cbD6edAa42Dec3d9abC9dEa94