#Ulogs.... My day,a relaxing weekend after the philippine national election
Hello everyone!
It's my 8day in #ulogs courtesy with @surpassinggoogle who's always supportive and the most influential person in steemit community, for he engaged thousands of steemians plus u we are now millions of supporters. He gave his 100% care for u and everyone here. Yes! He help anyone whatever the nationality is.Most of his act are all selflessly created, infact he held different programs that represents everyone #steemgigs for he believed that everyone has something to offer, #teardrops, #steemsecrets and many more. So, I choose him as my no.1 steemit #witness with his #steemgigs that gives opportunities to steemians around the globe..
What are u waiting for, type #steemgigs as a steemit witness.
Its 14th day of May, here in Philippines people including me is exercising the right to vote. Yes, it is an election day for the Barangay Government Officials of every streets all over the country.
Filipino here is busy in reviewing each candidates objective and each flatform if given a chance to make it, and seeing their potentials, before voting.
Being a responsible voter i was able to vote in an early time for it takes time to make it, since the voters are flooding at late. Therefore, I voted easily and comfortably.
Here's my photo captured after election.
This spotted ink in my pointer finger, is an evidence that i already done my part as a citizen of the Philippines.
---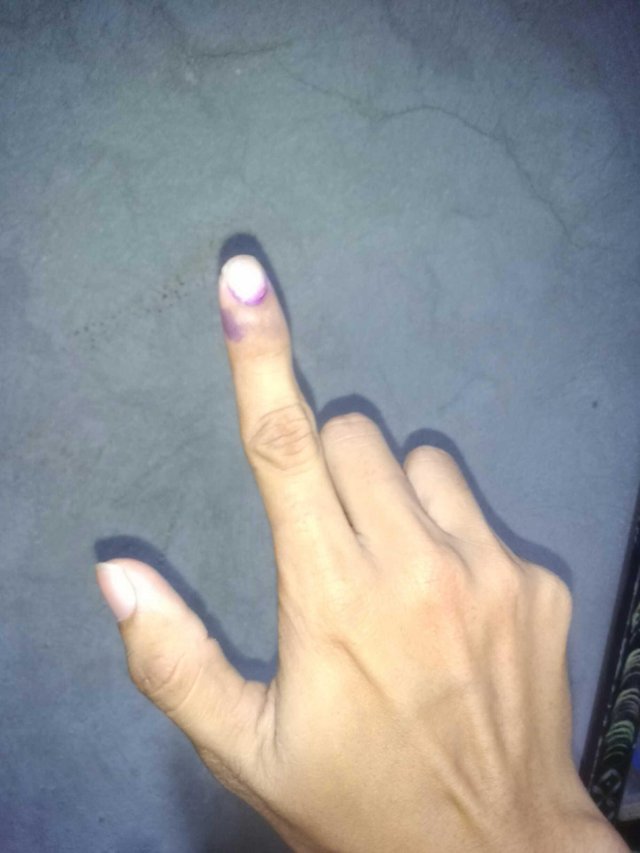 ---
I hope I voted right personality of new sets of leaders in our town. That inspires community and motivates teenagers. May their promises will be done accordingly.
---
---
Please like @teardrops on Facebook and Twitter:
https://www.facebook.com/teardropstokens/
https://twitter.com/teardropstokens
Support and Vote "steemgigs" for witness. It will be really helpful. He run a full public RPC 256 GB node as well to balance the steem ecosystem on "www://steemd.steemgigs.org"
To vote himself witness, simply visit https://steemit.com/~witnesses and type in "steemgigs" into the first search box for witnesses.
If you want @surpassinggoogle to make witness voting decisions on your behalf, simply visit https://steemit.com/~witnesses and type in "surpassinggoogle" in the second box for proxy.
Join us in Steemgigs Community on discord: https://discord.gg/CGuPyyT
---