Yes, she was pregnant for the nth time. She should already know the feeling. She have been there, done it. Successfully.
But this time is different.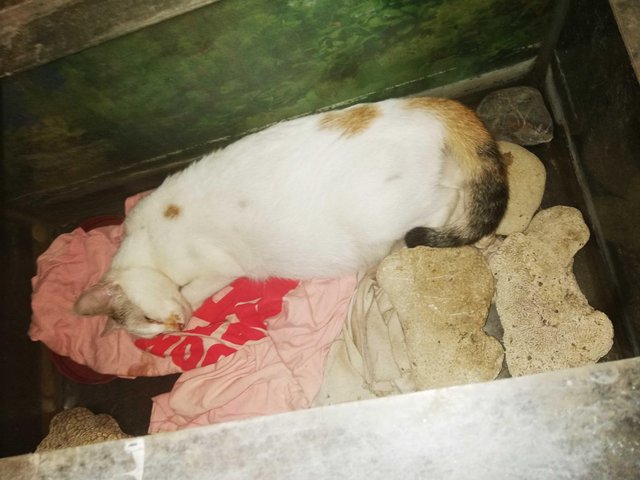 Since yesterday morning, she was in her "hospital" already. This was the place she gave birth at her previous pregnancies.
My heart melts as I see her still there lying down, feeling all weak. Her tummy is buldging. It must weigh much given her thin body. She was very choosy in her diet. Almost never eating anything. I worry about her.
I miss the old Kitty.
No "meow-ing". No purring.
The night passed and her kitties were all still inside her. If there is something I could to ease her pain.
Makes me think, even animals feel birth pains.
---
In case you are wondering what this is #ulog is all about, I suggest you to read this.
And create a #ulog today.
I am glad to be connected with these amazing Steemians: @atongis, @carl28, @cutirenskei, @dianafigura, @dunkman, @dwightjaden, @el-dee-are-es, @franbel, @gingbabida, @iamsj, @islaw, @ivez, @jannie98, @jbmolano, @juwel, @joonz, @jetskie, @jysui, @el-dee-are-es, @ligaya, @lyann, @manilyn09, @maki07, @phantum04,@saskia, @sepchronicles, @sisonengg, @shawmeow, @shula14, @sn0white
Also special thanks for the support our master @iyanpol12, to @hr1, @bobbylee, @good-karma.
Brother Terry a.k.a. @surpassinggoogle has been a supportive and kind person. So I give my support to him as a witness by using him as a voting proxy. H E R E.

I also support his other projects like @ulogs, @teardrops SMT and @steemgigs.