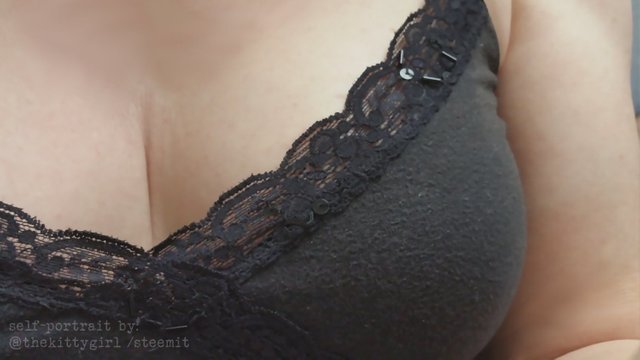 • SELF-PORTRAIT ON A HOT, SUMMER DAY •
There's water in the air. I can feel it. Having been born and lived in the
Deep South
all my life, I am accustomed to the high humidity that hangs over much of the southern US in the summer. The heat can have an almost oppressive feel to it with all that humidity behind it. One quickly learns not to trust the thermometer without factoring the humidity into the mix. Factoring the humidity into the temperature yields the
Heat Index
or
"feels like"
 temperature. The trick is to yield to it, to go with it, to bask in it. At least insomuch as that is possible.
I went into a store the other day and their air conditioner was cranked so high that I had goosebumps on my arms and legs. I almost wished I had brought a sweater into the store with me, even though it is August. When I went back outside, it was a relief to be enveloped in the warmth again. I got into my car, which felt like a sauna after having sat in the direct sunlight while I was in the store. I closed the door to the car and just sat there, feeling the heat penetrating my skin and warming my heart as much as my body.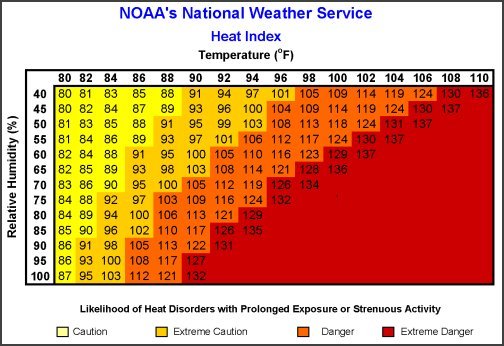 source: Ohio Severe Weather Awareness
Yeah, there's water in the air — humidity, not rain. Just moisture, hanging there. I can feel it. Hell, I can see it, like a haze all around me, enveloping everything in a dense, moist wrapper. There is a peculiar, unmistakably thick feeling to the air in summertime.
This time of year, dark blue sky is a rarity in the Deep South, as the humidity is so high that the entire sky takes on a very pale blue or a whitish color, even when there are no clouds at all. The photo below depicts that phenomenon clearly, taken on a humid summer's day not far from where I live.That is not an overcast sky in the photo below, but rather a cloud-free, clear-but-hazy day with bright sunshine beating down, fiercely.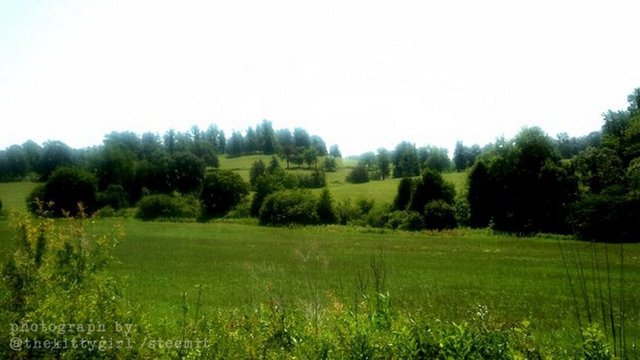 • BLINDING GREEN & WHITE SKY ON A HUMID SUMMER'S DAY • PHOTO BY ME •
When the humidity is very high and clouds are present, they often appear as ghostly apparitions, almost there, almost not, against the grayish-white backdrop.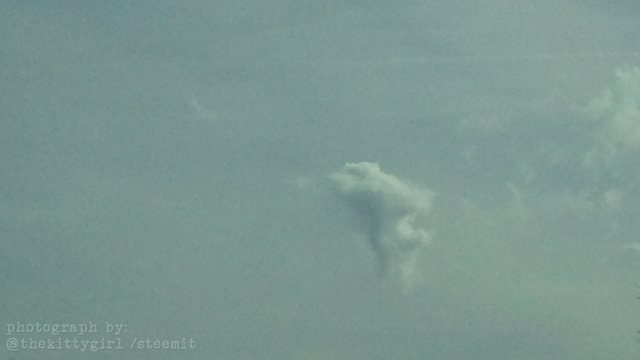 • GHOSTLY LITTLE CLOUD • PHOTO BY ME •
And there is another cloud, hanging above that mountain...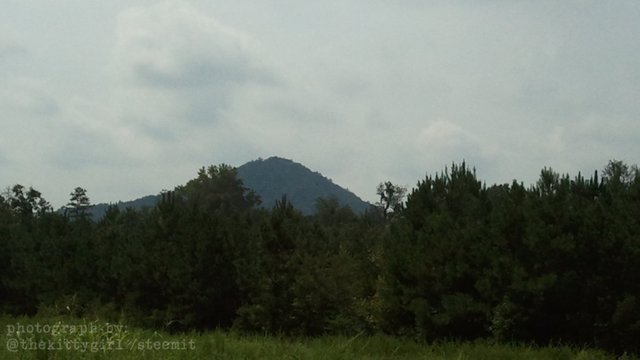 • LOW-CONTRAST CLOUD • PHOTO BY ME •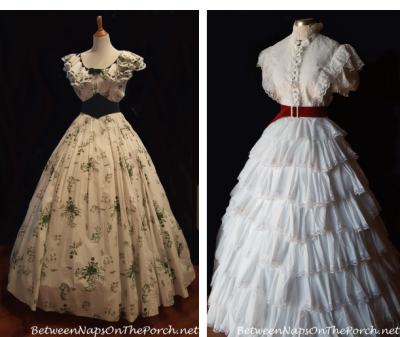 source: BetweenNapsOnThePorch.com
I love the South, but I thank the Goddess that I don't have to wear a hoop-skirt and petticoats as I am transported back to my Tara, as did my fore-mothers. Without the modern miracle of air-conditioning, I honestly don't know how women survived in the olden days while living in the Deep South while wearing those long dresses with multiple layers of petticoats and such. The dresses were
beautiful
back in the 1700s and 1800s, but, still...
I clearly remember summers when we visited family in south Georgia during July, with temperatures hitting 104⁰F (40⁰C) with 98% humidity in the air. One can almost set a wristwatch by the regular 2:00 pm thunderstorm that erupts, lasts for 20 minutes, and leaves steam rising from both the dirt as well as the pavement afterwards. No one had air conditioning back in the 1950s and 1960s, so there was no recourse from the heat except to keep the windows open, fans running to circulate the hot air, and drink lots of lemonade to stay hydrated. I clearly remember when one aunt and uncle had air conditioning installed in their house and what a curious thing it was! All the family had to go over there and see it, ask how it worked, and feel the cool air for themselves. I don't recall when that happened, but perhaps it was around 1970 or so. Over the next decade or two, other family members saved their money to have air conditioning installed, too. I never lived in a place with air conditioning until 1998.
On the day I took the self-portrait at the top of this post, I paired the little black tank top with a floral skirt which my mother gave me, and flip-flops — which is my preferred footwear if I am not wearing heels. That was much more comfortable on a steamy summer day than a "Gone-With-the-Wind" dress!

• FLORAL SKIRT & FLIP-FLOPS • PHOTOS BY ME •

 😊
SOURCES
   1 Wikipedia: Heat Index

a big hug is due to @enginewitty for designing the following personal banner for me 🤗