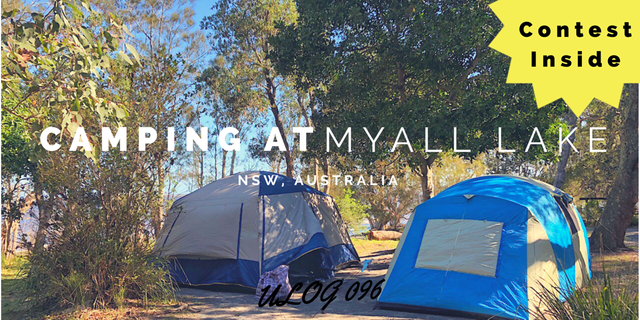 Yesterday was public holidays in NSW, Australia. With some friends, we went up to Myall Lake, NSW for a long weekend camping. We almost couldn't make it there because I was sick on Friday and it was my wife's turn on Saturday morning (departure date), but luckily I was feeling good enough on Monday to take the two and a half hour drive.
There was lot of traffic so our friends were one our late. We decided to stop at Bulahdelah for lunch and tried Myalla Magic Cafe and were nicely surprised because it reminded us of some old english pub and was serving cream tea. The funny thing is that I asked for "cream tea" and the waiter looked at me weirdly and asked "what is that?", "you know tea served with scone, jam and cream" I replied, "how do you call it's here?" I continued. He replied "Devonshire Tea". Right of course! In Devon, England they call it cream tea but here in Australia, to make it fancy they call it Devonshire Tea .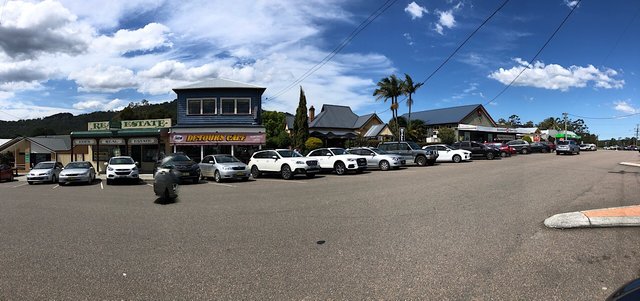 It was pretty windy but sunny and warm as we arrived. The wind made it a bit tricky to setup the two 10 person tents but we got it done pretty fast. Meanwhile, the ladies were setting up the tables are were getting the food ready for dinner.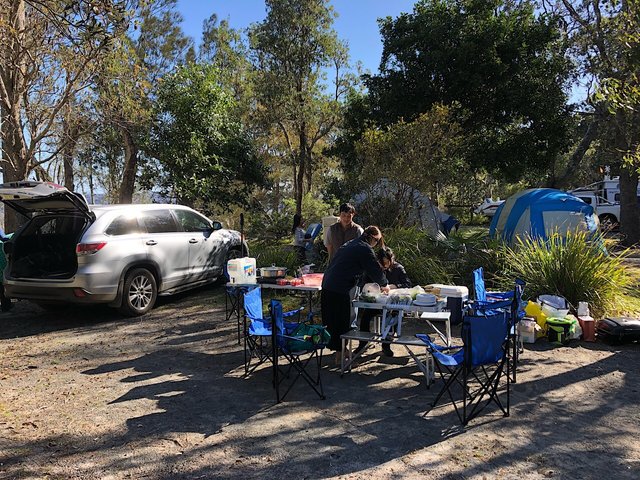 Our first dinner was some amazing Vietnamese steamboat, what better than that for a chilly evening?! Despite the windy weather, this camping trip was beginning very well.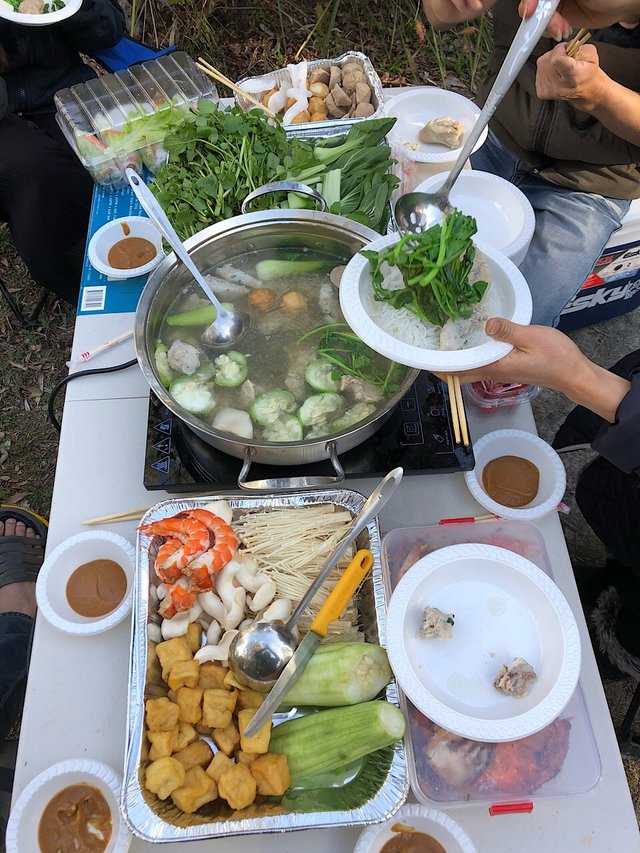 The four kids were playing all together in the tent while the parents were chit chatting outside, sipping some hot beverages. We ended up going to bed or rather to sleeping bags early as the lack of internet and mobile network pushed us to listen to our body signals.
The first night was rough! Winds were gusting at 35 km per hour and at some point it was also raining. The tent was noisily flapping in the wind. Later at night it was getting cold and despite my sleeping bag, my bare legs were feeling it. When the sun rose, some stupid animal thought it would be playing the alarm clock to wake us up. I managed to ignore it somehow until 6.30am and woke up to a wonderful weather.
We walk few steps to the the lake and were rewarded with some marvellous landscape.
After breakfast and relaxing in the sun, we all headed to the jetty for a fishing session. On the way, I asked my wife to bring the bread, just in case. Soft 🍞 is one of my favourite fishing bait as several types of local fish like to eat it. I still bought some prawns and beach worms from the local cafe.
We setup the fishing rods for the kids and started fishing without success. I then decided to go for the bread and gave it to the kids. After few casts, I suddenly saw the line of one of the youngest, a five year old girl, moving around in the water, I looked at her and she wasn't moving the rod: fish on! We were all excited cuz it was a first fishing session. She got scared, her mum helped her but didn't know much about fishing so ended up giving me the fishing rod and I slowly took the fish back. It was a very decent size mullet in the 30+ cm. Mullets are underrated and very fun fish to catch. They are usually tricky to catch so it was amazing to see a young kid catching it on a setup not made for mullet fishing.
It was starting to rain, everyone went back to camp but me and the girl's father. We were determined to catch at least 2 more mullets for dinner. I managed to get them and at around 11:30 we went back. The others have had their lunch already as one of the families needed to head back home.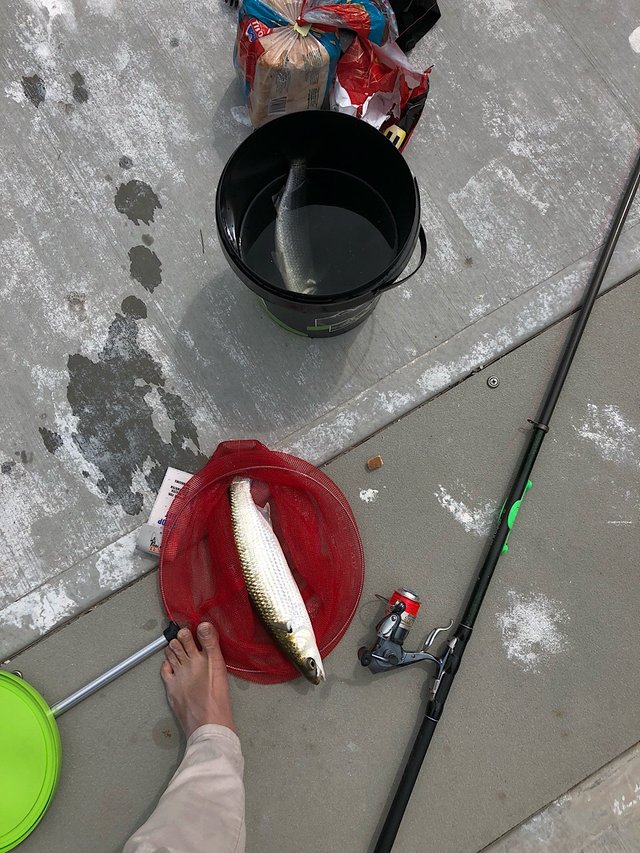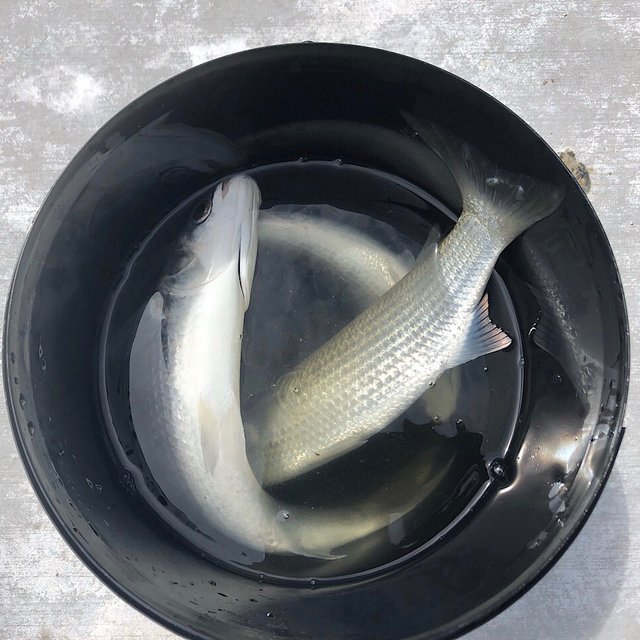 On the way back, I cleaned the fishes and kept them in an esky for later this evening. We spent the afternoon visiting around and walking in the wood full of gumtrees.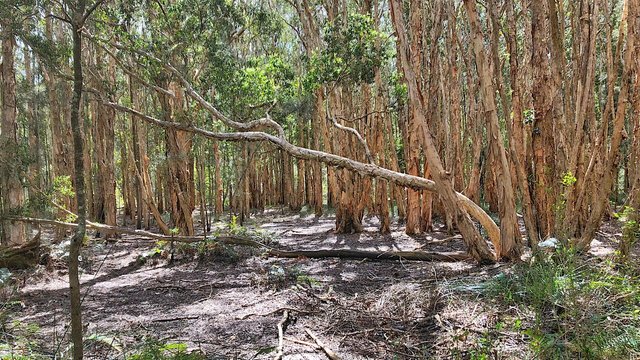 San enjoyed the stay and was walking around the camp site stubbornly wearing his t-shirt inside-out 😂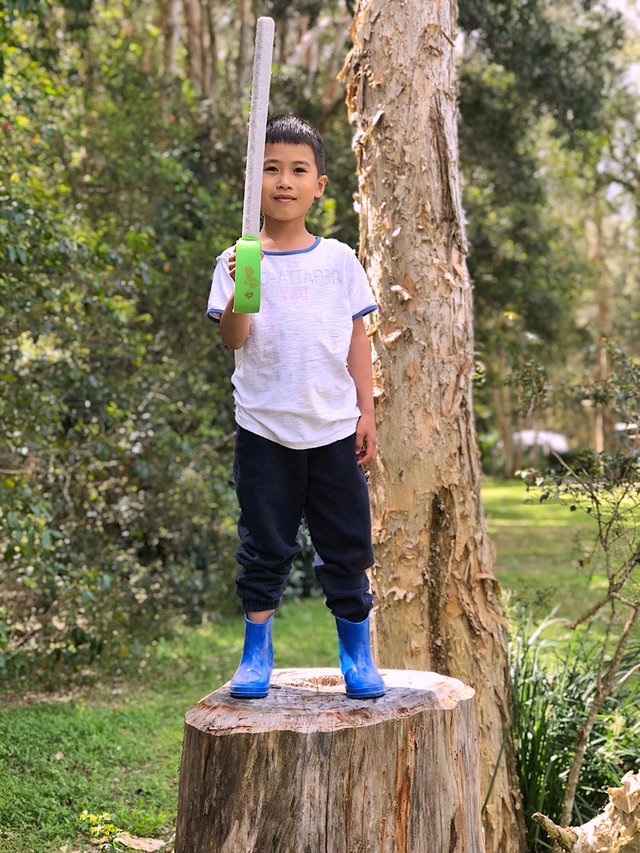 We discovered a little beach of almost white sand. This place is really nice.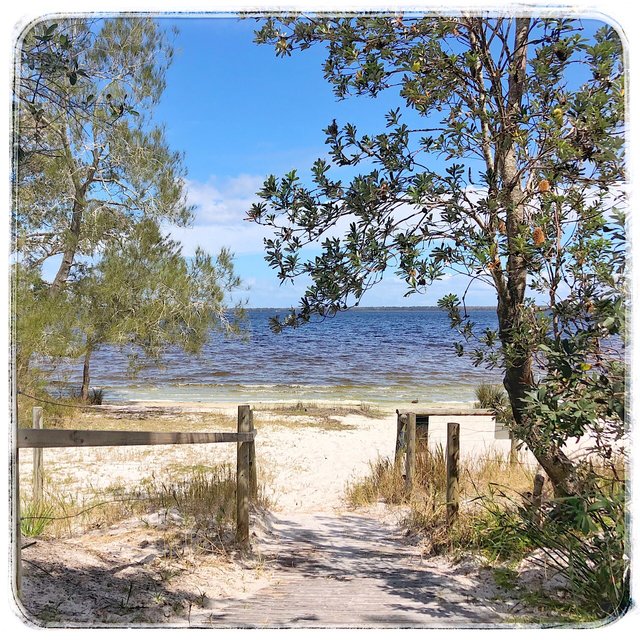 As our tummy was crying hungry, we started to grill sausages followed by the fish.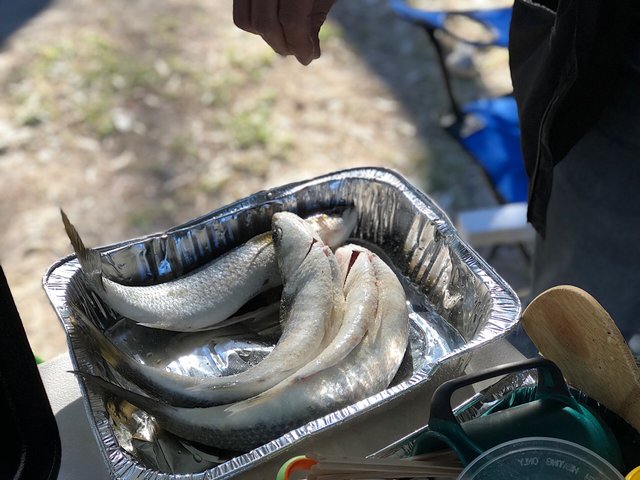 As the chef was cooking, my wife and I went to the lake for some selfies.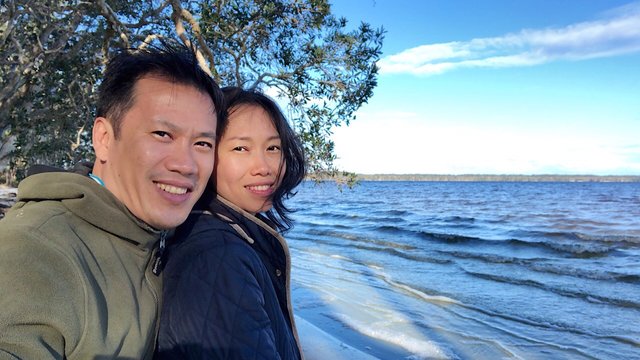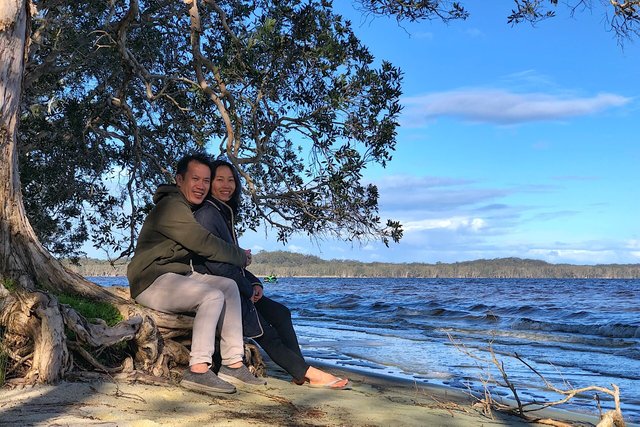 The Chef was grilling the three mullets with some broccolini and that looked amazing.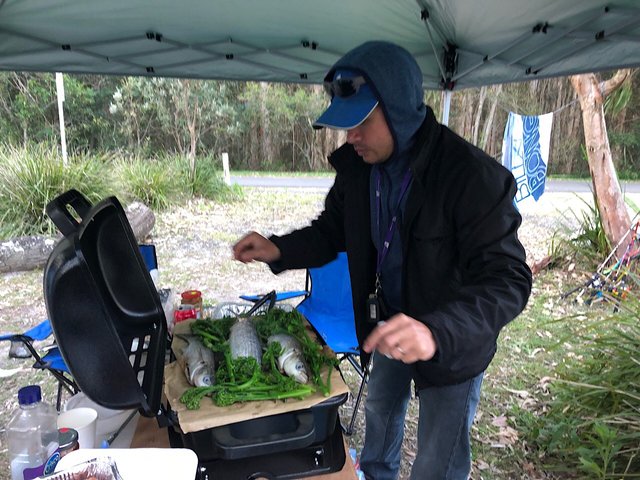 It looked even better when the fish were nicely cooked and golden.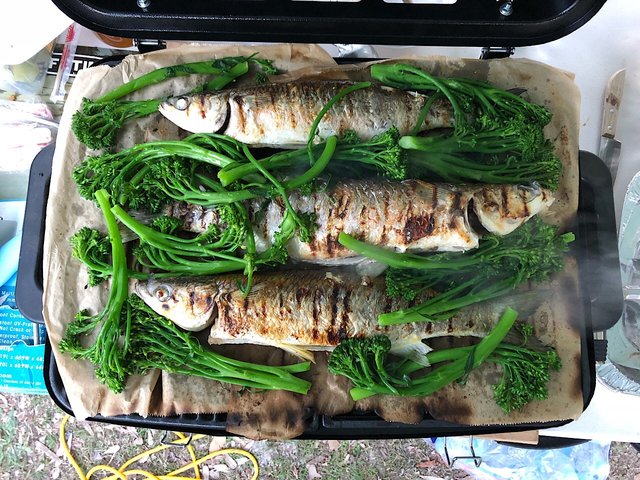 Another night went by and it was even colder than the night before despite the lack of wind and being sunny all day.
The next morning the weather was even better and the lake was calm with almost no waves.
In the next photo try to spot something unusual: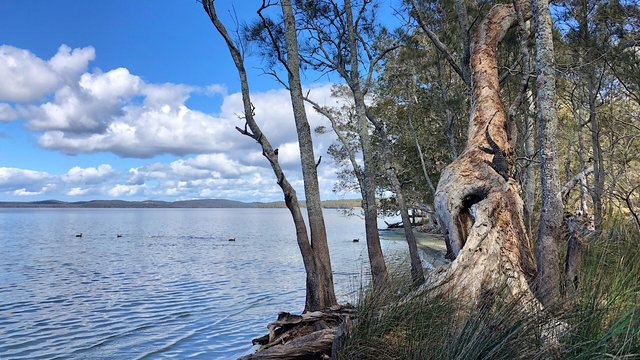 If you have spotted it, please comment below and tell me roughly what it is. The contest will end Friday 4pm AEST and I will randomly pick a winner. I will sponsor the winner with some SmartVote shares. If you are not a SmartVote member yet, I will register your membership with 26 SP giving you a lifetime 260 SP upvote at 260 from @smartvote. If you are already a member I will 10 SmartVote shares, costing 5 STEEM and giving you 20 extra Steem Power to your SmartVote account (200 SP extra upvote). For more details about SmartVote, click on the banner below.
It's almost time to pack up and go home. My wife wanted to take a photo of a fallen branch on the sand. It was small it if you get close enough you couldn't make it look big, she told me. So I helped her come up with a decent composition: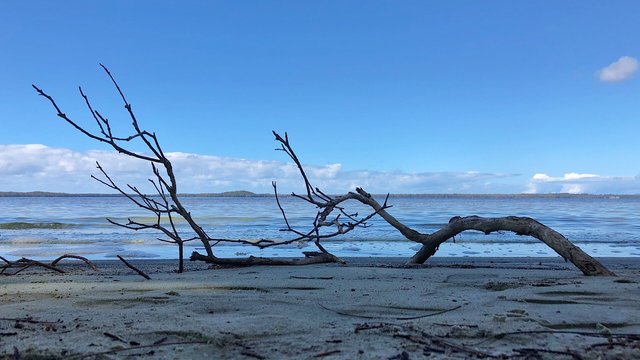 Goodbye Myall Lake, we will definitely come back.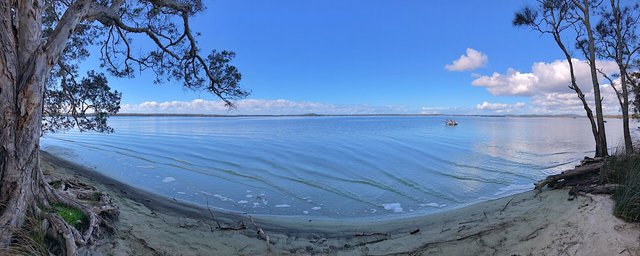 ---
Previously on my Ulog:
---
Vote for my witness
On Steem, Witnesses are playing the important role of providing a performant and safe network for all of us. You have the power to choose 30 trusty witnesses to package transactions and sign the blocks that will go in the Steem blockchain. Vote for me via SteemConnect to help me do more useful projects for the communities.
---
| I'm a member of | these communities |
| --- | --- |
| | |
| | |
| | |
---
Credits
The image at the top has been generated with the Canva app using my own photo.
---
Protect your money against Phishing Scam!
Cryptos accounts are the target of international scammers because they want your hard earned money!
Those people are very clever and in a moment of inattention, you've given them your login and password!
I've created a Chrome extension that can help you detecting scam links!
Install Steemed Phish Chrome desktop browser extension now!
Password and Private Keys security
You all know that your Steem password is the access to all your STEEM, SBD, posting, transferring, everything... right?
So, please, follow these simple steps and keep yourself safe:
Apart from the initial setup of your account, NEVER use your password ANYWHERE, if stolen, it will give full control to your Steem account.
Backup your password and keep it somewhere safe. Use a password manager like Lastpass, print it on paper and put it in a safe (no kidding). If you forget your password, no one can help you out.
To login for creating content and curating, use your Private Posting Key
To make transfers and account operations, use your Private Active Key
To encrypt and decrypt memos, use your Private Memo Key