ULOG: 0007 | Kind people in Steemit was out there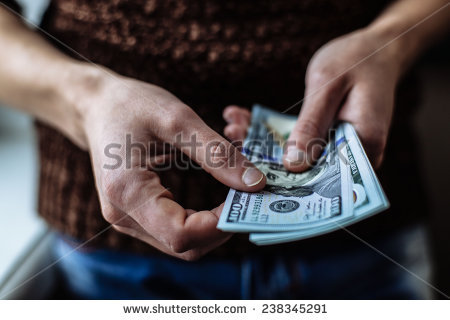 Image from pixabay.com
What if suddenly an anonymous person send you a DM and give you money ?
Well a while ago that happened to me, an anonymous person just gave me about 3.6 Steem or 10 USD or in my country's money it was about 500 Philippine Peso
Well today before I go to sleep I decided to watch an anime entited Magi: The Labyrinth of Magic
Just a quick overview of the anime:
Magi: The Labyrinth of Magic was based on some tales entitled Aladdin, Alibaba, and Sinbad the Sailor. The story revolves about magical castles full of treasures guarding by a powerful and magical beings called as Djin. The world was composed of several country that was being governed by a King.
A lot of problems was seen in the story as the people was full of hatred, anger, poverty and hopelessness. But as the story goes the main characters namely Aladdin, Alibaba and Morgiana was trying to solve and get rid of these problem.

So going back, while I was watching the last 12th episode of the Magi: The Labyrinth of Magic a Direct Message pop out on my screen.
A man named Sparklez[sparktacuz] a.ka. @sparklez send me a message asking me if I got a $20 worth of byte with my steemit account.
A lot of post was being prompted in my feed about this byte coin as I came back to the platform (I wasn't able to make posts this past month in steemit. See here).
Despite the number of post I was seeing I choose to ignore it, maybe it was because I try to cope up upvoting the #ulog posts of my fellow uloggers. I also was not focusing on steemit at the moment as I was trying to think of getting enough money for the fare to my province (I really want to visit my kaka's burial).
Because I don't want @sparklez's effort go to waste I choose to reply with his message convinced to try getting the $20 worth of bytes he was saying.
So here was our conversation about the matter: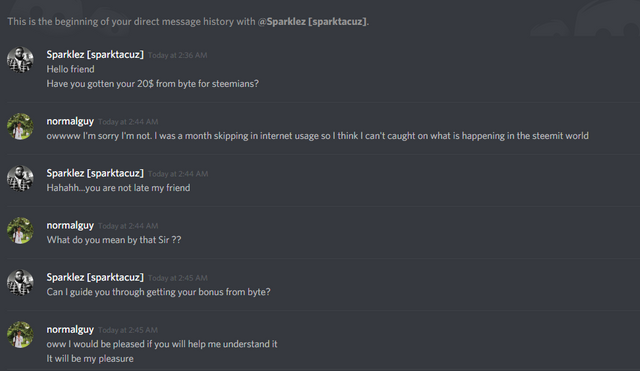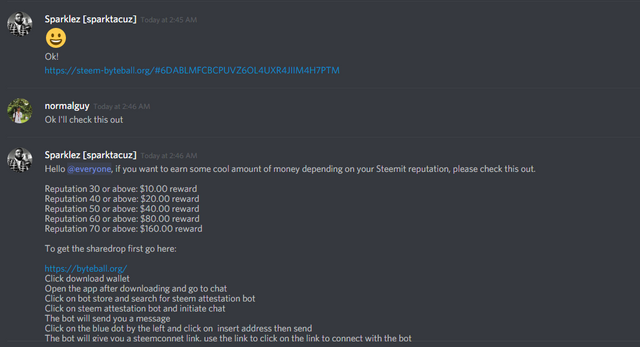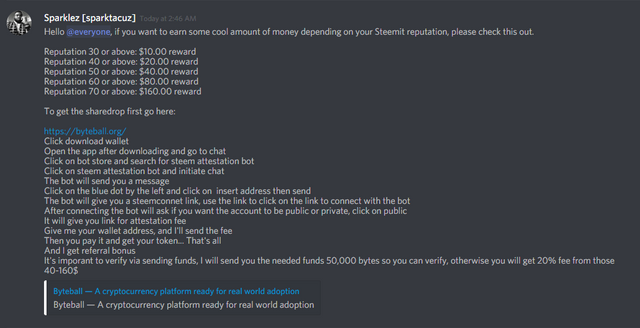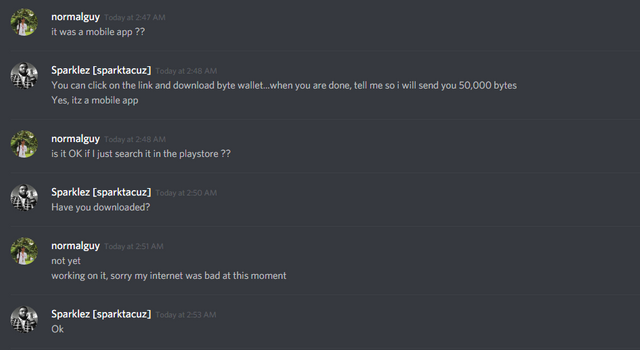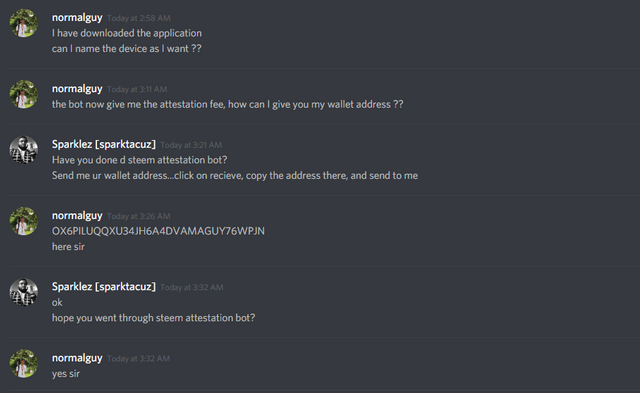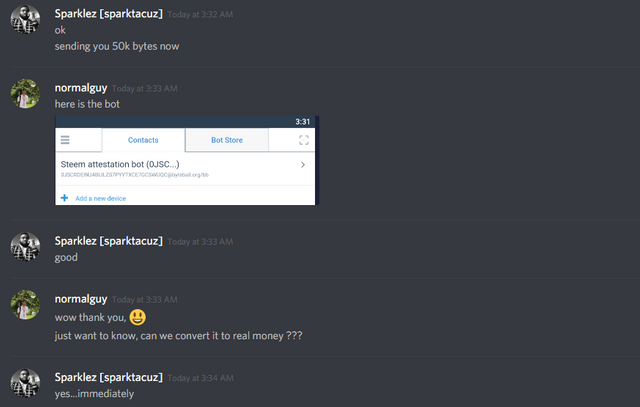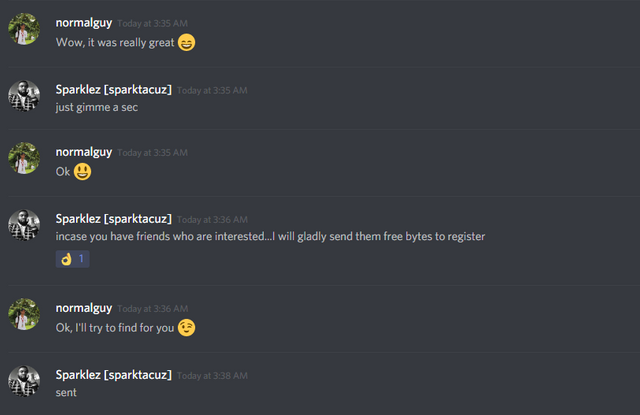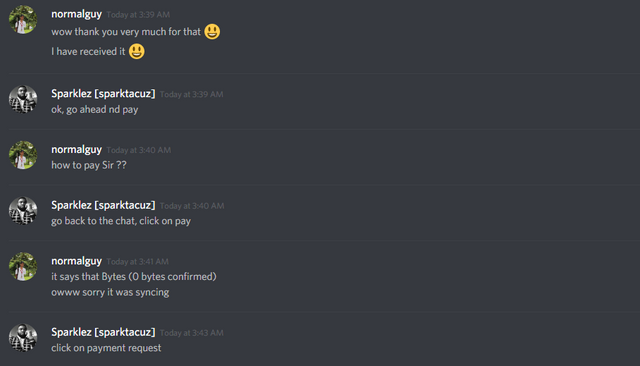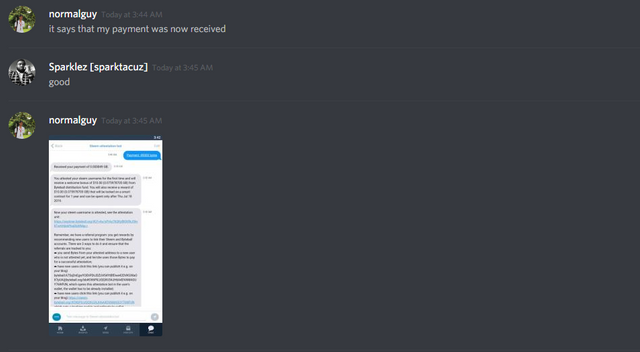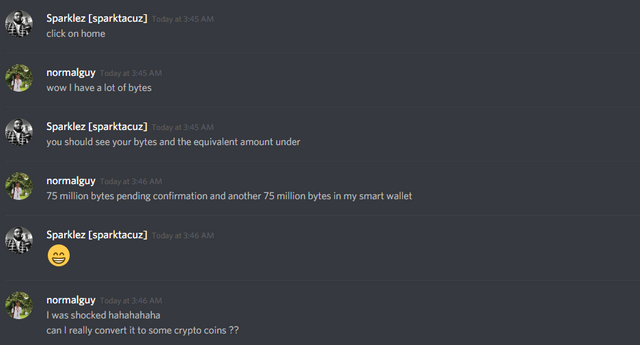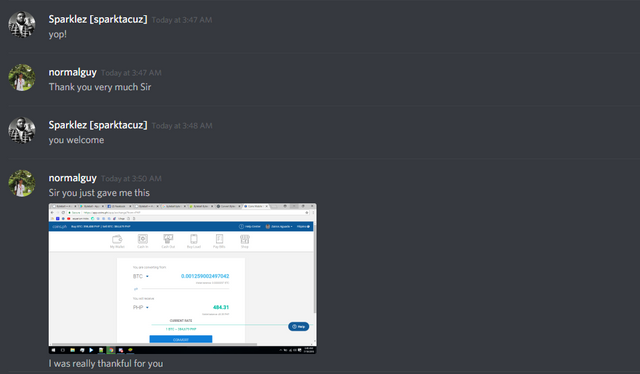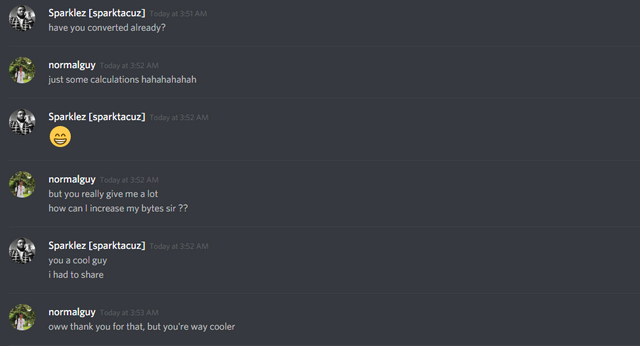 I really thought that I was being left out since I stopped reading new post in the steemit community. I wasn't able to go with the flow of the new tokens that was showing, I wasn't able to discover new technology and opportunities that might give me new knowledge and somewhat profit (especially now that we are undergoing in a financial crisis)
But I was really grateful to Sir @sparklez, he was a big help in me. I was introduced to the Byteball and received byte coins that can be converted to Bitcoin.
@sparklez was really cool, he really will guide you all the way through until you get your reward. He also will ask your question with all he knows.
With the help of @sparklez I was able to get some byte coins and when I do some calculations I was really shocked, out of the blue I really can get around 3.6 Steem which is equivalent to almost 10 USD.
Here is how I computed 75, 797, 117 bytes to Philippine Peso
First I converted the bytes that I hold to Gigabytes click here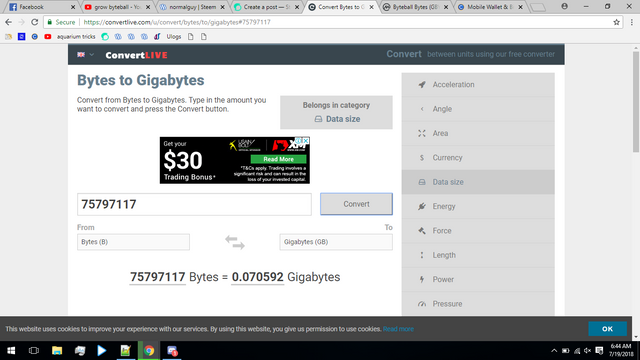 After I get the Gigabyte value of my byte I convert it using the coingecko.com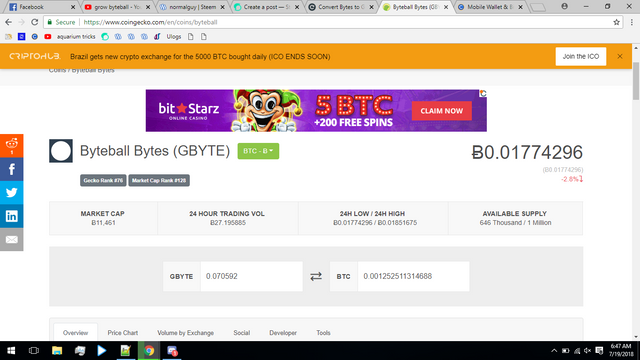 Now that I have converted my 75, 797, 117 bytes to Bitcoin I opened my coins.ph and try to convert the Bitcoin Value of my Byte coin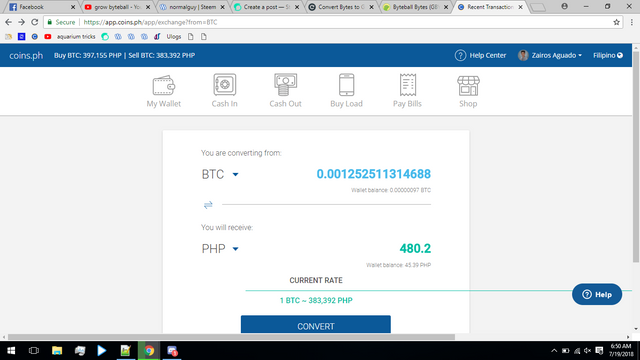 And that's it, I now can have 480 Philippine Peso or roughly 3.6 Steem. I was really thankful to @sparklez.
Thank you for your DM, it was a big help especially now that we are in big debt.
This might as well serve as a tutorial on how you can get free bytes using your steemit account.
Hope that we could all have our free bytes using our steemit accounts.


P.S: I remember that I have said that @sparklez mention that I can receive $20 USD or 2000 PHP, so I only get 25% of the reward.
The reason for this is the remaining 75% will be locked on a smart contract and can be only spent after a year.
Well I see this as a great opportunity, I'm sure that after a year the value of the byte coin will increase and it will be a profit in the long run.


To know more about #ulog click here and here.




I was writing my seventh #ulog post, if you want to know more about me click here.

I am part of the @steemitfamilyph Join us

Be a member on our Facebook page -- Click this Link

"You are the celebrity, We are your fans"

"Not everyone is a blogger but everyone has something to offer"

Please also support @surpassinggoogle as a witness by voting him at https://steemit.com/~witnesses and type in "steemgigs" at the first search box.
If you want to give him witness voting decisions on your behalf, visit https://steemit.com/~witnesses again and type in "surpassinggoogle" in the second box as a proxy.