What's Happening?! My PH24 cycling story continues...
If you missed Part Two, you can read it here: Ulog No. 14 "Powderhorn 24 Hour Bicycle Event: Part Two"... This is my third and final article in a series about Powderhorn 24. Individually or in teams, riders pedal throughout the Powderhorn neighborhood in Minneapolis, Minnesota for twenty-four hours. We camp overnight, entertain ourselves at various pit stops, and have a fabulous time on bicycles. How about forming a Cycle Feed Team to ride in August of 2019?!?! My wheels are spinning on the idea...
Our Team! "R--- and the Rowdy Rascals"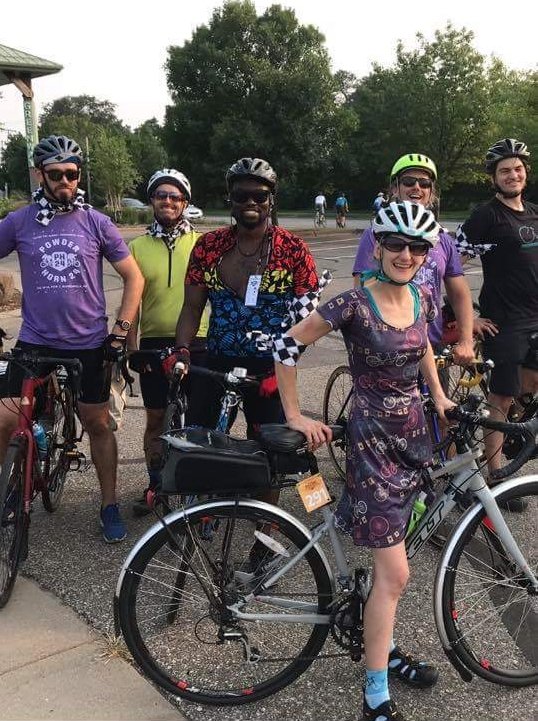 Photo by P. Kaleewoun. Published with permission.
Fuel for the Team
To celebrate the birthday of a teammate, his wife visited with their adorable son and a box of SUGAR! Generally I don't consume a lot of straight-up white sugar. Considering I only slept for two hours two glorious hours and biked many miles, this event called for all available energy! And so, we ate cake. It happened to be one of my favorite kinds: carrot cake. Happy Birthday to an amazing cyclist!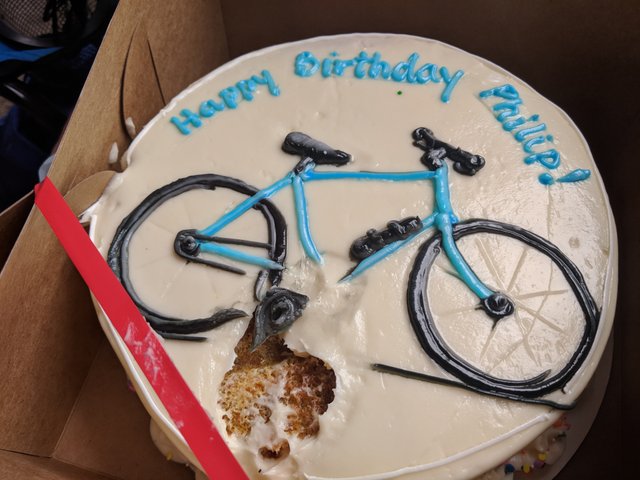 Victory Lap
We rode solo during most of our laps so that the other team members could rest while the rider gained points. When we decided it would be our team's last lap, according to the event end time, everyone saddled up and rode together. We called it our "Victory Lap." Here's a teammate's selfie to show we not only survived, we finished smiling...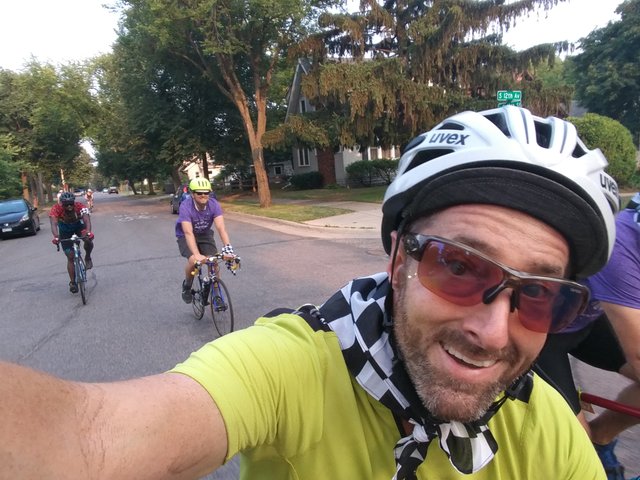 Photo by S. Mikala. Published with permission.
Team Spirit at the Finish Line
One of our teammates surprised us with white-and-black checkered bandanas. We all wore them during our victory lap and celebrated at the finish line.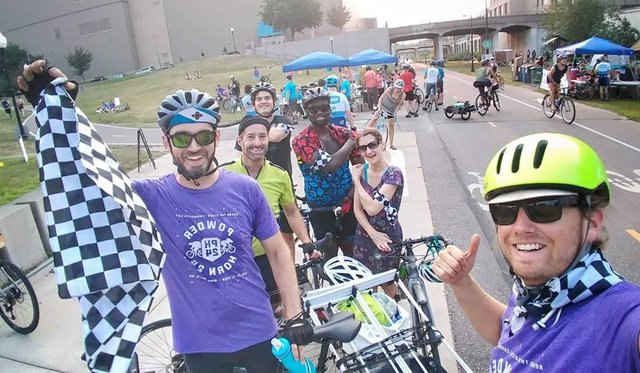 Photo by J. Walz. Published with permission.
The rest of the Story
This story didn't end when we crossed the finish line. Participants gathered on the hillside for a closing ceremony, and honestly, to rest. Most of us didn't want to pack up and ride or drive home yet.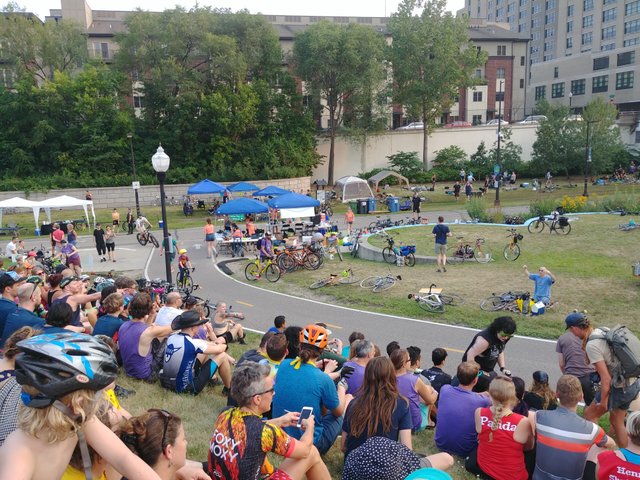 Photo by S. Mikula. Published with permission.
Go Team!
Our team was ranked fifth in the Mixed-Gender Team category. We were happy with that, considering that we didn't participate with super-ultra-crazy-competetiveness. Most importantly, we had tons of fun!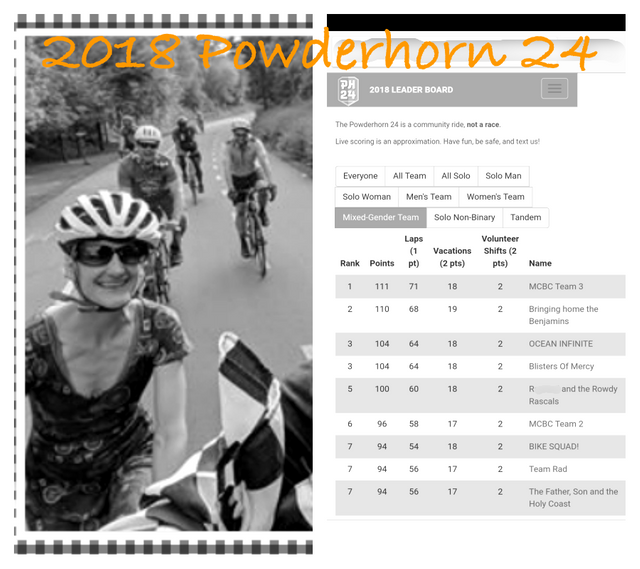 Stats worth mentioning
Third place in the solo woman category went to an inspiring acquaintance that I noticed riding by again and again and again... She rode almost 200 miles and took time to participate in 18 Bonus Stops, as many stops as my team of six visited! Wow! There are always cyclists in this community who motivate and impress me.
As for me, I set personal records on two segments (as recorded with Strava). Besting my own best times felt more meaningful than the other stats. Still, it's fun to see myself ranking 1st among "Women this year" and 5th in "Women all time" (every woman who has ever biked that segment and saved a ride to Strava). I have no idea who or how many women I've competed against, yet it sounds good :)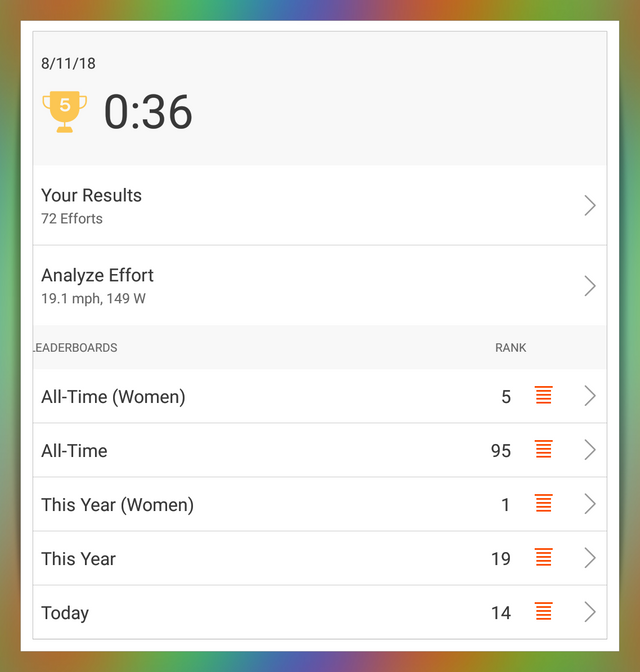 Champagne Shenanigans
The first, second, and third place winners in the categories Mixed-Gender Team, Women's Team, Men's Team, Solo Non-Binary, Solo Woman, and Solo Man each received a bottle of champagne. The top tandem pair was also awarded this prestigious prize ;) Corks popped, champagne sprayed, and the spirit of celebration filled the air.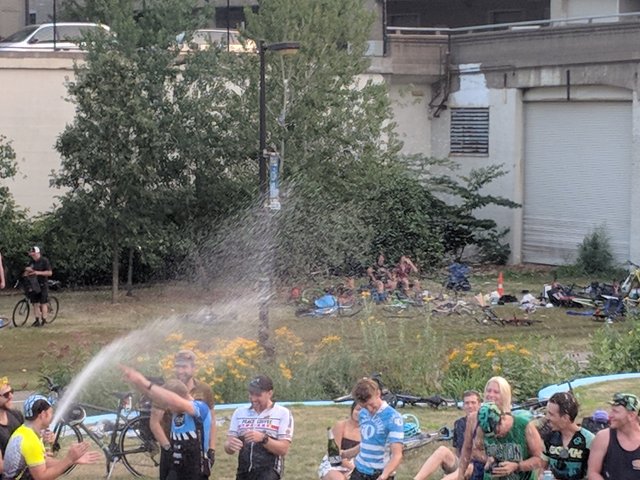 That's all for now, folks! Who will join my team next year?!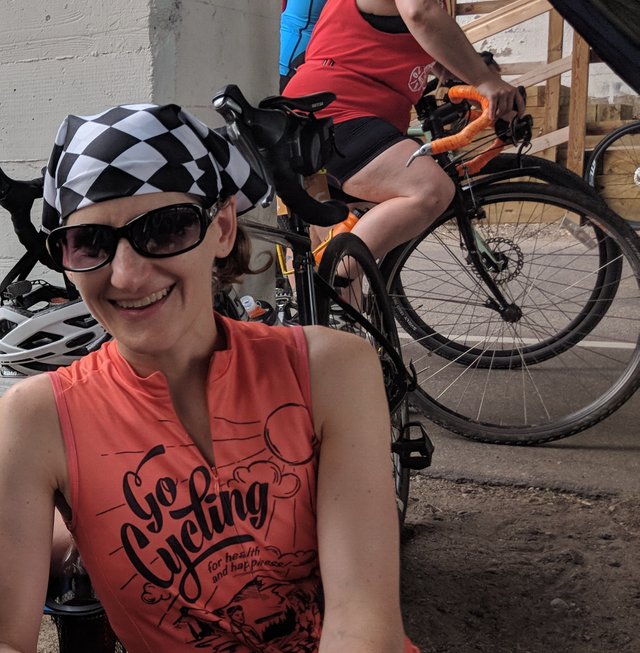 Read Part One and Part Two in this series:
Ulog No. 13 "Powderhorn 24 Hour Bicycle Event: Part One"
Ulog No. 14 "Powderhorn 24 Hour Bicycle Event: Part Two"
What is cyclefeed?
I'm excited to share with cycling enthusiasts!
This post tells you what's up: How to Participate: Use #cyclefeed in your Posts!
Gratitude to @robmolecule and @mrprofessor for creating and curating #cyclefeed.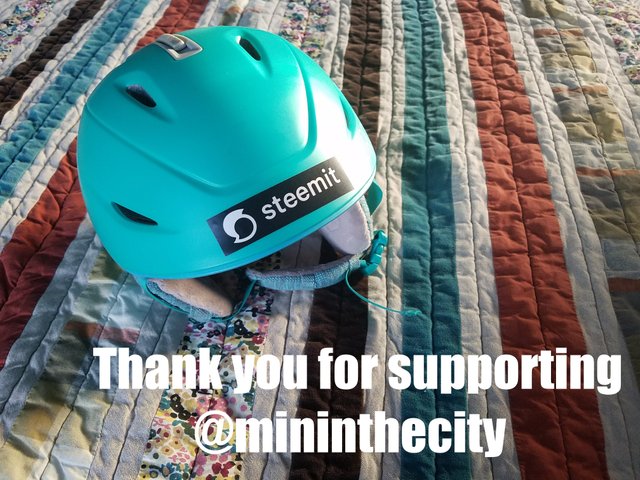 Thanks to @surpassinggoogle for initiating #ulog
All photos are my own unless otherwise credited.