Greetings! My PH24 cycling story continues...
If you missed Part One, you can read it here: Ulog No. 13 "Powderhorn 24 Hour Bicycle Event: Part One"... To summarize, Powderhorn 24 is an annual bicycling event that goes from 7pm Friday -7pm Saturday. Individually or in teams, riders pedal throughout the Powderhorn neighborhood in Minneapolis, Minnesota for twenty-four hours. Fun, exhaustion, randomness, creativity, community, and MORE FUN!
Bonus Stops
One feature that defines the event is "Bonus Stops." This year there were twenty. How to describe them... Imagine creative and quirky cyclists coming up with diversions to entertain themselves during a twenty-four hour event. Add self-described "weird" neighbors and local businesses and you've got the idea. Cyclists earn points for riding laps through checkpoints, and extra points for participating in the bonus stops. A few I enjoyed: beer keg obstacle course, blender bike, and dance party. I don't have photos of the keg course. I do have the memory though :) A local brewery located near the start/finish of the route set up kegs in a parking lot. To earn bonus points, we weaved our bicycles back and forth around the kegs without stopping, similar to horses running around barrels at a rodeo. It was silly, not challenging. Pure fun.
Blender Bike
My first time on a tandem! This bonus stop involved more pedaling, yet it was a different vibe being off-course and off my own bike. Volunteers loaded up a blender with frozen strawberries, bananas, and juice. Then the blender was attached to the rear rack of a tandem (see photo). Working with a partner, our task was to pedal until a volunteer declared, "You have a smoothie!" It felt like one of those competition shows and I got into the spirit, pedaling as hard as possible. Note that as the rear rider, I had to stand up so my rear wouldn't bump the blender off its base. This had slowed down previous people and caused the line of waiting riders to grow.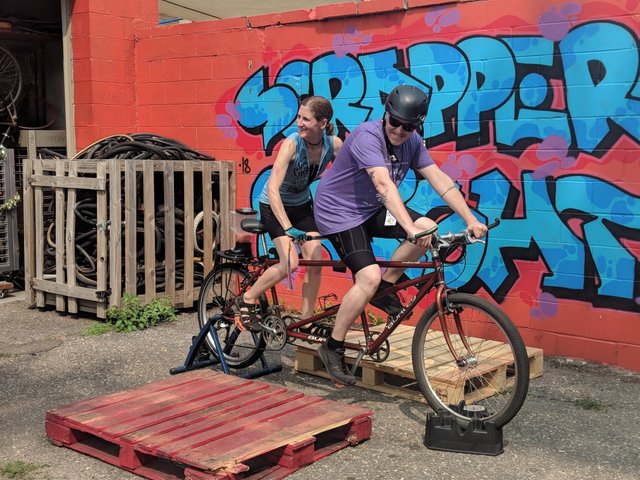 When it was deemed drink-worthy, we slammed small cups of our creation as if they were shots of tequila, reported our rider numbers (for points), and continued on our own bikes to the next checkpoint. For most, the smoothie was a welcome refreshment on a hot day. Unfortunately, I'm a banana HATER. I don't like to smell or taste bananas or tequila, which is why I likened this experience to a tequila shot. For me, riding back to my team's basecamp with the taste of banana lingering in my mouth really felt like "taking one for the team." In a good way, if that makes sense. I drank cold press coffee during my break to achieve banana-free breath.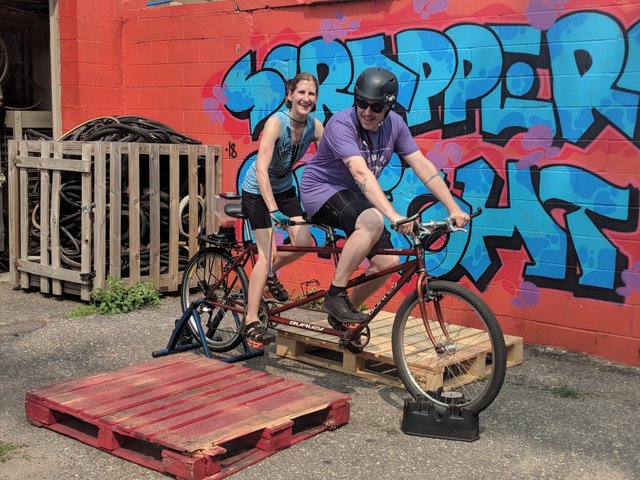 Dance Party
Another bonus stop I attended this year was a dance party hosted by a friend who lives on the route. He set up two dance floors, one in his backyard and one in the basement. He has learned from past experience it's ideal to have an indoor space to retreat to if noise complaints summon the police. I rode over with a couple of teammates and friends on other teams to bust a few moves and socialize.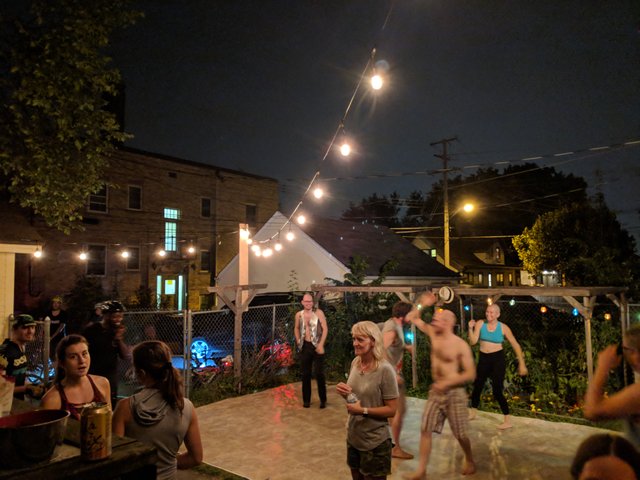 Although the bonus stop hours were officially 10pm-midnight, he hosted friends earlier and later. One of the guys on my team went later and said the vibe on the outdoor dance floor was more like yoga, much different than it had been earlier. I think it's great that there's space for a wide range of dance expression, even though it can feel disappointing when you're not vibing with the current energy. The atmosphere when I was there felt uplifting: A community of strangers and friends expressing ourselves on the dance floor. Were we dancing cyclists, or cycling dancers?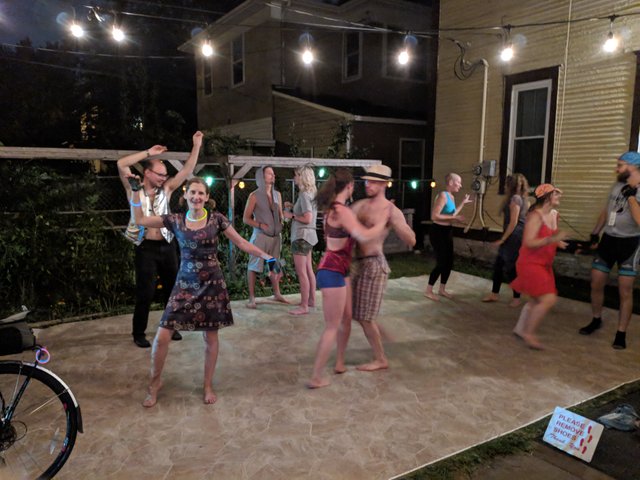 Randomness
This unique ride (and rider) get their own heading. He's been cranking the pedals and blasting music from his VIKE BIKE at cycling events for years. I wonder how many miles he has pedaled what has to be a heavy bike. This time I didn't engage in conversation due to exhaustion and more miles to ride myself. Perhaps I'll find out more next time we cross paths, or share a bike path :)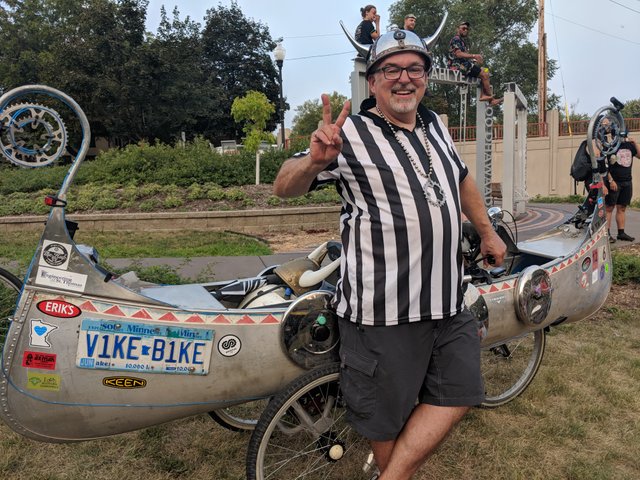 Vike Bike. (Verbal permission was given to take and share a photo).
More Bonus Stops
My significant other, aka favorite guy, went to "Namaste and Stretch." Yoga mats were set up in Powderhorn Park and someone was leading a sequence, repeating every ten minutes. He said he would have liked to stay longer, yet every minute of yoga was a minute less riding laps. This was the compromise at each bonus stop: enjoy the diversion without staying too long. Another bonus stop he participated in was at a business called The Future. I'll let its website summarize: "SHOP OUR STORE → BY WEIRDOS! FOR WEIRDOS!" (https://thefuturempls.com/) At this bonus stop, riders created tiny works of art and I was touched when my favorite guy gifted it to me. There's a small hole at the top, so that it can be worn as a necklace pendant. Since I rarely wear jewelry, I think I'll string it onto my bicycle instead of my neck. A souvenir of R---- and the Rowdy Rascals' PH24 adventures.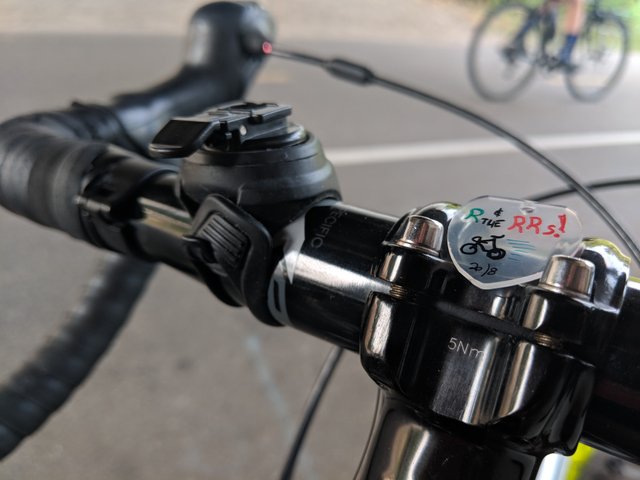 Another of my teammates created a work of art: a spoke card made with a laminated index card. He also attended a pool party of sorts: cold beverages at one of the city park's wading pools. Considering the heat, some of us teammates felt a pang of jealousy seeing his selfie. We could have pedaled ourselves over, yet it seemed best to rest in between our own turns, to conserve energy for the laps that "counted."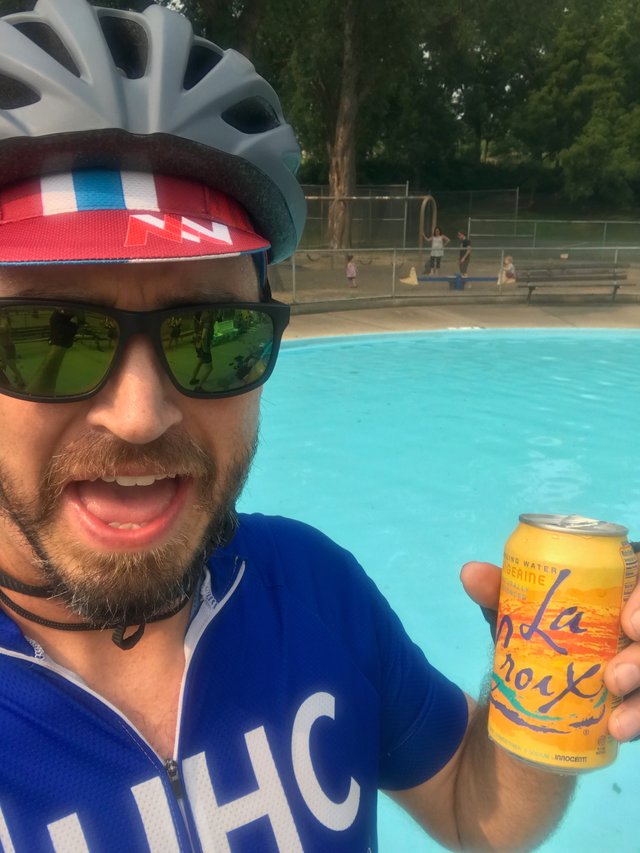 Photo by D. Van Sant. Shared with permission.
All Night Long
Overall, the night went by quickly with rest, bonus stops, and socializing. I got my glow on for awhile and decorated my bike a bit. Some of the riders had super rad lighting on their bicycles. It would be fun to light it up more next time. I didn't attempt to take many photos in the dark with my phone camera. It was a "You had to be there" experience.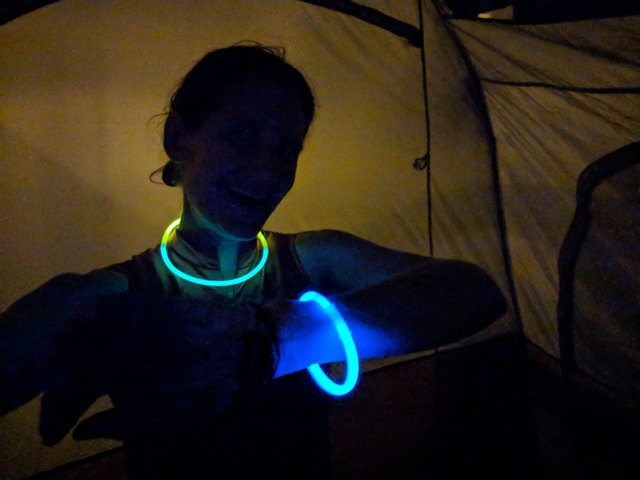 ---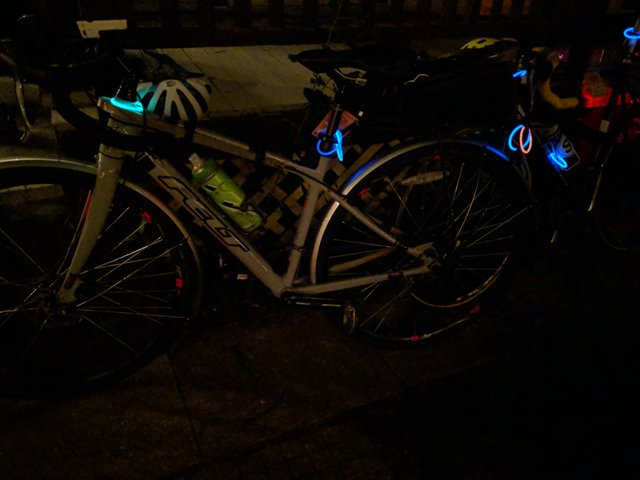 And the winners are...
Watch for Part Three in this series to see photos of our final lap, find out my team's stats, and witness victory champagne shenaningans!
Read Part One of this series:
Ulog No. 13 "Powderhorn 24 Hour Bicycle Event: Part One"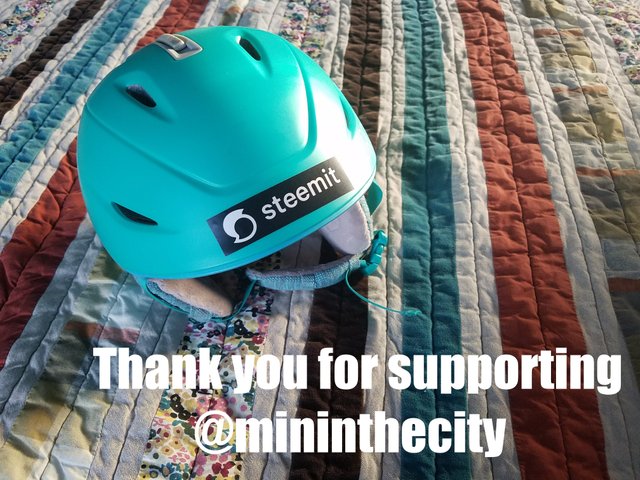 What is cyclefeed?
I'm excited to share with cycling enthusiasts!
This post tells you what's up: How to Participate: Use #cyclefeed in your Posts!
Gratitude to @robmolecule and @mrprofessor for creating and curating #cyclefeed.

Thanks to @surpassinggoogle for initiating #ulog
All photos are my own unless otherwise credited.