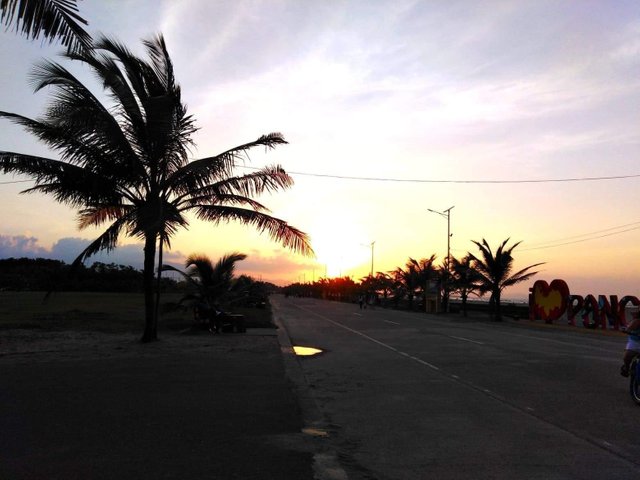 It's been two months the last time I went out for jogging. That's two long months, and my body accumulated more fats again. It's cold season, and it's the perfect time to jog in the afternoon when it wasn't too hot in the afternoon.
I usually jog in the afternoon before the sunset. The photo was captured months ago, the last time when I jogged. Morning is a great time too, but waking up early is not an early task. Besides, I do my usual exercises when I got up from bed. Sometimes, I tend to loiter in bed before getting up.
Sunset in the afternoon
One good thing to jog in the afternoon is the beautiful sunset. Since the beach in our place is at the north, aside from being a gulf,we can view both sunrise and sunset. Though,sunset has more beautiful view.
Tired and de-stress
I have been busy the past few days. Hence, I feel tired. Yesterday, I can't almost get up from ber even I am awake. It's like my body just want to stay. That's why I am thinking of going out for a jog again. I might be doing my usual exercises but jogging gives a different feeling, and it de-stresses me.
Hopefully, this plan can be done, and it needs motivation to go out for a jog again.


Please support @surpassinggoogle as a witness by voting him at https://steemit.com/~witnesses and type in "steemgigs" at the first search box.

You can also give him witness voting decisions on your behalf, visit https://steemit.com/~witnesses again and type in "surpassinggoogle" in the second box as a proxy.

Please support his project as well, which is @teardrops Smart Media Token.
---
Do support @steemph, @bayanihan, and @sawasdeethailand curation teams. Huge thanks to sir @bobbylee, and @hr1.

Do you use eSteem?
eSteem is a Mobile📱& PC💻 app. for Steem with great features. Also, you get Incentives posting through eSteem apps.
eSteem Spotlight; eSteem provides rewards for it top users in Leader Board with most Posts, Comments and Highest Earners.
---

Please vote
for @good-karma as a witness.








Thanks to @saskia, @bearone, @quochuy, @steemitachievers, @phantum04 for the footers