I've just moved myself permanently from Hanoi to Saigon a week ago. It wasn't an easy task since I had to plan & mobilize my stuff over a period of two to three weeks. Thankfully, it's all finally over and done with and I'm now comfortably settled in my new apartment at Vincom Residences in Binh Thanh district. I do have a beautiful view of the skyline of Saigon since my unit is on the higher floors. Guess it does have it's perks of being the head of the division.
With the first ever uninterrupted weekend that I've had in the last two months, I decided I needed a cooking therapy.
Yeah ! A Cooking Therapy !
For someone who cooks every other weekend when I'm back home with my family, I sure miss the actions in the kitchen. How I adore my kitchen utensils such as pots, pans, seasonings, crockery, cutleries and most importantly my kitchen helper equipments; pressure cooker, food processor and steamer. Nevertheless, with the limited kitchen support that I had, I knew I still wanted to cook.
So, off to the local wet market I went this morning with a fellow companion from Malaysia. One of my Steemian friend came by for a visit and she too woke up early to join me on this expedition. Since the sun rises at 5.30AM, it wasn't difficult to do just that. I was lucky as a fellow collegue of mine joined me & brought us around the wet market.
Imagine the excitement I had when reaching our final destination. It was only less than 10 minutes away by taxi and I could see a long street; displays of stalls on both left and right of the street. You name it, they've got it. Vegetables, fruits, beef, fish, chicken, eggs; anything and everything were all displayed for local folks to buy.
This is undeniably the best wet market I've ever been. Everything was fresh; even the fishes were swimming all around. I was just staring at the fishseller catching the fish live from a large container.
I've never before brought any live fish from any wet market !
There were at least two or three long streets; all connected and the locals were just either walking or on motorbikes buying their daily fresh items. I could only recognize a selected range of items but I was impressed with the variety of things sold.
I bought so many fresh meat, vegetables and fruits until we could carry no more. It was then that I decided I needed a break and took a seat on the side of the walkway. Glancing around the wet market, I saw an unfamiliar sight. This was something one wouldn't find so openly actioned in public.
This man was using a bamboo pipe to smoke. I wasn't sure if he was using nicotine to fill up the small little top at the front of the bamboo. Without any hesitation, I asked him in English, "Opium?" It may not be the best way to communicate but I doubt he understood me. Strangely, he offered my to try which I declined politely by shaking my head.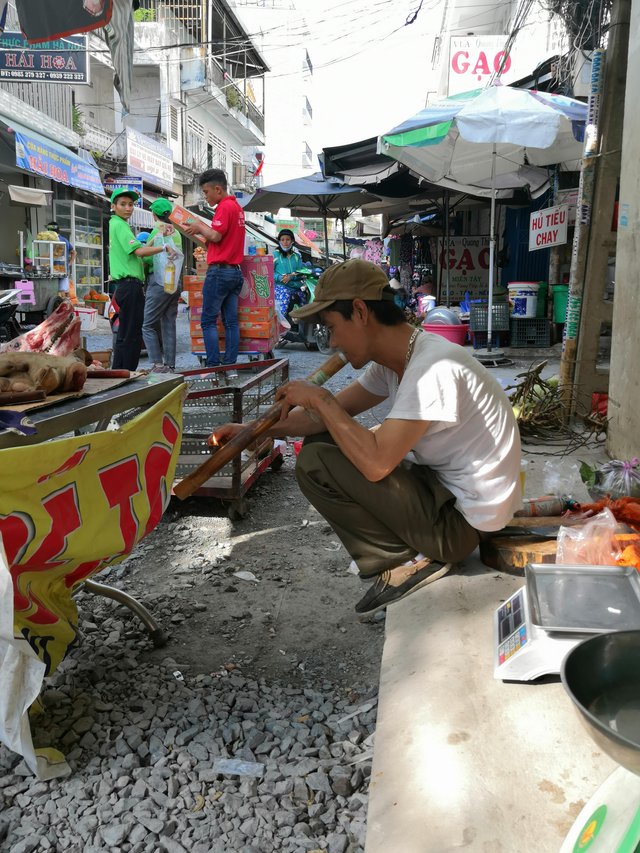 I did anyhow asked to take a photo of him which he obliged. After a much needed rest, we both decided it was time to head off. We had too much to carry and I was began to wonder if I could cook it all before my next trip back to Hanoi. Believe it or now, I could actually serve an entire family with what I've bought today.
Whatever it may be, I sure had a wonderful time walking around the wet market and I'm sure I will return here very soon. I haven't had my fill of seeing the entire wet market.
---