DAILY INSPIRATION FOR STEEMIANS: THE ULTIMATE HOPE IN CHRIST JESUS
Just as He ascended after His resurrection, Jesus will come again in the clouds as the Redeemer. This time He is in His kingly appearance. He will no more be mocked nor cursed upon by His persecutors. He will bring Salvation in its full entirety to those who believed Him when He said, "I will come again and receive you unto myself. That where I am, there ye may be also."
His second coming is to bring the reward He promised to those who believed in Him. Eternal life and a heavenly home with Him. He comes again not to deal with the sins of the righteous but the sins of those who rejected Him bringing with Him the reward of their choice. Those who rejected His message will find themselves calling upon the mountain to fall on them because they cannot face the One whom they have persecuted.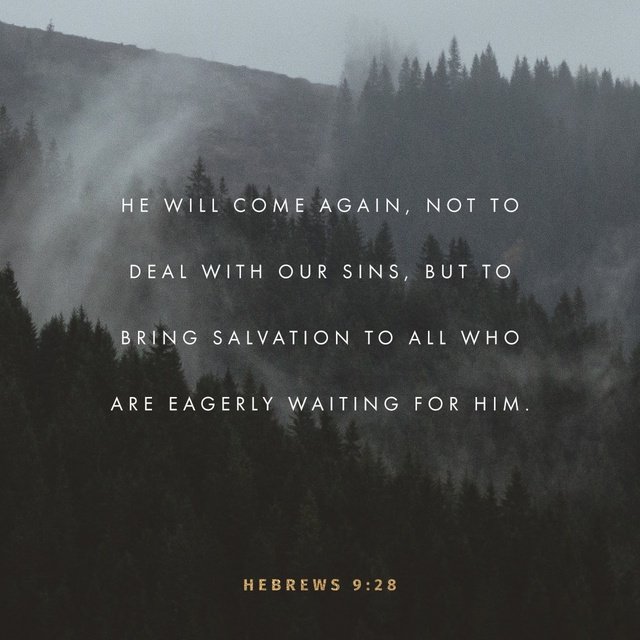 Jesus' second coming is the beginning of the end of the sin of this world including the lord of sin, the devil. They will be crushed and they will suffer the result of their choices, that is to cling with the devil. Hell will be upon Satan and those who were deceived and chose to be on his side. There will be gnashing of teeth and wailing and ultimate suffering in the fire of hell until they are consumed.
But God's people will rejoice with their Maker and Saviour. They are welcomed in the mansions that have been prepared for them. Their decision to follow Christ paid off after all the trials and sufferings they have endured in the hands of the enemy, the devil. It is the time of rejoicing with God the Father, the Creator of all things. The wait is over and the reward has been given.
Praise be the name of the Lord Jehovah!
' so Christ, having been offered once and once for all to bear [as a burden] the sins of many, will appear a second time [when he returns to earth], not to deal with sin, but to bring salvation to those who are eagerly and confidently waiting for Him.'
HEBREWS 9:28
https://my.bible.com/bible/1588/HEB.9.28

Upvote and Resteem, pretty please...
FOLLOW
@cjclaro
if you are blessed by God's Word today or you are into rainbow, sunset, golden hour, black and white, macro, rain, nature, or smartphone photography and just about anything on photography.