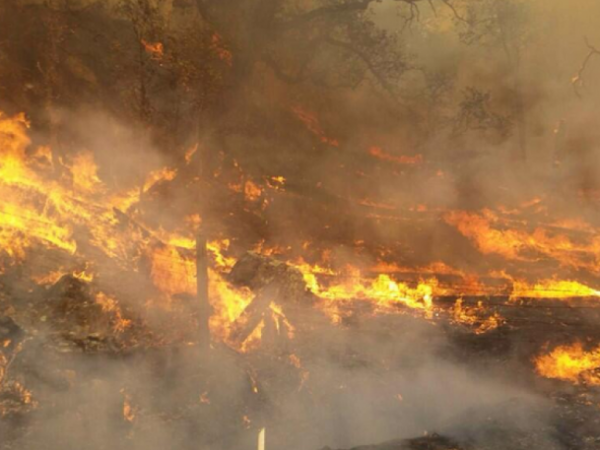 Last night was another of those nights you would rather not happen. It would be a long night and an even longer morning.
About 8:30 pm last night we could smell smoke. The kind of acrid smoke that burns the nostrils, stings the eyes and causes you to cough. Then we could hear the flames. Time to man the battle stations.
We have full faced smoke masks for the kids that went on first, and Abuela Socorro and our new mama gathered the kids in the main house for safety. The guys brought out the irrigation pump and the hoses. He connections to the wells were made ready. We called a friend who has a pumper truck and alerted him.
We still didn't know what exactly was burning, so one of the guys put on his harness and went up the 100-foot tower for a look see. He could see some trucks, he thought they looked like 4x4's on the back side of the fire that was burning uncontrolled across the salt flats from the river towards us. To the experienced eye of our lookout, it looks like the people in the trucks helped the fire get started.
While he was up there the trucks left and headed towards the beach. We had been told several days ago, that the men in black have a command post there. So we assume that the fire was started for a reason.
Jamie brought his tanker and soaked an area behind the walls. Then he came around, picked up a few of the guys, some of the hoses and the pump. They were headed to the river to pump water on the fire. A large number of men from the fish farms had already arrived to help out. No point in calling for a fire brigade. They all quit at the beginning of May as they weren't being paid.
I made sure we were secure and safe while the guys were fighting the fire. About 4:30 in the morning, Jamie brought a bunch of dirty, hungry and tired guys home. They had put the fire out. The day crew from the fish farms would be monitoring for any flare-ups.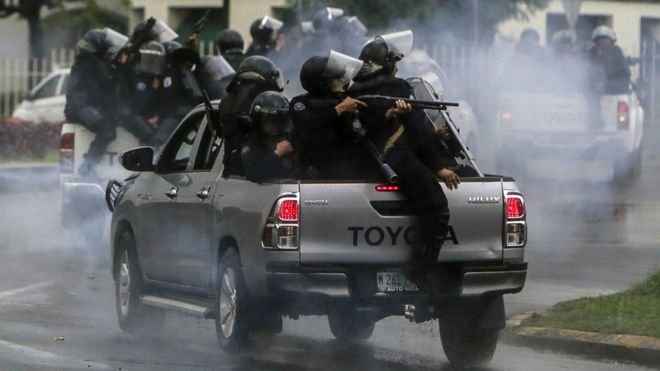 The guys washed up and Socorro and I had a hearty breakfast ready for them. Eggs, gallo pinto (rice and beans), fresh goat cheese, warm tortillas, fruit and herbal tea. After breakfast they went to rest. I took three guys with me and went to Don Manuel's place across the road for an inspection. He was worried that with the fire there may have been some damage.
We could see where some one or something had breached the fence at the back of the property. We would have to wait for morning to get some supplies from the hardware store in Poneloya. They wouldn't be open until 8 am.
I retrieved my tablet and planned to stay with the guys until we had the fence fixed. I could use the time to write a post and perhaps see who is on discord. I can get a wireless connect from my tower.
About 7:40 am I was sitting outside under the shade of the patio at the neighbours and the guys were getting their tools ready to fix the fence when we heard the engine of a 4x4 revving out by the back fence. My heart was in my mouth. I knew they would be coming in whether or not they were invited.
Sure enough 5 huge men in black (I think they only come in one size – extra large) come rumbling up to where I was sitting. I did not get up to greet the interlopers. I cast the guys a look and they knew to keep busy. They know the drill.
I feel the shadow before it speaks to me. "Do you own this property, madre."
"No. Mother Earth and the Creator do. My neighbour is the steward."
"Who are you, madre and who is your neighbour?
" I am madre. My neighbour is amigo."
" I want your name. What are you called." I think he is frustrated already, thinking I don't understand what he is asking.
"I am called many things, madre, mama, tia, abuela and prima."
"No! The name on your identification?"
"I don't own any identification." Which is true, the pieces that I have access to say the government of Canada and by extension, her Majesty the Queen of England but I am not about to try and explain it to this man.
"Hey you, over there! What is this woman's name?"
"We don't know. She is Tia or Abuela to us. We never asked" they say as they shrug and get on with looking busy.
The man in black gets huffy and tells one of the henchmen to watch us closely while he takes the other two to search the property. Henchman is standing behind me looking at my screen as I type on discord. I am trying to get a message to my son in Managua. I have the anti glare screen tipped so I am sure all he sees is a dark screen. Even if he could read English which I doubt, I am careful to write in code to my son. He gets the message and sends out word to our friends in the compound.
We hear them rummaging through all my neighbours belongings. It takes everything fiber of being I have not to get up and try to stop it. I give the guys lots of credit for not moving a muscle when I can see in there eyes they want to get into it with these men. They have big guns. I have nothing.
The head honcho returns and said, "Tell whoever owns this mess we will be back to talk with him later!" With that he motioned with one arm and the group trudged back through the broken fence to the waiting 4x4. The engine revved hard and spun its wheels as it left in a cloud of dust.
I needed to sit for a few minutes in order to stop shaking.
They wanted names specifically. I never give out my name to anyone these days. If I was a privacy hound before, I am more so now if that is possible.
A knock on the front gate alerted us to the presence of more people. These were friends who had gotten the word and came to help. They brought lots of materials and an electrician. The fence was fixed in no time flat with some added features. It was now electrified with extra booby traps placed on both sides of the fence. I wouldn't want to try to come across that fence at night, or any time for that matter.
After I came back to the compound, I heard from a reliable source that they are looking for foreigners, especially those that may take arms against the government. Perhaps it is a good thing that I am small, grey and frail looking? I just want to protect that is mine and live in peace.
We haven't heard anymore activity behind us on the salt flats or in the neighbourhood for the rest of the day. We have doubled up on guards and added more security. We have a lookout who cimbs the tower at odd intervals checking out the horizon.
I am hoping and praying we don't have a third encounter.