---
The way the last 10k steemmonsters booster packs sold out was nothing short of legendary! For real though, at one point last night, I checked and slightly more than 10k were left. Thinking I still had at least a couple hours, I decided to charge the phone, while eating and meditating on how many last packs I should cope. Once belly was satisfied, I actually got to the meditating and decided on 3 packs!

Phone gets unplugged, prayers for a golden legendary are made, and dragged until steemmonsters.com has been entered in the browser. Booster packs are sold out! Like an addict in denial, l hit reload (thrice) hoping for a different result. As if thinking it was just a newly developed glitch. Smh

Reality sets in, rather quickly actually. A subtle reminder that despite these all these bears, the steem blockchain and it's communities, will always grab development and innovation by the bulls horns. And that slacking off, even for just a bit can leave one completely out of the loop.

Which reminds me, make you sure you claim your Steemhunt tokens through their airdrop that ends in just a few hours. It's an easy and straightforward process that will take just a minute or 2 to complete. You can read more about the process in this post by @chronocrypto.

Don't miss out on this golden opportunity. As long as you're a steemian, you're eligible, and you get the same amount of steemhunt tokens as the SP you hold. Sweet deal, right? A reminder of just how invaluable SP really is I guess.

The good with the bad they say. Well since we're now out of boosters, I can go back to powering up more often, and occasionally getting myself some cards from the markets. If their prices haven't skyrocketed of course. 😁 But until then, admire my last pack, that I got myself yesterday.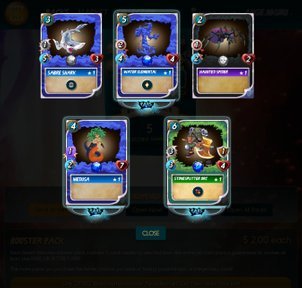 ---
---
P.S: Loving seeing my SP in 3 digit
numbers.
---
PEACE!!
---