There is a big game on tonight, hopefully I can write this post within the next 57 minutes so I can watch.
This evening, Liverpool FC head to Manchester to play the blue side of the City. I support neither of these teams, and in fact, they are the two that I least like to see win. However, I will be watching with interest as there is a chance that the winner will win the Premier League this season.
Manchester City have dominated in recent years, and Liverpool have done nothing for almost 30. This evening I was 'coaxed' into this post due to a reply elsewhere from a Liverpool fan, which read:
Very sorry to hear about your condition, cannot imagine what it must be like being a Man U fan. You must be a little happier now that Jose has gone though right?
Ohhh no, he didn't!
As you may have heard, I recently turned 40. I remember Mexico 86, but all the games were on TV. In the 80' in the UK, you has one game on a Sunday at 3pm. So unless Man U were playing, I probably not get to watch. Instead it would be cheese on toast (with a really unhealthy amount of salt) and the results at 4:55, read out by a rather solemn sounding guy which would be my football fix for the week. Of course that all changed when Sky TV took over in the early 90's.
Sadly, we couldn't afford Sky, but I had a couple of keen footy fans as friends/twins, one Liverpool and the other Everton, who seemed to be OK with me heading round most weekends, and for Monday night football. Sky's timing was pretty good actually, Manchester United dominated the 90's and 2000's :)
Anyway, back to this game tonight. Manchester City, obvious rivals to Manchester United, or Liverpool - also huge rivals to the Manchester clubs. Who do I want to win?
5-5 and ten red cards would work, but, and this is tough to say, but I'm going to have to side with Manchester City. It's been tough watching them dominate the League in recent years for sure, but I would rather see that continue than have some d**** f****** scousers get their hands on the Premier League - something they haven't done in 29 years. Come on City, don't let it go to Liverpool. That being said, Liverpool are the better team to watch and are playing great this year - they have a big chance tonight after demolishing Arsenal last week. It should be a good game.
---
It's been a while since I kicked a football. I used to play every day as a youth, and 3 times a week in my 20's. Scouring the history books for a team captain photo failed (it's true though!) and instead here's my proof that that boy had talent...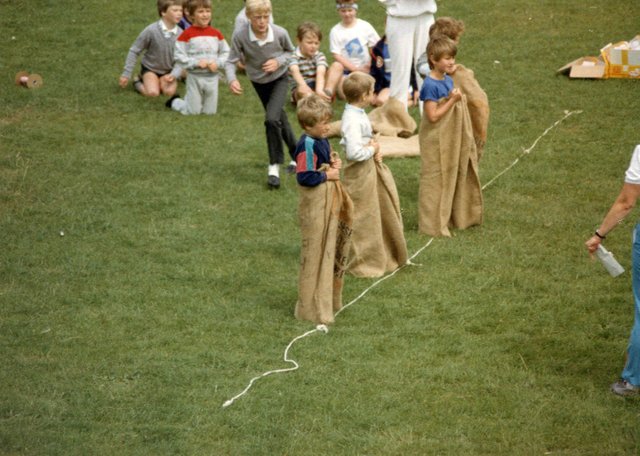 Oh shit, not that one, this one...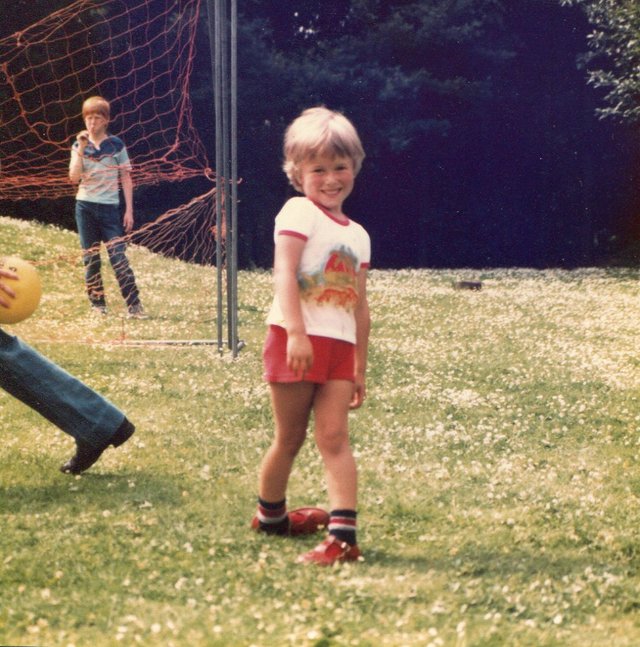 ha!
Red sandals and a foot like Kevin Spacey in The Usual Suspects, that's not proving anything. Except maybe that my mum is a shit-hot hairdresser.
Right then, took far too long looking for that team photo with me in middle. I scored from behind the halfway line that year :D
---
I can't write a football post without mentioning Manchester United's new manager, ex-player and legend at the club - mainly for this:
Good luck Ole Gunnar Solskjær!
---
Active British Steemians on Steem is touted to be less than 100 at present. I'll be glad to get 2 of them turn up here this evening! The rest of you are of course welcome. Football, Soccer, whatever, just kick it in the net!
Cheers
Asher