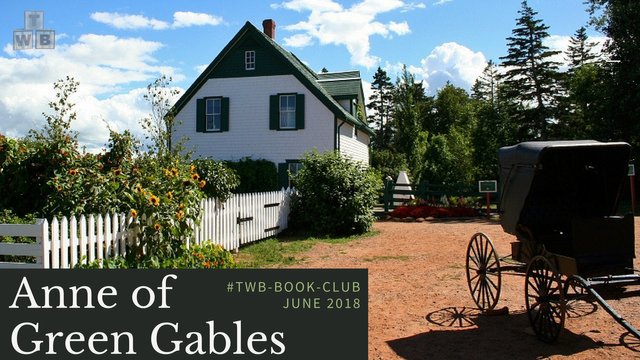 How to be a better writer? Read a book!
How to be an even better writer? Discuss the book with other writers: #book-club!
How to be the best writer? Get peer-review by fellow-writers: #thewritersblock!
Interested? Come join @thewritersblock & our Discord Channel.
Book of the Month June: 'Anne of Green Gables'
This month, @tinypaleokitchen has chosen the book that we will be reading: 'Anne of Green Gables', a highly popular book first published in 1908. Many sequels were written, but we will focu on the first book. Maybe some of you know it from one of the versions that appeared on television, such as an anime series, or 'Anne with an E' distributed by Netflix in 2017. But even if you've seen the story played out, reading the book will be worth your while.
The book can be downloaded here for free. It is about 400 pages long, and the first in a series of books, although it can also very well stand on its own. There is also a free audio book available here on LibriVox
In 2003, Anne of Green Gables was ranked number 41 in The Big Read, a survey of the British public by BBC to determine the "nation's best-loved novel" -- or so Wikipedia tells us.
Reason enough to read it. Read it as a writer. Why do you think this book became so popular? What can we learn from this?
Exercise
It might be a great book, but for #book-club we don't just enjoy good books: we want to find out what makes them good, or not good. And write about it to actively apply what we learn.
Non-Fiction Exercise
Write a review. Focus on what stylistic and literary elements you found that you want to try out in your own writing. Or ones you will try to avoid. Make sure you first show the reader how your analysis makes sense, what makes it work (or not work), and then reflect on how this would work in your own writing, or not.
Fiction Exercise
Write a short story using a stylistic element or the spirit of the book by Montgomery. This is not to copy, but to use a technique you borrow from the book, that you've gleaned from it. Maybe a way to introduce a character. Maybe you were touched by how a scene works. Write one scene for instance, or take a character with a similar arc, aim for 1000-1200 words. Later you can decide if that scene works on itself, or if you want to build it out to make up a complete story.
Other options
Of course you're also welcome to use the book as a prompt for poetry, songs, and whatever you'd like to think of.
Make sure when you post something to steemit (after going through several editing rounds on @thewritersblock of course) to mention #TWBBookClub!
Feel free to join at any time!
~ @nobyeni