Captain Baba Harbhajan Singh was a young man of the Indian Army. ,They will be serving under the Army 30 August 19 46 to 19 68. He is honored as the hero of Nathula by Indian Army soldiers.
They are regarded as saints father by the people of India. His loyalists mainly posted on the China-Indian border to the Chinese occupation Tibet area, which is located around Nathula Pass, personnel of Indian army.
It is believed that one soldier is protected by his soul in elevated areas. Baba helps the people who worship their worshipers.
He died at 1968 Nathula in East Sikkim, India.
Early death of Harbhajan Singh at the age of 22 is a matter of mythology and religious worship, which has become a popular folk tale among the soldiers of the regular Indian Army and the soldiers of the Chinese People's Liberation Army.
He was honored on 26th January 1916 of Mahavir Chakra medal for his bravery .
According to mythology, Baba Harbhajan Singh warns the Indian Army for the attack. It is believed that if we do not give the right duty on the posts, baba Harbhajan Singh ,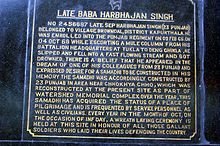 gives weight to the soldiers.