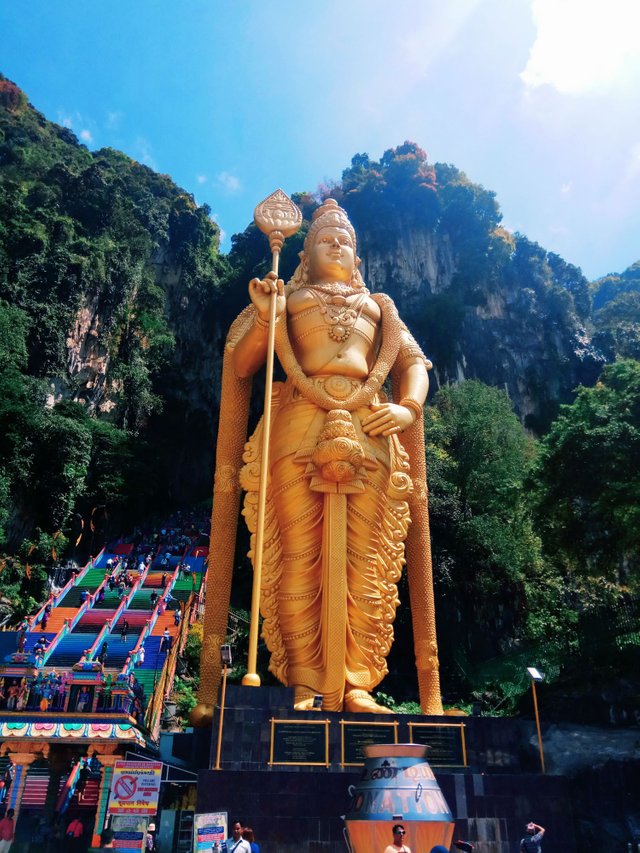 If you visit Malaysia, don't miss your chance to visit a statue that is a Malaysian icon, the statue of Murugan. This statue is located about 15 kilometers from Kuala Lumpur. Located between trips from the city of Kuala Lumpur to Genting Highlands. Batu Caves tourist attraction is a combination of natural tourism and religious tourism.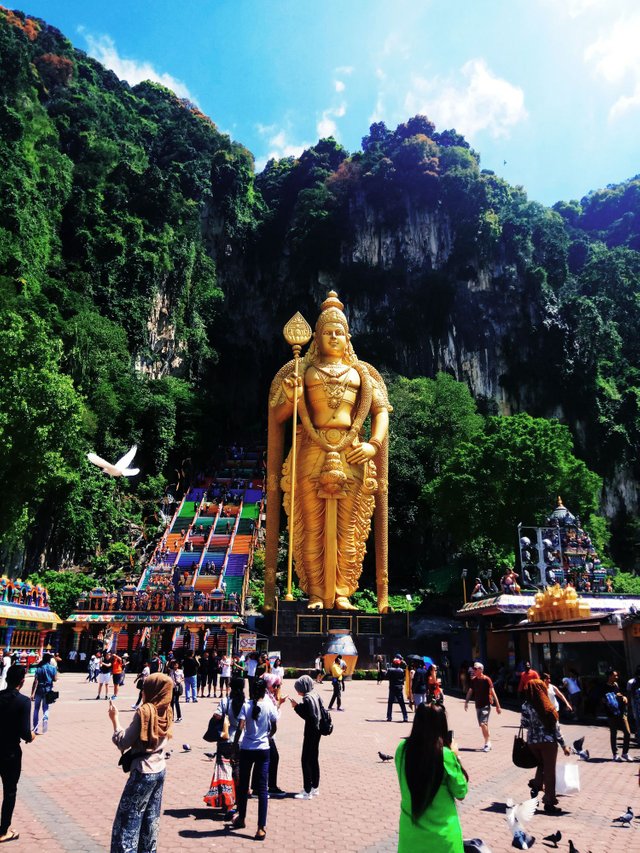 When we arrived at Batu Caves, we were immediately greeted by a 42-meter-tall statue of the God of Murugan. This Murugan Statue is the tallest statue in the world. Many people often call this a statue of Malaysia. because many people who travel to Malaysia will take pictures in front of this statue. This golden statue makes it very eye catching.
Every year thousands of Hindus come here to celebrate the Thaipusam festival held in late January. Around the statue is very thick Hindu nuances. Starting from the building and accessories sold around it.
There is also a cave here, namely Temple Cave or Cathedral Cave, the main cave that can be reached by climbing 272 stairs. At its peak we can see the beautiful view of the city center. This cave is used as a temple of Hindus and offered to Lord Murugan. Be careful when climbing stairs because we will be approached by monkeys asking for food. I myself did not get to this cave, because I have a height phobia. I only climbed half the way from this ladder. Even then my hands and feet were trembling with fear.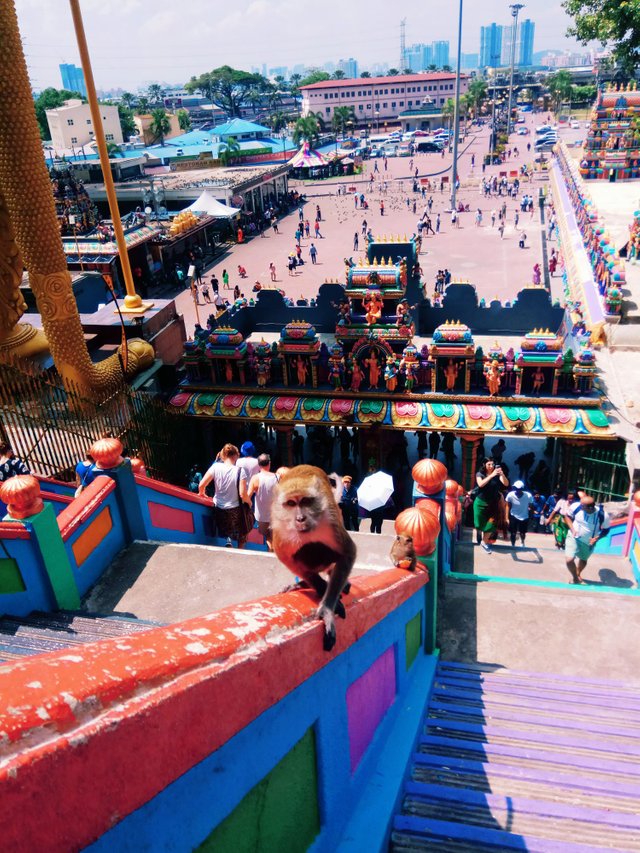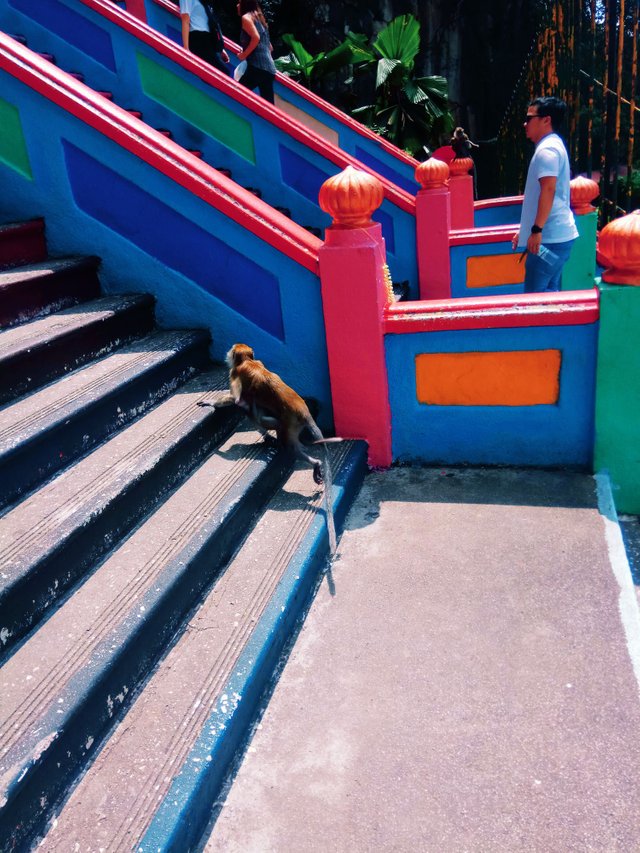 In front of the Murugan statue, very many doves roam. Some tourists threw food to give to the pigeons.
My advice is to visit this place preferably in the afternoon, because the weather is very hot here.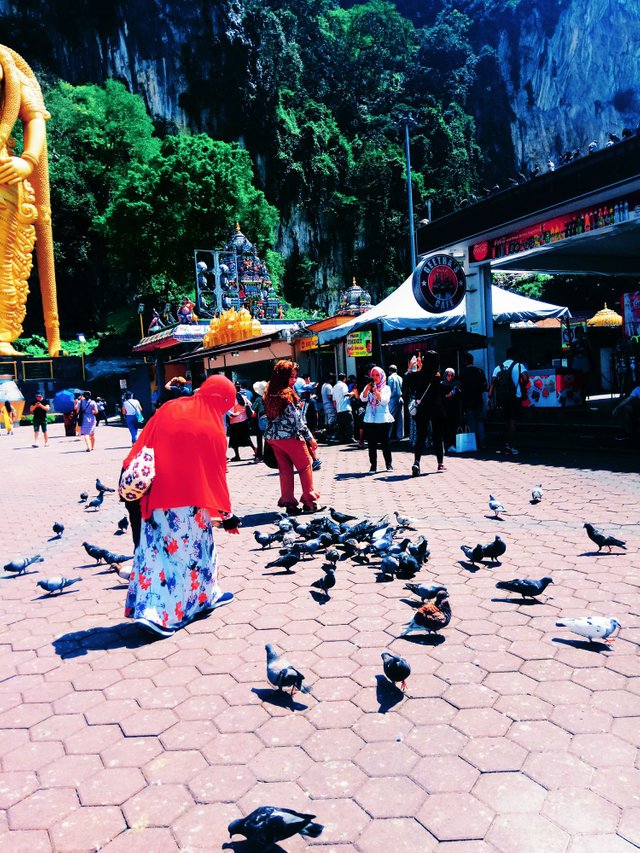 But whatever it is, I highly recommend you to visit this place.
Full Respect and Thanks for those people who are they keep supporting us:
@altooq, @khanza.aulia, @aulia1993, @boyasyie, @khaimi, @chorock, @hhusaini, @cityofstars, @moghul, @iftekhar, @thekitchenfairy, @tattoodjay, @newageinv, @macoolette, @arunava, @introvert-dime, @midun, @cyberrn, @simplymike, @fuad2, @always1success, @cjsdns, @mhm-philippines, @preparedwombat and @dindar.
---
Location information
● Batu Caves, Gombak, Batu Caves, Selangor, Malaysia
Related link
●
https://www.huffpost.com/entry/visiting-lord-murugan-at_n_11441066
---
The Splendor of the Murugan Statue in Batu Caves, Malaysia
This is posted on trips.teem