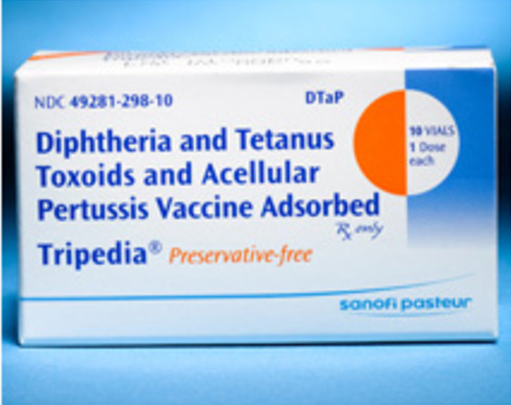 An interesting document was posted to the official FDA website, only to be removed afterwards. Luckily a few archive services caught it.
The document was originally hosted at - https://www.fda.gov/downloads/BiologicsBloodVaccines/Vaccines/ApprovedProducts/UCM101580.pdf
It was archived at - https://wayback.archive-it.org/7993/20170112211659/http://www.fda.gov/downloads/BiologicsBloodVaccines/Vaccines/ApprovedProducts/UCM101580.pdf
I've copied it as well, and mirrored it here just in case - https://www.steemleak.com/tripedialb.pdf
What is it ?
This document is a pdf of the standard insert packaged with the Whooping cough vaccine called "tripedia". The insert begins with this description:
Tripedia®, Diphtheria and Tetanus Toxoids and Acellular Pertussis Vaccine Adsorbed (DTaP), for intramuscular use, is a sterile preparation of diphtheria and tetanus toxoids adsorbed, with acellular pertussis vaccine in an isotonic sodium chloride solution containing sodium phosphate to control pH. After shaking, the vaccine is a homogeneous white suspension. Tripedia vaccine is distributed by Sanofi Pasteur Inc .
Why should we care ?
The part that interests me is on page 11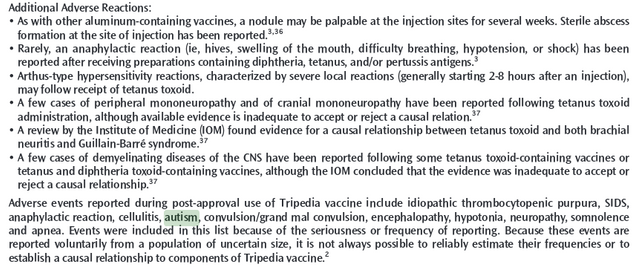 Adverse events reported during post-approval use of Tripedia vaccine include ..(snip).. SIDS .. (snip) .. autism ..(snip).. encephalopathy .
One more time - this document clearly lists :
Sudden Infant Death Syndrome (A catch all label for unexplained death)
Encepalopathy (Another catch-all for general brain disorder or disease)
Autism (!)
As adverse affects of this commercial product pushed for profit onto young children.
I'm glad the product has now been pulled from the market , but the FDA has clearly attempted to hide this document by removing it from the site :

Learn more
If you're still in denial about the adverse health affects of vaccines I suggest you watch the documentary Vaxxed , or read some of the posts from our very own @canadian-coconut .
As a parent of two autistic kids, who were both vaccinated - I'm too angry for words right now.
This isn't the first document that's admitted this , and governments aren't paying out millions of dollars in compensation through secret vaccine court systems for fun.
If you're a non-believer and are planning on commenting about how we're all crazy for saying these things - Save your effort, I'm not going to engage right now.