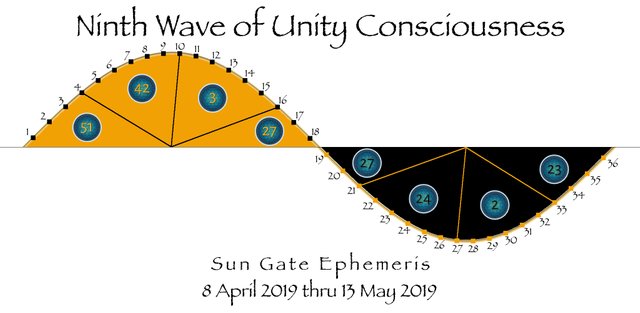 This Ephemeris shows the position of the Sun along the Ninth Wave and the corresponding Gate of the Human Design System, and also the Gene Keys. Just as there are 12 Houses of the Zodiac, there are 64 Gates that the Sun passes through during the year.
Today we are on Day 15 along the Ninth Wave, and we are on the last day of the Divine Frequencies as we pass over into the Gift Frequencies. The Sun is also on its last day in Gate 3. I pray that INNOCENCE in these days has blessed you with new beginnings, and that the Gift of Innovation has inspired you to do things differently. I also pray that the Shadow of Chaos has not overwhelmed you with too much mental turbulence.
Those of you on the Hero's Journey are either Meeting with the Mentor as you prepare to cross the Sunset Threshold, or you are on The Road Back into the Valley of the Shadows looking for a new calling along your path.

You can learn more and help support the 1UP project through Fundition.